Tell us about yourself… how did you begin to play the flute?

When I was little, maybe 8 or 9 years old, my favourite babysitter brought her flute over one afternoon to show my siblings and I what she was learning in high school. I remember the experience so vividly because I was the only one of my siblings who could make a sound on the head joint. I was instantly hooked and knew I wanted to play the flute when I was older! Not too long after that experience my family and I moved across the country – from Nova Scotia to Northern Alberta. When it came time to register for the grade 6 band at school, there was no question what instrument I wanted to play. And thank my lucky stars I had an awesome band teacher who let us pick our favourite instrument even if that meant a band full of flutes and trumpets 😂
My band director also happened to be married to a flutist so when I was 14 I started private flute lessons and by the time I reached high school I had decided I wanted to make music my career.
Why did you start FlutePlay? Tell us about what it is and where we can find out more.

In an industry traditionally marked by competing methodologies, I envisioned a place where flute teachers could ALL be connected. A place without the barriers of methodology, age, and location. A place where we could dive into all the flute method books and where we could use our expertise to create resources for flute families and teachers alike.
On November 1st, 2019 I launched the FlutePlay community out of an innate desire to connect with flute educators from around the world who love teaching flute to young flutists as much as I do. We started with eight founding members and in the past year and a half, we have multiplied more than seven times! We now have teachers participating from over 14 countries worldwide all with a wonderful array of training, teaching, and experience.
If you're a flute teacher who's interested in our little flutes community, the best way to get involved is through our Community Membership & Learning Platform.
As a community, we meet twice every month: our Method Book chats allow us to dive into a new flute method book each month and our Coffee Chats allow us to connect on a specific topic like Studio Promotion. Cognitive Development, etc. After hearing from colleagues that they felt guilty for disappearing or for not being more involved (during a pandemic when the world was upside down…) I decided to introduce different membership roles so that everyone has a place in our community – no matter what life throws our way! This means members can be involved as little or as much as they like! And now, with our Learning Platform, all community members have access to all of our chats and content from the very beginning – both live and recorded.
Hosted by Teachable, the Learning Platform is our version of an online course! Together we have created "community led curriculum" where we share ideas on the topics and method books we'd like to discuss and learn about during the year. Every community member gets to vote on the content and everything is put together to support our community goals. This year our focus has been on learning about (and practicing) the tools needed to restart/expand our studio teaching this fall. Once school restarts, we'll be diving into more pedagogy talks along with our monthly method books. From video trainings, chat recaps, resources, and bonus videos, the Learning Platform is a place where teachers can learn and grow together!
To find more information about the different membership roles, visit fluteplay.teachable.com
Have you always loved Pedagogy? Who inspired you?

Working with young children is what motivates and inspires me every single day. I've been drawn to working and playing with kids my entire life and despite my best efforts to explore other career paths, I've always come back to education and little people. I've been inspired by quite a few incredible teachers over the years! My flute teachers Crystal Krips, Randi Nelson, Camille Watts, and Susan Hoeppner have all made a tremendous impact on my career; I wouldn't be the musician I am today without their support and guidance. When it comes to "little flute" pedagogy I've been fortunate to learn from and work with Kathy Blocki and Molly Shortridge; both radiate creative energy and have made an impact on my teaching. More recently, I've had the immense pleasure of learning from Kelly Williamson as I begin to explore the Suzuki Method to add to my teaching tool belt; it is encouraging and uplifting to observe Kelly's thoughtful and inclusive approach to teaching. And of course, I'm tremendously fortunate to be virtually surrounded by absolutely incredible flute pedagogues in the FlutePlay community who challenge, support, and inspire me every single day!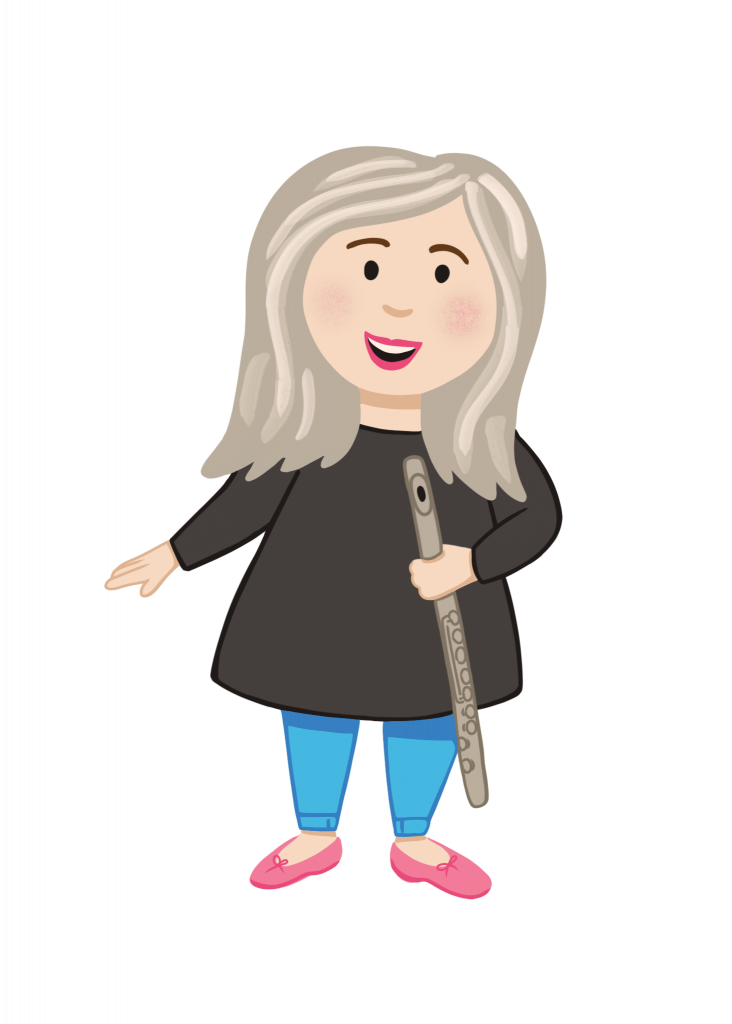 Any exciting things happening with FlutePlay?

We always seem to have several irons in the fire, as the saying goes! Right now, we're wrapping up our first-ever SummerPlay with FlutePlay series of chats, discussion panels, and leisure summer learning. Videos for SummerPlay will be available through October for anyone interested in joining!
We've got a bunch of pedagogy chats scheduled this fall so we can dive into other methodologies and how we can apply them to teaching flute. A chat with The Flute Examiner's own Amanda Hoke about Teaching Flute with Kodaly is on the books for September/October!
The last issue of our subscription children's magazine, LFM: a #LittleFluteMagazine, is set to be released on November 4th and we've already started to get ready for 2022! The second year of our subscription magazine boasts new interactive and informational content, and if all goes as planned, this next year will likely see new compositions commissioned especially for our little flutists by composers from all over the world.
As a community, we'll be organizing our curriculum ideas so FlutePlay members can vote on the content and so we can kick off 2022 with a BANG! And, because our community is constantly buzzing with new inspiration and ideas, I'm sure the world will see many more exciting and innovative projects from the FlutePlay community in the near future!
To stay in the loop on #allthingslittleflutes, join us: www.fluteplay.ca/lets-play
STÉPHANIE SUPERLE ("su-PEARL") is a Canadian flutist, educator, and the founder of FlutePlay: a global community of early childhood flute educators dedicated to reimagining the future of flute pedagogy. In an industry traditionally marked by competing methodologies, FlutePlay is cultivating a community where #littleflute families and educators can connect, create, and collaborate on all things little flutes.
Through FlutePlay and her private studio, Stéphanie aspires to make flute one of the top three instrument choices for young families starting their musical journeys, while showing future generations that flute is for everyone.
Stéphanie lives with her husband and daughter in a little suburb just north of Toronto. She is an aspiring rollerskater, avid baker, and enjoys her coffee with a hint of maple syrup. To read more about Stéphanie and her work, visit www.stephaniesuperle.com