The Flute Examiner is an online publication & newsletter about the flute & flute pedagogy.
Jessica Dunnavant, editor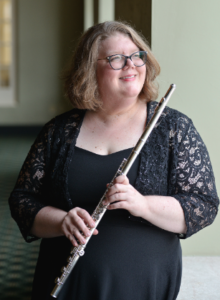 Jessica Dunnavant is a teacher, writer and performer who lives in the suburbs of Nashville, TN. She teaches flute at Lipscomb University and also for the Vanderbilt University Blair School of Music, where she specializes in teaching the Blair Academy pre-college flute players. Over the past 28 years, she has taught lessons, classes and groups small and large, ranging from a kindergarten piano class to a senior citizens' flute choir, with many private lessons and music appreciation classes in between. Along with her current university work, she runs a large private studio of middle and high school students in metro Nashville. Jessica is a member of the Jackson Symphony in West Tennessee and she plays traverso and recorder with Music City Baroque.

Jessica has held one-year teaching positions at Texas A&M University-Kingsville, Florida State University and the University of Wisconsin-Stevens Point in addition to long term adjunct work at Middle Tennessee State University. She also taught pre-college flute and piano lessons for Belmont University's Belmont Academy program. She studied flute with Yvonne Chavez Hansbrough at Middle Tennessee State University, with Charles DeLaney at Florida State University and with William Montgomery at the University of Maryland College Park. When not teaching or playing, Jessica can be found raising vegetables and flowers in her back yard or knitting with more gusto than skill in her easy chair.
Contact Jessica at editor[at]thefluteexaminer.com
---
Amanda Hoke,
co-founder, technology coordinator, Teaching Flute with Kodály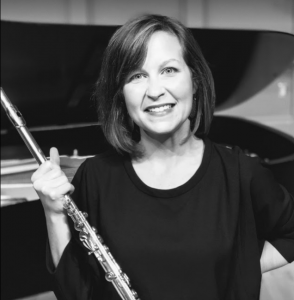 Amanda is incessant tinkerer who loves the flute. Her love for the flute was sparked as a young child upon hearing a friend play "Yankee Doodle" in the open fields of her hometown in rural Kentucky. Her eclectic interests led her to start The Flute Examiner: the online publication and newsletter about flute. It combines her love for graphic design and music pedagogy.
Amanda earned her doctorate from the Florida State University where she studied with Eva Amsler. She has studied with Dr. Shelley Binder, Kathy Karr, and Dr. Stephanie Rea. She plays professionally with the flute/guitar duo, the Cypress Duo and the Wilmington Symphony Orchestra (NC).
As a public school educator, she is passionate about creating life-long musicians. She is a Kodály-inspired teacher. In the Spring of 2019, she was awarded the North Carolina Governor's Discovery Award and the OAKE (Organization of American Kodaly Educators) Denise Beacon Scholarship to complete full Kodály certification. 
Contact Amanda at info[at]thefluteexaminer.com
---
Keith Hanlon,
co-founder, public relations coordinator, 9mm Piccolo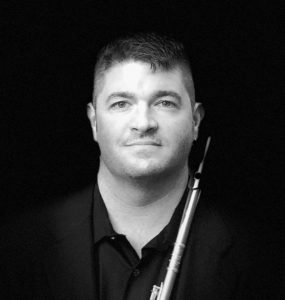 Keith has always loved being creative and is equally at home in the concert hall as he is in his wood shop. Like Amanda, he loves organizing things although he can sometimes obsess about putting labels on everything in sight.
Keith was born in Pennsylvania but now currently lives in Coralville, IA with his fiancé, their 90 pound Labrador retriever, Jackson, and their little princess, Harper (cat). He enjoys woodworking and has turned this love into a small business making flute stands and cradles that are functional art for a music studio.
Keith earned his doctorate from West Virginia University. He enjoys teaching flute and directing flute ensemble and co-founded the Queen City Flute Workshops and the Queen City Flute Choir.  He is the former flute instructor at Frostburg State University and Fairmont State University and has previously held positions at Virginia Commonwealth University and John Tyler Community College. He is a member of the Keystone Winds and has performed with Mountainside Baroque, the Richmond Symphony, The Richmond Philharmonic, and the Allegany Symphony Orchestra and is the principle flute of the Ottumwa Symphony.  He currently works for Flute Authority as a Sales Representative and Flute and Piccolo Technician and is an artist and clinician for Trevor James Flutes.
Contact Keith at 9mmpiccolo[at]thefluteexaminer.com
---
Kelly Wilson,
Health and Wellness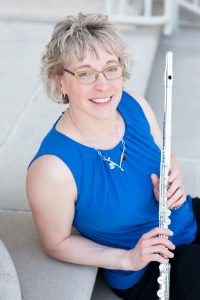 Kelly Mollnow Wilson loves all things related to flutes, teaching, and whole body movement! She currently teaches privately and is a freelance musician in Northeast Ohio. She is a founding member of the Aella Flute Duo and is the lead author/flute author of Teaching Woodwinds: A Guide for Students and Teachers, published in 2014.
Since 2007, Kelly has been a licensed member of Andover Educators, Inc., a consortium of music educators dedicated to preserving and enhancing the careers of musicians through accurate anatomical information and somatic awareness as applied to music-making. Through a unique and powerful tool called Body Mapping, Kelly helps students in all disciplines avoid injury and become better musicians. She has presented Body Mapping workshops for students throughout the US and she teaches a semester long class, Body Mapping for Musicians, at Oberlin Conservatory.
Kelly holds a Master of Music degree in Flute Performance from The Ohio State University and a Bachelor's degree in Music Education from Baldwin-Wallace College. Her teachers include Katherine Borst Jones, Mary Kay Fink and Liisa Ruoho.
Kelly is a licensed massage therapist and a certified Neurokinetic Therapy Practitioner – Level Two. Combining all of these skill sets will allow Kelly to expand her work with musicians with injuries and provide movement education and manual therapy in one location.
In her free time (is that a thing?), Kelly loves to read, run, hike, spend time outdoors doing anything, listen to her favorite bands (Great Big Sea and Home Free) loudly and spend time with her husband and two children.
Contact Kelly at wellness[at]thefluteexaminer.com