The Flute Examiner is an online publication & newsletter about the flute & flute pedagogy.
Jessica Dunnavant, editor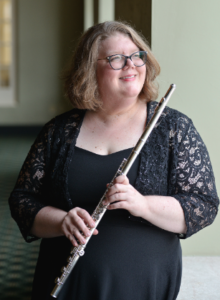 Jessica Dunnavant is a teacher, writer and performer who lives in the suburbs of Nashville, TN. She teaches flute at Lipscomb University and also for the Vanderbilt University Blair School of Music, where she specializes in teaching the Blair Academy pre-college flute players. Over the past 28 years, she has taught lessons, classes and groups small and large, ranging from a kindergarten piano class to a senior citizens' flute choir, with many private lessons and music appreciation classes in between. Along with her current university work, she runs a large private studio of middle and high school students in metro Nashville. Jessica is a member of the Jackson Symphony in West Tennessee and she plays traverso and recorder with Music City Baroque.
Jessica has held one-year teaching positions at Texas A&M University-Kingsville, Florida State University and the University of Wisconsin-Stevens Point in addition to long term adjunct work at Middle Tennessee State University. She also taught pre-college flute and piano lessons for Belmont University's Belmont Academy program. She studied flute with Yvonne Chavez Hansbrough at Middle Tennessee State University, with Charles DeLaney at Florida State University and with William Montgomery at the University of Maryland College Park. When not teaching or playing, Jessica can be found raising vegetables and flowers in her back yard or knitting with more gusto than skill in her easy chair.
Contact Jessica at editor[at]thefluteexaminer.com
---
Keith Hanlon,
co-founder, public relations coordinator, 9mm Piccolo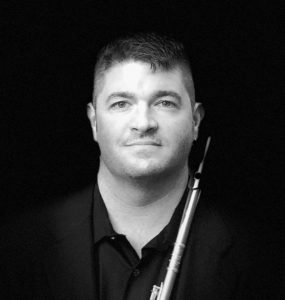 Keith has always loved being creative and is equally at home in the concert hall as he is in his wood shop. Like Amanda, he loves organizing things although he can sometimes obsess about putting labels on everything in sight.
Keith was born in Pennsylvania but now currently lives in Coralville, IA with his fiancé, their Labrador retriever, Jackson, and their little princess, Harper (cat). He enjoys woodworking and makes flute stands and custom pens out of exotic woods.
Keith earned his doctorate from West Virginia University and is an Army veteran. He enjoys teaching flute and co-founded the Queen City Flute Workshops, the Queen City Flute Choir, and the Iowa City Flute Choir.  He is the former flute instructor at Frostburg State University and Fairmont State University and has previously held positions at Virginia Commonwealth University and John Tyler Community College. He has recorded with the Keystone Winds and performed with Mountainside Baroque, the Richmond Symphony, The Richmond Philharmonic, the Allegany Symphony Orchestra, and is currently the principal flute of the Ottumwa Symphony.  Keith works for Flute Authority as an Educational Consultant and Flute and Piccolo Technician and is an artist and clinician for Trevor James Flutes.
Contact Keith at 9mmpiccolo[at]thefluteexaminer.com
---
Amanda Hoke,
co-founder, website & newsletter manager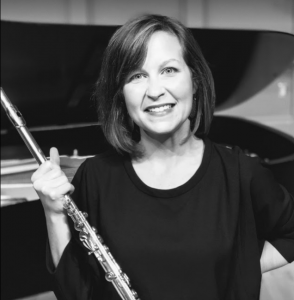 Amanda is incessant tinkerer who loves the flute. Her love for the flute was sparked as a young child upon hearing a friend play "Yankee Doodle" in the open fields of her hometown in rural Kentucky. Her eclectic interests led her to start The Flute Examiner: the online publication and newsletter about flute. It combines her love for graphic design and music pedagogy.
Amanda earned her doctorate from the Florida State University where she studied with Eva Amsler. She has studied with Dr. Shelley Binder, Kathy Karr, and Dr. Stephanie Rea. She plays professionally with the flute/guitar duo, the Cypress Duo and the Wilmington Symphony Orchestra (NC).
As a public school educator, she is passionate about creating life-long musicians. She is a Kodály-inspired teacher. In the Spring of 2019, she was awarded the North Carolina Governor's Discovery Award and the OAKE (Organization of American Kodaly Educators) Denise Beacon Scholarship to complete full Kodály certification. 
Contact Amanda at info[at]thefluteexaminer.com
---
Rebecca Peterson,
communications coordinator
Rebecca has been an arts advocate for her entire life. Being a dancer, musician, and writer, she never misses an opportunity to create. Originally from Des Moines, Iowa, she graduated from the University of Iowa in 2019 with a Bachelor of Arts degree in journalism, a minor in music, and a certificate in writing. During her time on campus, she was very active in the School of Music and School of Journalism and Mass Communication. She was a piccolo section leader and a four-year member of the Hawkeye Marching Band, Iowa Pep Band, and Iowa Concert Band. Rebecca was vice president of Ed on Campus, an organization geared toward individuals interested in the magazine and editorial industry. Her love for the Iowa City community grew after a two-year internship with Summer of the Arts, a nonprofit organization that brings art, music, and cultural events to the heart of the city. She actively wrote, created, and managed content for these organizations, as well as her independent projects.
Rebecca is currently the Marketing Strategist for Flute Authority in Coralville, Iowa. She works daily to bring an authentic and welcoming approach to the brand. She is grateful for the daily opportunity to combine her passions for the flute world and strategic communication. She is also an active member of the Iowa City Flute Choir.
Rebecca currently lives in North Liberty, Iowa with her boyfriend, Daniel, and cat, Missy. When she isn't working with or playing the flute, she enjoys spending time with her friends and family, cheering for the Hawkeyes, listening to Adele on repeat, and enjoying the little things in life!
---
Kelly Wilson,
health and wellness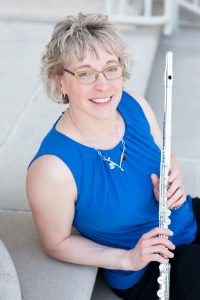 Kelly Mollnow Wilson loves all things related to flutes, teaching and learning, anatomy, and whole body movement! She teaches musicians to move with ease and comfort, which allows them to deliver musically convincing, effective performances. She teaches Body Mapping for Musicians at Oberlin Conservatory as a Licensed Body Mapping Educator and has presented workshops throughout the United States. Kelly teaches private flute lessons at the Oberlin Community Music School and her private home studio, and performs in Northeast Ohio. As the owner of Precision Performance and Therapy, she uses her skills as a Neurokinetic Therapy practitioner and Licensed Massage Therapist to help musicians with pain and discomfort. Kelly earned a Master of Music degree in Flute Performance from The Ohio State University and a Bachelor's degree in Music Education from Baldwin-Wallace University. Her teachers include Katherine Borst Jones, Mary Kay Fink and Liisa Ruoho.She has nine years of teaching experience in the instrumental music department of the Wooster City Schools in Wooster, OH. She is the lead author/flute author of Teaching Woodwinds: A Guide for Students and Teachers (http://teachingww.com/) and serves on the NFA Performance Healthcare Committee. In her free time (is that a thing?), Kelly loves to read, run, hike, spend time outdoors doing anything, work out in the gym, listen to her favorite artists (Great Big Sea, Home Free, P!nk, and Van Halen) loudly and spend time with her husband and two children.
See www.precisionperformanceandtherapy.com.
Contact Kelly at wellness[at]thefluteexaminer.com
---