In the world of music we frequently wonder what equipment others are using.  Is it the hope that there is a perfect instrument out there?  Do we think that having a certain make of instrument will make us popular (we play piccolo so not likely). Or, is it just our desire to simply know for the simple fact of knowing?  Well, here you go!  A very nonchalant Facebook post resulted in this feed back regarding what piccolos people are using.  Enjoy!
*Download graph from link below to view larger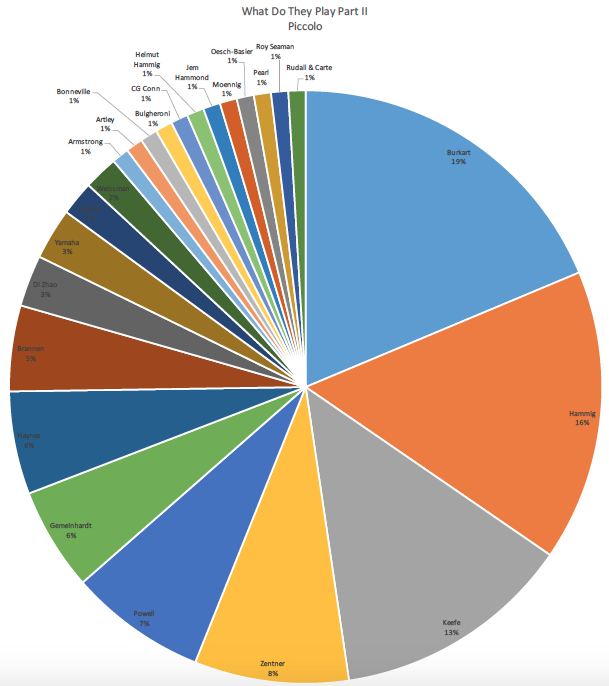 ……..a few individuals that responded to our call
Beth Chandler Cahill – Professor James Madison University – Keefe and Hammig
Julianna Nickel – Professor George Mason University – Burkart
Laurie Sokoloff – Baltimore Symphony and Peabody Conservatory – Keefe
Therese Wacker – Professor Indiana University of Pennsylvania – Burkart
Christine Erlander Beard – Roy Seaman LTD with an awesome (bocote wood) headjoint by Mancke!
Dionne Jackson – Professor University of Connecticut – Keefe
Sarah Jackson – LA Philharmonic – Keefe
Zachariah Galatis – Portland Symphony – Keefe and a Mancke headjoint!
Carole Bean – National Symphony Orchestra – Gold keyed Powell with a Burkart head, Keefe
Erica Peel – San Diego Symphony – Hammig, but recently added a Mancke headjoint.
Sarah Eckman McIver – Symphony Number One – Keefe
Leslie Marrs – Professor Drake University –  Brannen
Nan Raphael – Keefe with Modern cut head joint. Backup is a Brannen with Keefe modern/classic cut head joint.
Laurel Ann Maurer – I have 2 that I mostly use. A Burkart Elite and a Weissman/McKenna
Sarah Howard – Cocus wood Hammig
Aleksandr Haskin – Qatar Music Academy and the American School of Doha – Burkart XXV
Cynthia Rugolo – Cocuswood Brannen with Keefe headjoint and a 1945 Helmut Hammig
Phyllis Avidan Louke – Burkart
Keith Hanlon – Professor Frostburg State University – Keefe
Amanda Taylor  – co-editor of The Flute Examiner – Hammig
Shivhan Dohse – Professor Coe College – Hammig!
Lori Akins – Burkart
Stephen Kujala – Got a couple of 70's vintage Powells, a Haynes silver cylindrical (for superhigh, super soft B's & C's), a Haynes Db, and I'm soon joining to modern era with a Keefe on order.
Corinna Muller – Weissman grenadilla.
What do YOU play? Comment below.