When did you know that flute was THE instrument for you? What has your education as a flutist been like?
I don't think I ever knew it was the instrument for me. It was the one I started on and was lucky enough to have gained a little talent at it. It just stuck. I started taking private lessons when I was 8 or 9 and my teacher, Robin Richman, was fabulous with me. She pushed me while still being encouraging and I just kept practicing. When I told her I wanted to do this as a career, she sent me to Tim Day to take lessons and he pushed me even further with higher expectations. I received my Bachelor of Music degree and Performer's Certificate from The Eastman School of Music (studying with Bonita Boyd) and my Master of Music degree at Rice University's Shepherd School of Music (studying with Leone Buyse).
How old were you when you started dancing?
I actually started dancing before music! I was five when I told my parents I wanted to be a ballerina. I started flute at 7 and at 10, I had the opportunity to join a local youth orchestra, but that meant I had to choose between ballet and flute because they were both on Tuesday nights. I chose the flute. But I kept dancing here and there with learning swing dancing in middle school, salsa and middle eastern dancing in college, and modern dance out of school.
You have a career with many different pieces: flutist, teacher, dancer, performing artist, actor, choreographer. What is a typical day like for you?
Typical day?? I don't so much have a typical day! I will say that I spend entirely too much time writing emails, updating websites, and responding to things I should've responded to weeks ago.
How do you balance all of these roles?
I'm not always the best at balancing all the roles. There are days when I forego all emails and just practice. And there are days that I ignore all forms of productivity and spend time with my family. I tend to focus on what must be done the soonest, but then do things I will enjoy doing. Life is too short to work all day, so I make an effort to be done with anything productive by 9 or 10.
Did you set out with your university degree planning to be a hybrid artist or did you think you'd just play your flutes (like a normal person)?
Oh, I was fully set on being an orchestral flutist. I really thought that was the only way to have a career in music. Moreover, I felt like my entire worth was dependent on being able to sustain myself on income from performing alone. While I was studying at Rice, Leone Buyse encouraged me to explore the hybrid arts. She saw something in me that I was too scared to see – that a career in an orchestra might not be the best idea for me, but instead a career as a chamber musician combining the arts is where I could flourish and be the happiest. I'm very grateful she gave me "permission" to be the weirdo I am today. I will also freely admit that my income isn't solely from my career in music – I work at a microbrewery and thoroughly enjoy that work as well! Sometimes what makes you happy is a combination of avenues.
How did The Fourth Wall come to be? How did that get started?
We all met through Tales & Scales, a company that did somewhat similar work. In 2010, T&S went in a different direction and we formed The Fourth Wall. Clearly, instrumentation wasn't the driving force (being an ensemble composed of flute, bass trombone, and percussion!), but instead a desire to work and collaborate with each other.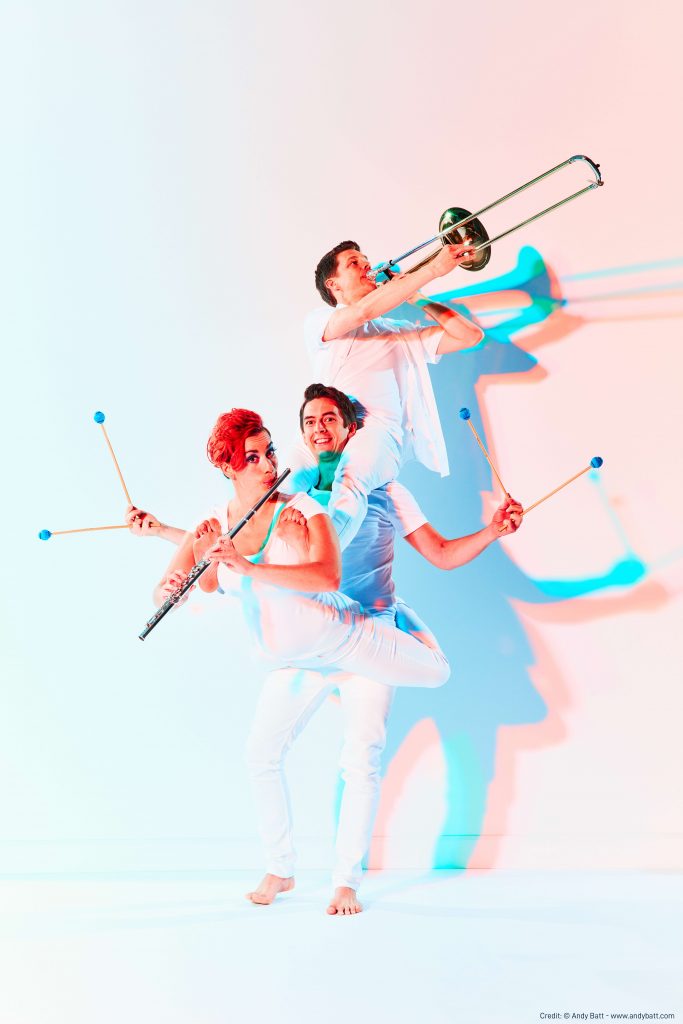 What was pandemic life like for the Fourth Wall?
We were socially distant from each other as well as most of the world, so in person rehearsal was right out. We began doing virtual performing, successfully transitioning both of our school shows to Zoom so we could still reach schools in Massachusetts. In addition, we worked on several collaborative projects with other companies across the country culminating in several Zoom shows as eclectic as our live shows.
I'm sure that you, Greg, and Neil (the other members of the Fourth Wall Ensembe) are all involved in all the various planning that has to take place. How does that collaborative process work?
It usually starts with someone saying "You know what's a bad idea…?" and we run with it! Sometimes that "bad" idea starts with an acrobatic lift that Greg saw someone do at a circus show and we figure out if we can put it into a show. Sometimes a host leaves a hoverboard laying around and we figure out if we can ride them while playing instruments. No matter the origin of the idea, we all try it and give it as much attention as we can before we decide if it's an idea to continue exploring or shut down.
Do you work directly with composers to write music specifically for your ensemble or do you do the arrangements on your own?
Both! We have several pieces in our rotating repertoire that are commissions and we also have many arrangements that we've done.
What is your favorite thing about working with composers on new music? What's the most challenging thing?
My favorite is when we choreograph their music and they see it for the first time. They never seem to be prepared for what we do and it's delightful to watch their reaction. The most challenging can be just finding the time to collaborate on a super fine detail level. We had that opportunity with Bahar Royaee's Rulukam which was included in our nostalgic show on childhood, Fallen from the Toy Box. Bahar was incredibly generous with her time and made space in her piece for us to do some pretty incredible and impactful things.
How does the choreography piece work? Which comes first – the music or the choreography? Or is it an organic process where it's all happening at the same time?
It depends on the piece! For example, our version of Satie's Gymnopedie No. 1 began with the big lift that Neil and I do. We workshopped getting into it safely, slowly adding my instrument to the mix. It was only after we were sure we could do it that we started thinking about what music we ought to do. Conversely, Miguel Barreilles's Milonguella started with the music – learning, then memorizing. Then we researched what a Milonga looks like and began building the choreography based on that.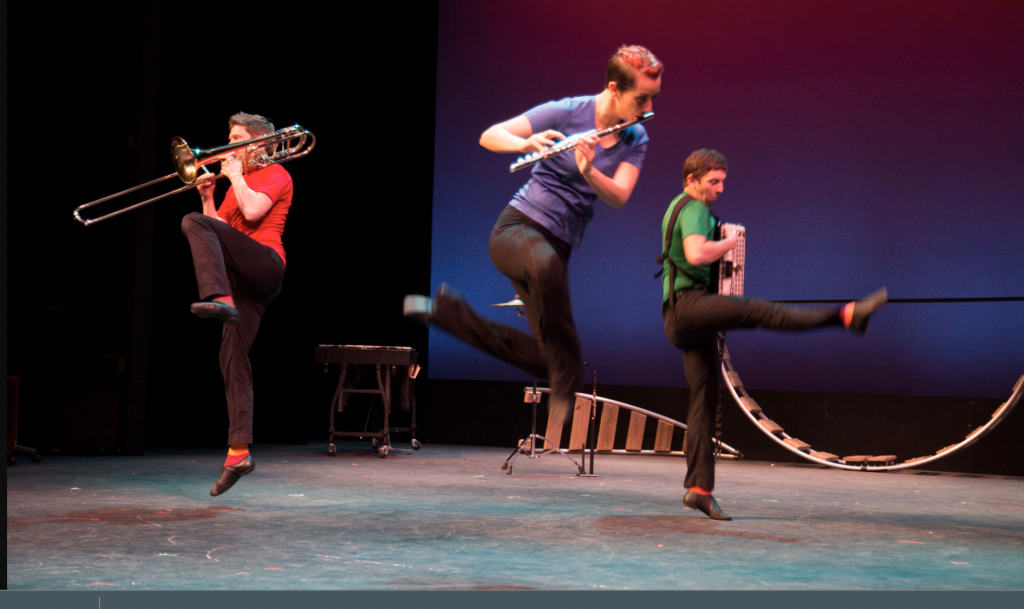 Does the Fourth Wall do all the booking and promotional work for upcoming gigs or do you have people for that now?
We mainly do all our bookings in-house. That being said, we are teaching artists for Young Audiences of Massachusetts and for Arts for Learning – Indiana. For all school shows in those regions, those organizations coordinate and handle the bookings for us.
Sometimes things work out because we are in the right place at the right time or we have the right connections. There's a little bit of luck that is often present, which is not to discount the benefits that come from hard work and dedication to one's craft. What lucky things have happened throughout your career?
So many! Who would've thought that the three of us would meet in Evansville, IN and want to continue working together? Then a few years later, a director in Indianapolis saw us perform at a fundraiser gala and decided we needed to be a part of their holiday variety show, giving us the opportunity to create some of our favorite pieces we still perform today! And I'd be remiss if I didn't mention that we are so lucky that the flute community has embraced us so much and so often throughout our careers.
What advice do you have for young musicians who dream of having a career that includes flute playing some day?
Find what you love and do it! If you can make money off doing that thing, that's lovely. But that's not the only way to be happy. Also, try things. Try lots of different things and don't be afraid to fail at those things.
Can you tell us about what teachers and mentors influenced you on your journey from baby fluteling to hybrid artist?
Every teacher I've ever had has influenced me greatly, likewise every director, collaborator, colleague, and acquaintance. I would not be the person I am today without them.
I know that you've taught hybrid arts workshops for students around the country. I first met you doing that very thing at the International Flute Symposium at West Virginia University. Do you have a regular teaching gig or is your teaching more of a residency type thing? What's your favorite thing about working with students?
I do not have a flute studio and I think we can all agree that's for the best! I think I'm best in small doses, such as a masterclass or a handful of lessons. Long-term, I think I'm a bit much! My favorite part of teaching a masterclass is finding that one thing to say to a student that makes their life easier. Maybe it's just "use a little more air on that one note" or "slow your eyes down on that run" or even "let's talk about what you want to do with your life." It can vary, but when I see the tension leave their shoulders because something got a little easier, I feel like I did something well.
Can you describe memorable moments/performances as a flutist?
Shouting "HELLO LAS VEGAS!!" at the 2012 NFA Convention Closing Gala was hilarious while wearing so, so much polyester and playing hits from the 70s. Or performing Gymnopedie No. 1 for the second time in front of people ever at the 2015 convention, which involves a solid 2 minutes of being upside down. The collective gasp from the audience made me know that we created something really special.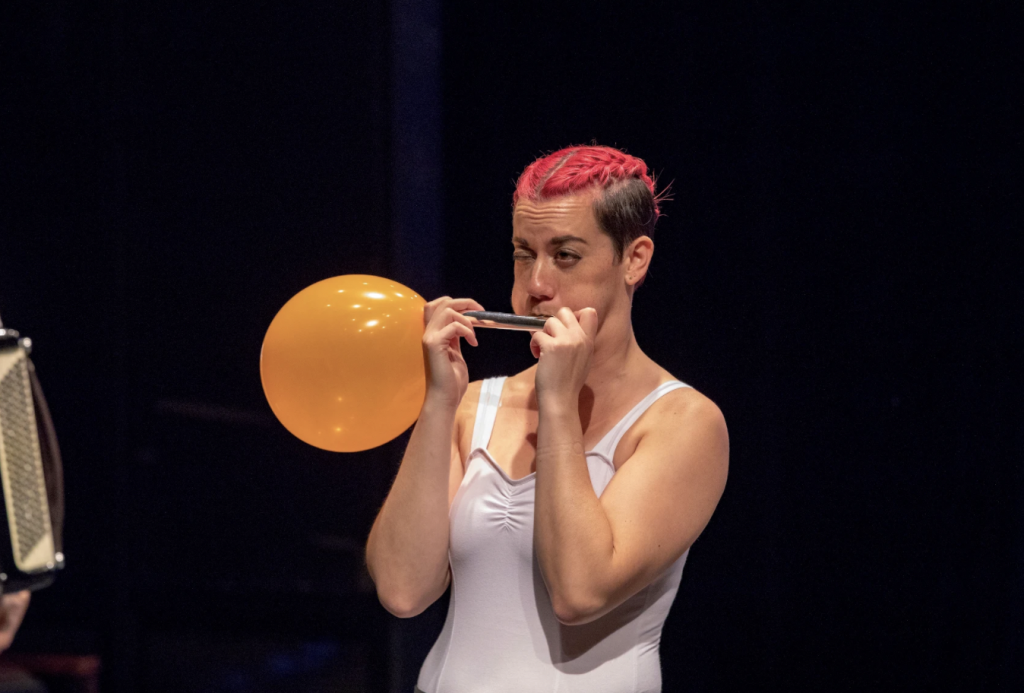 What is your most favorite thing to play from the entire body of work that The Fourth Wall has done? What's the one thing that you always want to play?
Oh no! I have to choose a favorite child! I love doing The Toy Soldier's Tale by my brother, Brett Abigaña, because I just love his work so much. I've also really been enjoying performing our arrangement of William Grant Still's III. Gamin from his Suite for Violin and Piano. Another that comes to mind is our arrangement of Vaughan Williams' Sinfonia Antartica which we perform on our giant circus prop, The Hamster Wheel. There are many many more pieces that I enjoy sharing, but those call to me in this moment.
What have been your biggest challenges and how have you overcome them?
Hoverboards are no joke, y'all. [KMW: Check this out…https://www.youtube.com/watch?v=ikWqxmTZPhk]. In all seriousness, describing what we do is pretty tricky. Most programming directors don't "get it" until they see us live and that can make it hard to get through the door, but we continue to reach out and share what we do and continue to try our best.
What kind of professional performing opportunity do you want to have that you haven't had yet?
I'd love to work with a professional orchestra to develop Fruit Flies Like a Banana: Orchestra Edition (or something) in which the audience chooses the show order and we get the orchestra involved in our shenanigans.
What's a topic that you're currently very passionate about?
Reframing the "standard program" to include underrepresented voices. There's so much music available by composers who aren't dead, white, and male. While those works are important to perform, I think it's time to highlight those folks who aren't from those categories.
Rapid Fire Questions
What is your favorite color?
Red and Green! Though not because of my sincere love of Christmas. I think they represent both sides of my personality. One is kind of aggressive and one is more tranquil and perhaps shy.
Coffee or tea person?
Tea. I start every morning with a cup of Barry's Irish Breakfast. That being said, I do love me a solid latte.
Favorite things to do that are not flute related?
Circus! I take Aerial Fabric lessons. I also love to drink and nerd out about all things whiskey, wine, and craft beer.
Dog or cat person?
Dog person. We have a 4 year old Great Dane named General Leia Organa – we call her Gen and she's a giant doofus.
Harry Potter fan? Yes or no…. If yes, who's your favorite character?
Oh absolutely. I always felt a love for Remus Lupin. He was the adult in the books that felt like a solid parent for Harry and it was heartbreaking when he got fired (spoiler alert!).
Fun fact about you that most people don't know?
I could probably quote the entirety of the movie Spaceballs.
Favorite book or book that you read most recently?
Doing a re-read of Robert Jordan's The Wheel of Time at the moment! The series is incredibly important to my husband and I and are excited for Amazon's upcoming adaptation of it.
Place you'd like to visit on vacation?
Ireland, Scotland, England, Italy… ok, basically Europe
Favorite place that you've been on vacation and would like to go back?
California's North Coast. My family used to vacation there often and I will always love it.
Favorite quote:
"You may cut me with your eyes, You may kill me with your hatefulness, But still, like air, I'll rise." – from Still, I Rise by Maya Angelou
I actually have two line from this poem tattooed on my arm!
About Hilary Abigana
Hilary Abigana is a founding member and flutist for the hybrid arts ensemble, The Fourth Wall. Praised by The Wall Street Journal for their "deft choreography," The Fourth Wall explores a new hybrid of the performing arts in which musicians are also dancers and actors. Stretching the boundaries of instrumental performance, The Fourth Wall commissions new interdisciplinary works and reinterprets established repertoire to make music that leaps off the stage. In 2017, they made their Off-Broadway debut at the SoHo Playhouse after completing a three-month long tour along the fringe festival circuit in North America with their multi-award winning neo-vaudeville variety show, Fruit Flies Like a Banana. In addition to performing hybrid arts shows, The Fourth Wall travels all over the continent conducting workshops in the basics of this genre, and encouraging participants to utilize music, dance and theater techniques in their performances.
Passionate about teaching, Hilary was the Guest Artist at Floot Fire Dallas, choreographing over 100 young flutists in a performance of "I've Got Rhythm." She then joined the Floot Fire faculty, was on faculty at the International Flute Symposium (with The Fourth Wall), and was co-director and Irish Flute teacher at the Irish Arts Academy of Indianapolis. Most recently, she was the Guest Artist for the Oklahoma Flute Society's Virtual Flute Fair, giving masterclasses to all ages in addition to performing a virtual solo recital.
Hilary is at home in the orchestra as well as in front of it. She has performed with the Buffalo Philharmonic and Saint Paul Chamber Orchestras with the "music-telling" ensemble, Tales & Scales; with the Evansville Philharmonic in a performance of the Brandenburg Concerto No. 4; and premiered a new family show in November 2013 with The Fourth Wall and the Capitol City Symphony. She was the second flutist for the Evansville Philharmonic Orchestra and piccolo player of the Owensboro Symphony Orchestra.
Hilary received her Bachelor of Music degree with Distinction and was awarded the Performer's Certificate from The Eastman School of Music and she received her Masters Degree from Rice University's Shepherd School of Music.
Hilary is a proud Verne Q. Powell Flutes Artist.
https://www.hilaryabigana.com/