Why repair matters more than ever to sustainable music participation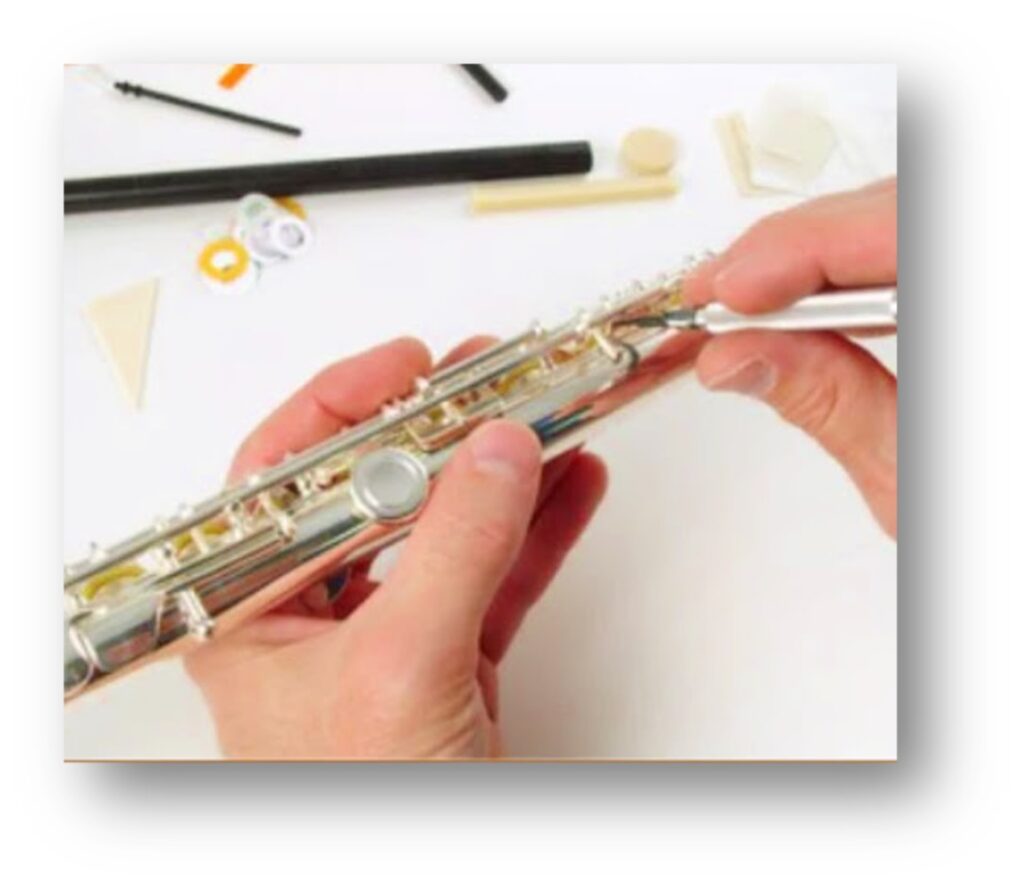 As a musician, why is that we spend most of our time taking lessons, practicing and rehearsing but learn very little about the mechanical aspects of our instrument? We play perfectly, or aspire to, but what would we do if a pad fell out on stage before a concert? Can you take your flute apart and put it back together? Can you help a student with a minor repair issue?
Don't feel bad, if you are shaking your head, thinking that you can't. You are far from alone. And yet, with all the time we spend learning to perfect our craft, it seems logical we should be able to develop repair skills to ensure our own success and to support the growth and success of those we teach.
My name is Lisa Canning. I am a clarinetist who has spent the last 40 years of my life helping others play and sound their best through repair and sales of musical instruments. I studied at Northwestern University with Robert Marcellus, Principal of the Cleveland Orchestra, and chose to build a music shop over pursuing a performing career, despite winning solo competitions and freelancing with professional orchestras early in my career. I started my clarinet shop at the age of 17 and this year is my 40th year in business. At one point I had a repair staff of 12 technicians and an instrument specialist for flute, saxophone, trumpet, trombone, and tuba, and of course clarinet, to assist clients with trials and purchases. At my largest I was a top 200 retailer and listed in Music Trades magazine. Today I run a million-dollar+ clarinet shop focused on high end clarinet sales and repair of woodwind instruments.
And like many of my customers, I never learned to repair my clarinet either. When I think back about WHY that was, it was because, quite honestly, there wasn't a craftsman willing to teach me. Despite being a performance major, until my clarinet was literally not working, I spent many a rehearsal and lesson uncomfortably muddling through with a sticky key or something not sealing well enough to speak clearly, to the detriment of my playing and my psychological state. Of course, if I had an audition, I always found a way to get it into the shop to be repaired.
Oddly, it was the Evanston, IL repair tech I trusted most, Bill Brannen, who on one such occasion before an audition helped me see how stupid it was that I didn't make repairing my instrument a priority. I had worked myself to the bone preparing for a concerto competition and was the closest I ever was to quitting because I didn't realize my instrument was in such poor mechanical condition that it was stopping me from succeeding and destroying my confidence equally.
While Bill did fix my clarinet, and I did win the concerto competition, unfortunately, Bill Brannen never did teach anyone how to do what he was so successful doing: repairing professional instruments and helping musicians be more successful by doing so. He passed away last year, taking all of his amazing repair knowledge and skills with him.
One of the things that has bothered me the most in the music business is how I see beginners and professionals alike struggle to play better because they don't have a quality repair technician in their community. I have seen musicians willing to trade in expensive instruments at a loss because of a fixable mechanical issue they were completely unaware of; I have seen advancing students want to quit playing because they think that lessons are not helping them improve, when in fact they have never had their instrument serviced or adjusted to realize how much of a difference it makes in their playing. I have equally often seen professionals do what I did in college, playing in major performing situations and struggling to make instruments work when what they needed was someone locally to help them keep it in excellent adjustment.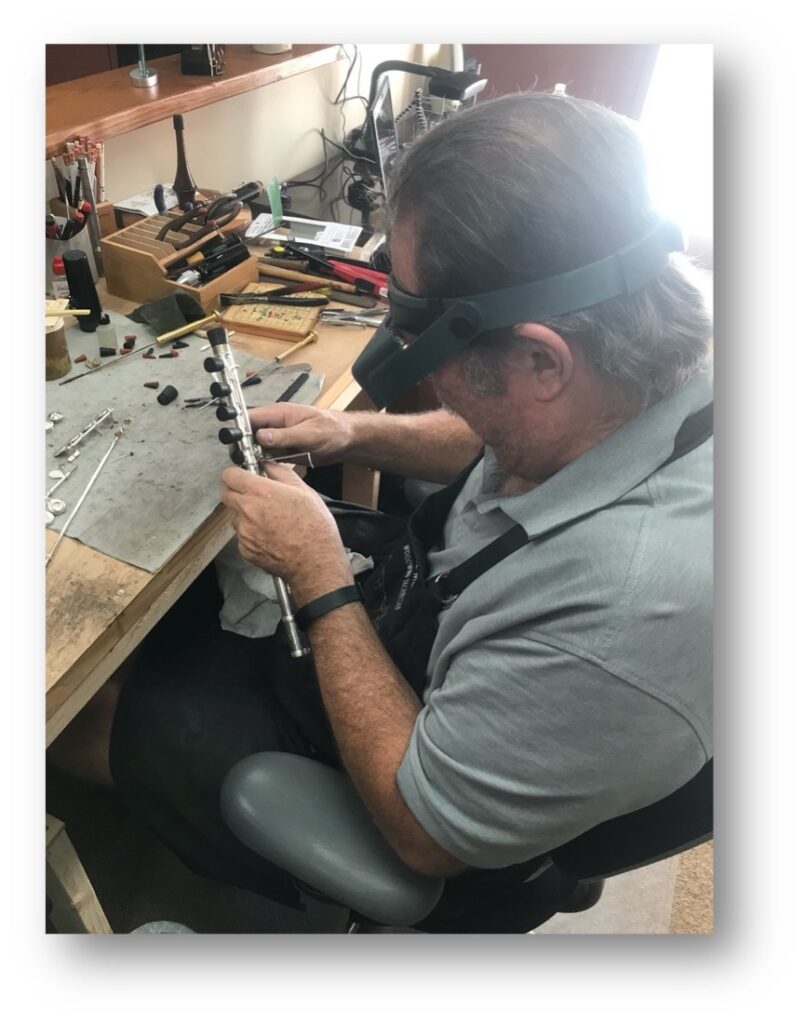 I built my music shop, actually, around the knowledge that excellent professional set up was the secret ingredient—the winning formula for attracting buyers and enthusiastic musicians to purchase high-quality hand selected instruments. The manufacturers don't assemble the instruments the way we wish and as a result they don't play as well as they can, even when brand new. And without a new or even used instrument being in excellent adjustment, you don't really know the true color, shape or sound the instrument has and therefore how could you possible sell it to anyone knowing when you do properly adjust it, it will change?
I sure couldn't. And so, leveraging the highest level of quality repair has been at the center of my business for decades now serving thousands of customers.
5 years ago, before COVID, my business was growing faster than I could handle, and I needed to find another quality technician, or I would have to start turning work away. I contacted everyone I knew in the industry; I posted a help wanted ad with Red Wing and NAPBIRT- The National Association of Professional Band Instrument Repair Technicians. Someone answered my ad from Ohio but otherwise no-one-qualified to repair high end woodwind instruments replied to any of my emails or job posts. No one.
The sad truth of it is that most of the best technicians are close to retirement age, and the best of them are too few in numbers across the United States. How can we spark more love for music if every community does not have quality repair available to those whose curiosity has resulted in a purchase from the pawn shop, a hand me down from a relative, or a rental from a local music store?
It was during a visit to Buffet Crampon (the parent company of Powell flutes) that I got into this same conversation with their head repair technician, Bruce Marking. Much to my surprise, when I told him I was at my wits end because I could not run my business without adding another excellent craftsperson, he offered to leave Buffet and open a shop with me in New Mexico and teach repair until he retires in the next 7-10 years.

It was, frankly, a dream come true. Not only would he work on our instruments, but he would help me pay it forward by offering to teach anyone interested in learning all of the tricks he knows to build their skills to the level of his or close enough to be able to turn it into a side hustle or at least more job security.
And so, it was that this past July our Santa Fe, NM shop opened, during a global pandemic, and Bruce and I set out to create a series of courses designed to help you never worry again about fixing something on your own instrument, or help a student with a problem they have in a lesson, or to turn your newly developed skills into a part-time job as supplemental income.
We launched with 27 students between two courses, Clarinet and Saxophone. Our students are professional musicians, teachers, band directors, music store owners and hobbyists, and we even have a car mechanic who always wished he had followed his heart and pursued music—now he is, through repair. They are truly a collaborative bunch.
It's the repair technician in a local community who is part psychologist, hand holder, designer, innovator and craftsperson to someone new or advancing in music. They are the ones who help them get that pawn shop flute to somehow work until they can build enough trust with them to tell them when they come to love it enough to consider investing in a better instrument. Without them, there is a huge void in every community for both prospective music lovers and advancing doubting-themselves-and-their-abilities-students alike, honestly. My goal in launching these classes is to create more opportunities for musicians and for new people to participate in music by using their skills to get more involved and stay involved in playing their instruments.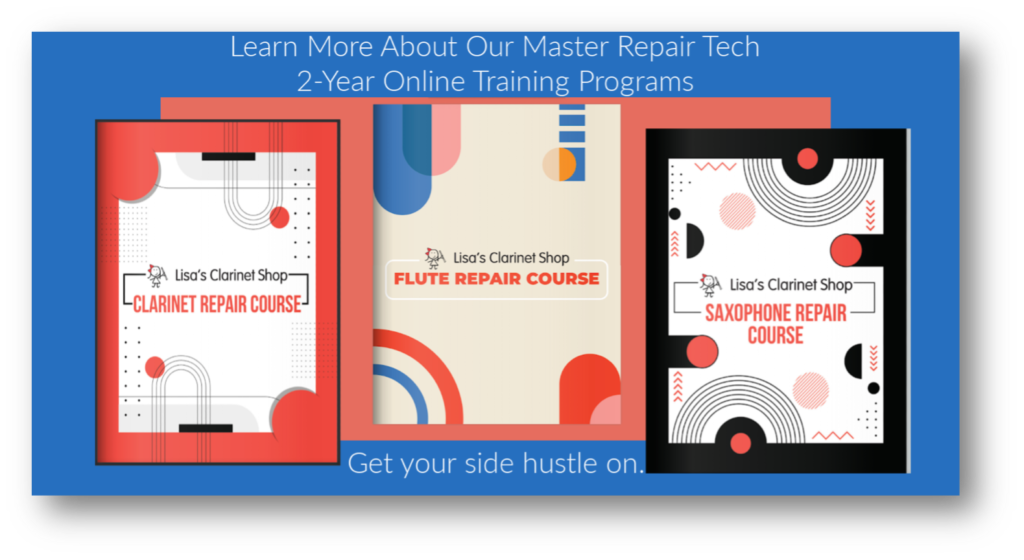 Our program is a 2-year program. The first year of flute begins June 19th, 2021. If you're handy and believe like I believe that that the future of music depends on more quality repair, I am inviting you to consider joining the program. Our students are earning money around the 4th-6th month. In year 1 it's quite normal to be able to do a repad and earn a couple of hundred dollars or more for it.
As for our head instructor, Bruce Marking has worked at Powell Flutes/Buffet-Crampon as their head of repair for 14 years and spent over 25 years working for full-service music stores in Florida. Bruce is a full-service repair technician with almost 40 years of experience repairing professional clarinets, flutes, saxophones, oboes, bassoons, trombones, trumpets, French horns and tubas.
To learn more about the program go to: https://lisasclarinetshop.com/woodwind-repair-courses/
Lisa Canning is a professional clarinetist, the owner of Lisa's Clarinet Shop and a 40-year veteran in the music industry. She has been recognized by The Obama Administration and academically published by The United States Association for Small Business and Entrepreneurship® (USASBE) for innovation in entrepreneurship education. Through her not for profit, IAEOU.me, Lisa has spent the majority of her career devoted to developing underserved workforces, especially in the creative sector.