What is crowdfunding?
Crowdfunding (noun):
A scary word combining two of musicians' least favorite things: not having enough money and talking about money.
Though crowdfunding, fundraising by receiving small amounts from a large number of people, is an idea as old as war bonds and as historically-significant as the Statue of Liberty's base (get the story from the BBC!), its current incarnation burst onto the fundraising scene around the turn of the 21st century, propelled by musicians. Since then, crowdfunding has become one of the most popular ways to raise capital, with over $34 billion raised globally and projections estimating that over $300 billion will be raised by 2025.
Why crowdfund?
Have a dream project on the back burner? Turn on the heat!
After releasing my debut solo album reach through the sky in April 2016 under the old-school model in which the label paid me to make the disc, I had a bad case of the recording bug! Unfortunately, that modus operandi is as extinct as the dinosaurs, and, to get back in the recording studio again, I had to fund my second CD much differently.
While traditional funding methods for all kinds of dream projects remain viable, many are tricky for musicians. Bank loans carry personal risk and may require collateral, grants are competitive and narrow in scope, and while an angel investor sounds ideal (anyone know Bill Gates?), pigs don't have wings. For the entrepreneurial musician, crowdfunding is the way to turn dreams into realities!
I crowdfunded because, after seeking funds through grant writing and corporate sponsorships for a year, I'd only raised 1/1o of my project's finances. Necessity was the mother of my campaign!
What are the crowdfunding options?
In the beginning…there were Indiegogo and Kickstarter.
While these big two have the largest slice of pie, there are over 2000 crowdfunding platforms, including GoFundMe, Crowdrise, Patreon, and Fundable, each offering different slants. The biggest decision-making factors in choosing a crowdfunding platform are:
1) All or nothing v. flexible funding
Platforms like Kickstarter are all or nothing, either hitting your financial goal and receiving all funds raised, or coming up empty handed (gulp!). Flexible funding sites like Indiegogo pay out what you raise, regardless of whether your goal is reached, though fees are deducted.
2) Donation v. reward
Fundraising for a nonprofit or charitable cause? Donation-based crowdfunding is for you, while others choose reward-based crowdfunding, in which donors receive perks for pledging. (Oprah proved that everyone loves gifts!)
3) Open v. application only
Some platforms like Indiegogo allow fundraising for any project (did you see this one?), while Kickstarter has an approval process, and sites like PledgeMusic are musician specific.
How do I prepare my campaign?
"Give me six hours to chop down a tree, and I will spend the first four sharpening the axe."
– Abraham Lincoln
Research recommends preparing a campaign two months in advance, spending most time cultivating your support community. Create professional social media accounts, bolster your presence on platforms like Facebook, Twitter, Instagram, and YouTube, create email contact lists of potential donors, and recruit team members to promote your campaign. Platforms like Indiegogo offer pre-launch pages to get word out about your campaign and collect supporter's email addresses.
Campaigns offering perks raise 143% more than those without, so start planning thank-you gifts! If you're fundraising a physical product, your featured perk should be that album, book, or flute gadget, but offer perks at all price points geared towards ranges of donors. Flute students may only afford $10 but crave an online shout-out from an established flutist, while grandma isn't interested in a flute lesson but may love homemade cookies instead. Make your perks unique to you and your project! (One of my campaign's most popular perks was "recipe review", where donors received one of my signature recipes, and both lessons and cookies were other hot options.)
Video killed the radio star, but pitch videos help campaigns raise four times more funds. Fire up your video camera, learn editing with iMovie, and become a film star to promote your project! Generate the bulk of your written copy in advance, from your campaign pitch to press releases, updates, blogs, ask emails, and social media posts.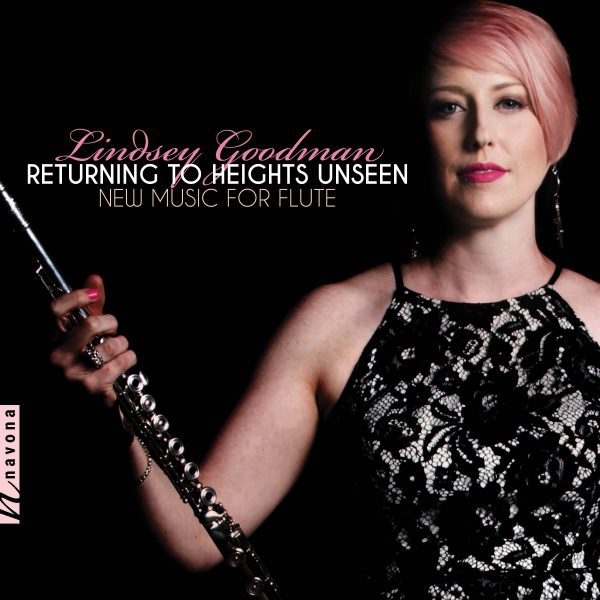 My campaign's live. What next?
Campaigns that raise 1/3 of their funds in the first 3 days are most likely to reach their final goals, so choose your timing strategically.
Running a campaign is at least a part-time job, demanding daily cultivation over an average length of 44 days. (For my campaign, I hosted free launch events in two supportive communities the weekend my campaign went live, offering a recital, studio tour, wine, and hors d'oeuvres by invitation to surpass the 30% goal.)
When donations begin, thank your backers!
Send thank-you emails and post social media shout-outs. The latter celebrates your supporters, and shows that your campaign is garnering traction, encouraging others to pledge. Roll out new perks throughout the campaign to sustain interest.
Post regular updates on your social media and crowdfunding platforms, which can help raise 286% more funds! Get creative with video and photos, and utilize pre-written copy to reach different audiences. (I created a playlist of YouTube videos featuring each composer on my album to tap into their fan bases.)
(For my flexibly-funded campaign, I chose three tiers of financial goals ranging from label fees to studio costs to finally reimbursing myself and the composers who had footed the bill to that point in the project.) As your goals are achieved, commence celebratory updates until…
My campaign's over. Now what?
Congratulations, but this is no time for laurel resting! Whether your project reaches its deadline or financial goal first, immediately disseminate a special thank you for your backers upon your campaign's completion. Feeling perky? Good – it's time to distribute perks to your donors!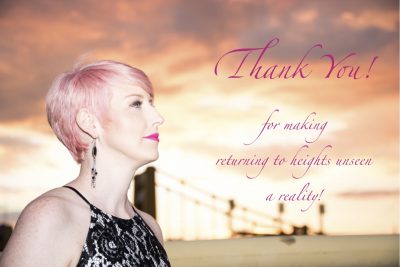 If you opted into Indiegogo's InDemand feature, which allows successful campaigns to continue fundraising after their deadline, keep your project's momentum going. (When my campaign reached its final goal two weeks early, this video announced an additional stretch goal for marketing and commissioning monies as the project moved into InDemand.)
Still unconvinced?
"We are the music-makers,
And we are the dreamers of dreams…"

– Arthur O'Shaughnessy
My new solo album was successfully crowdfunded on Indiegogo in fall 2018, surpassing the goal by over $1200! (Insert shameless plug: pre-order here!) While I expected an immense workload while running my campaign (and hoped for a positive result!), I didn't expect the most important outcome: immense and lasting gratitude.
Thanks to the incredible outpouring of support from family, friends, colleagues, fans, and the flute and new music communities, I've never felt more supported as an artist, and the resulting album is returning to heights unseen, which features eight new works for flute and electronics and will be released by PARMA Recordings on May 11th.
It's lovingly dedicated to the 135 backers who made my dream a reality, because it's their album. I'm just forever grateful that they allowed me to make it!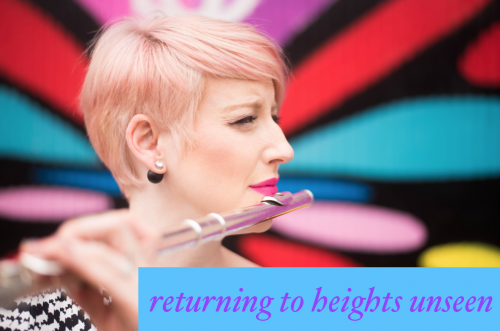 ABOUT LINDSEY GOODMAN
Lindsey Goodman is known throughout North America as a soloist, recording artist, chamber collaborator, orchestral musician, educator, and clinician. Renowned for her "generous warmth of tone and a fluid virtuosity" (Charleston Gazette), "impressive artistry" (Tribune-Review), and "agility and emotion" (Pittsburgh Post-Gazette), Lindsey has performed solo and chamber concerts, taught masterclasses, and given presentations at countless series, festivals, and universities. Her "brilliant", "bravura performances" (Tribune-Review) "played with conviction" (New York Times), "flair, and emotion" (Gazette) have been heard in three countries, including at Carnegie Hall, Eastman School of Music, University of Cincinnati College–Conservatory of Music, Edinburgh Festival Fringe, New York City Electroacoustic Music Festival, Google headquarters, and several National and Canadian Flute Association conventions.
A committed advocate for living composers and electroacoustic music, Lindsey is an active commissioner of new works with over one hundred world premieres to her credit. Her debut solo album, reach through the sky, is available from New Dynamic Records, and she can be heard in solo, chamber, vocal, and orchestral performances on the New World, Navona, and Albany labels, among others. Lindsey has given multiple professional recitals in New York City, performed concertos from Mozart to commissioned works in the United States and Canada, and been featured in live and recorded radio broadcasts on stations across the country.
Lindsey is solo flutist of the Pittsburgh New Music Ensemble, principal flutist of the West Virginia Symphony Orchestra, and adjunct lecturer at West Virginia State University and Marietta College. She is a founding member of flute quartet PANdemonium4, the Leviathan Trio (flute, cello, and piano), and ASSEM3LY (flute, piano, and percussion). Classically trained as a mezzo-soprano, Lindsey is also one-half of Chrysalis, a singing flutist and singing pianist duo. A student of Walfrid Kujala and Robert Langevin, Lindsey received degrees from the Manhattan School of Music, Northwestern University, and Duquesne University. She resides in Ohio with her husband, percussionist, composer, and educator Chris Carmean, and their dog Jack. www.LindseyGoodman.com
Lindsey's new solo album, returning to heights unseen, which she successfully crowdfunded on Indiegogo in fall 2018, surpassing her goals by over $1200, will be released by PARMA Recordings on May 11th, 2018, and features eight commissioned works for flute and electronics. Pre-order at http://bit.ly/GOODMANRTHU.