Iconic flutist Mimi Stillman has a well-earned reputation for excellence as a performer, a teacher, and a champion of new music, along with so many other interests. Please enjoy this inspiring conversation with someone who is one of the musical world's very own modern classics!
JD: You were the youngest wind player ever admitted to Curtis. I can remember reading about you and being so impressed by your accomplishments at such a young age. What was it like to be a prodigy?
MS: I never thought of myself as a prodigy, though at age 12, I was the youngest wind player accepted to Curtis and I started my professional career at a very young age. I always felt like myself; it was only years later that I realized I was a child doing all those things! I grew up surrounded by classical music at home in Boston, where I was born. My mother played  the clarinet; my older brother saw her playing and wanted to play the clarinet too, so she taught him from the age of six. My parents took us to concerts and to my brother's youth orchestra rehearsals. My mother started me on recorder and taught me to read music when I was five, and within a year I told my parents I wanted to play the flute. I had fallen in love with the sound of the flute and identified with it as my musical voice. From the earliest youth concert I gave as a student at New England Conservatory preparatory division, I knew that I wanted to be a musician.
A chance meeting with the legendary flutist Julius Baker changed my life. When I was 9 or 10, my mother gave me a recording of Julius Baker and I was captivated by his sound, which I wanted to emulate. When I was 11, I got to meet him at the NFA convention in Boston. He asked me out of the blue if I knew any Mozart, and when I told him that I know the Mozart Concerto in G Major, he asked me to play it then and there before an audience at his demonstration for Yamaha.
It was a dream come true to meet Julius Baker, and to perform for him was beyond thrilling.
I agreed, performed, and he asked me to perform again the next day. After that I began studying with him and he suggested I apply to Curtis. I never thought I would be accepted then, but I was, and so thanks to Julius Baker I got my start in music.
At Curtis, I not only studied with two marvelous teachers – Julius Baker and Jeffrey Khaner – but also with many other brilliant teachers and coaches, including Richard Woodhams, principal oboe of The Philadelphia Orchestra, and Donald Montanaro, associate principal clarinet of The Philadelphia Orchestra. Among the conductors I played with were Sir André Previn, Sir Simon Rattle, Kurt Masur, and more. When I was 15, Jeffrey Khaner called me one morning to tell me he needed me to play as substitute second flute in The Philadelphia Orchestra for Brahms Requiem with maestro Wolfgang Sawallisch and soloists Dawn Upshaw and Thomas Hampson. I had 90 minutes to get to rehearsal, and then gave three performances. That was an unforgettable experience!
Although I was much younger than most of my peers, I always felt I fit in both at Curtis and in professional situations as a performer, because it was the music that brought us together. I also felt very comfortable with adults because I had always enjoyed the company of my parents' friends and those of my brother, who is 8 years older than me. Many people have asked me over the years if I feel I had a "normal" childhood, and while it was certainly unusual, it felt normal to me and I always had a lot of fun. I enjoyed many interests outside of music and kept a sense of balance in my life.
I am thankful to my parents for keeping me grounded while helping me to pursue music so seriously at such a young age. I am also thankful for teachers who pushed me artistically but always cared about my well-being as a person who was growing up while starting a musical career.
JD: It can be all too common for a committed musician to have no other interests, despite the benefits of diversity in our careers. What drew you to history as a field, and how do you feel your life as a historian enriches your life as a musician?
MS: I've always had interests outside of music because my parents created an atmosphere of learning and intellectual curiosity at home. They are foreign language textbook authors and professors, specializing in Spanish and French, and scholars of history, literature, and linguistics. I loved reading and was interested in history from a very young age, so pursuing an MA and PhD in history at the University of Pennsylvania (after graduating Curtis with a Bachelors in Music) while performing full time was very natural. I realized I wanted to keep learning academically after going to conservatory. My decision to study history in graduate school while being a performer was one of the most mind-opening and momentous decisions I've ever made, because it has greatly influenced who I am as an artist and individual. My curiosity about music and my desire to set it in its broadest cultural context shaped my studies at UPenn, where I wrote my MA thesis on the influence of Asian music on Claude Debussy. I absolutely love Debussy and fin-de-siècle French culture, and I have devoted several projects to Debussy and his world in my work as a soloist and with Dolce Suono Ensemble, a Philadelphia-based chamber ensemble of which I am founding Artistic Director. Most of our artists are fellow Curtis alumni. Since I started the ensemble in 2005, we have performed and presented a concert series of repertoire ranging from Baroque to new music in Philadelphia. We have also performed on tour, made recordings, and we do community engagement and educational outreach such as Música en tus Manos (Music in Your Hands), our engagement initiative with the Latino community (I speak Spanish). We will close our thirteenth season 2017-2018 with a cumulative total of 53 world premieres!
I have made the combination of music and scholarship the hallmark of many of my projects as a soloist and chamber musician, including concert and recording programs and my own arrangements of works by Debussy, Dvorak, and Amy Beach.
My life as a historian enriches my life as a musician by helping me think and play more deeply, in framing projects as wide-ranging as Dolce Suono Ensemble's tributes to Mahler, Schoenberg, and Samuel Barber, in projects integrating visual art with music, commemorating the Holocaust, and in my recording "Freedom: music for flute, piano, and the human spirit."
Thus my artistic vision as a musician is to enrich my performance with cultural and historical contextualization and to put this approach at the service of communicating with audiences.
JD: You've premiered several wonderful and important compositions for flute. What is compelling about new music for you, and do you enjoy being part of the compositional process?
MS: Part of my goal in commissioning new music is to expand the flute solo and chamber repertoire, not only for me to perform but for all of us. I love working with composers because it is tremendously exciting to be part of the "birth" of a new work of art – and to play an active role in bringing it to the world by commissioning, performing, and recording it. My Dolce Suono Ensemble gave our 51st world premiere in March 2018. We've commissioned and premiered works for a variety of combinations with a focus on the flute, cello, and piano instrumentation of my Dolce Suono Trio. We just released "American Canvas," our new recording for Innova with four premieres, including three of our own commissions, by Jennifer Higdon, Shulamit Ran (2 Pulitzer Prize-winning women), Zhou Tian, and Andrea Clearfield.
I have also had the pleasure of premiering works by eminent composers including Richard Danielpour, Steven Stucky, Steven Mackey, Mason Bates, and David Ludwig. I learn so much from talking with great composers and playing their music for them as we prepare for the premiere because I get to see how they think about music and the inner workings of the construction of their music. Some of my favorite moments are when a composer writes an effect and asks me to experiment with it. It's a fascinating process by which we try different ways to make the technical aspects on the instrument serve the artistic vision of the composer.
Pianist Charles Abramovic and I have been performing as a duo for almost 16 years, and among our projects was "Odyssey: 11 American Premieres for Flute and Piano" (Innova Recordings). It has been extremely gratifying to hear from flutists around the world who are playing music that I commissioned, as I feel these wonderful new pieces are having a life of their own after we launch them.
JD: You are widely regarded to be an uncommonly expressive player. I've heard you live several times, and I concur with the reviewers! How do you encourage your own expressiveness, and how can young flutists find their way to the music within the music?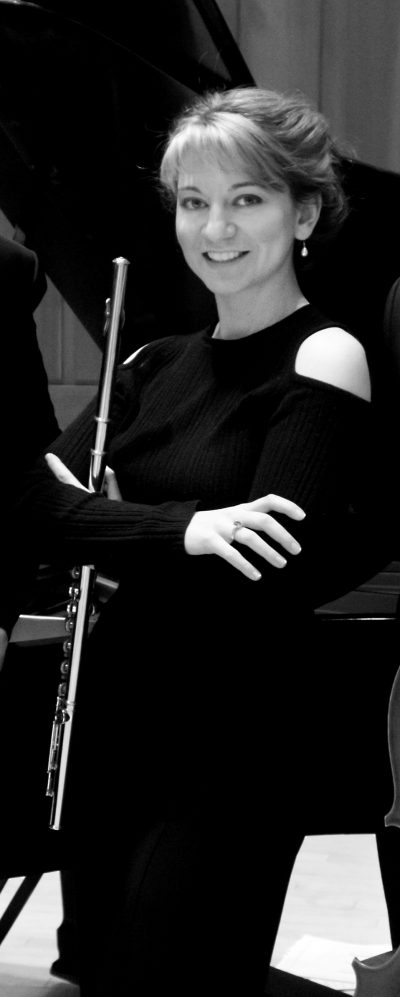 MS: Thank you, Jessica, for your kind words. I am constantly in awe of the power of music as a form of universal communication without words. I feel deeply moved by the music I perform, and that immediate emotional connection to the music is at the root of my expression. Coexisting with this visceral experience is an intellectual one in which I strive to evoke the distinct style of each piece and each composer through study of style and performance practice.
How do we understand and perform the distinct styles of Bach, Mozart, Faure, Prokofiev, Ibert and Nielsen, for example? I think the flute works of Bach and Mozart are the most difficult in our repertoire stylistically, and also some of the most rewarding to perform.
Within each piece, of course, one has to make a lot of decisions about the composer's intentions for phrasing, nuance, timbre, and overall architecture – and it is these elements which are key to the expression.
I encourage young flutists to look beyond the notes to the phrases, to the style, and not to overlook reading about the composer and his or her time. Learn about what life was like for Haydn or Ravel or Stravinsky; and what literature and visual art was created at the time of the music. As a young child I was inspired by the painting of Monet and surrounded myself with his works – the visualization of his art enhanced my expressiveness in music.
JD: Your Syrinx project (Mimi played Syrinx in various locations every single day over the course of a year) was fascinating. Syrinx can be such a deliciously abstract piece, so changeable with every performance. How did the project affect your relationship with Syrinx?
MS: I'm so glad you joined me on my Syrinx Journey! During 2012-2013, I celebrated Debussy's 150th anniversary with my Dolce Suono Ensemble in a season-long project. I also wanted to do a personal tribute to the iconic composer, so I decided to record his 2 1/2-minute solo flute masterpiece Syrinx every day and post it on my blog with written commentary. Starting and ending on Debussy's birthday on August 22, I recorded Syrinx 366 days in a row! The first performance was at the Roman amphitheater in Bet She'an, Israel, and other performances took me throughout the United States, Israel, and Italy, everywhere I was performing throughout the year as well as at home. Sometimes I would focus on an aspect of Debussy's life or work, such as an artist or writer he admired, juxtapose Syrinx with other music, or I'd ask family and friends to join me in playing or reciting poetry. I found that I never tired of the work, rather that I always found new timbres and moods and ideas in it, a testament to its greatness. The location, whether I was playing for an audience or alone, and my own emotions all affected the performances. Some examples include my taking Syrinx outside into nature, on the train to Washington, DC, playing it in an echo with flutist David Cramer, walking around sculptures by Rodin.
JD: What are you working on these days?
MS: I recently had one of the most challenging and inspiring experiences of my musical life as I transitioned from playing other composers' cadenzas for Mozart's concertos to writing and improvising my own. As soloist with the Chamber Orchestra of Philadelphia and Maestro Dirk Brossé this season I performed the Mozart Concerto in G with improvised cadenzas and Piazzolla's Libertango with improvisation on flute, alto flute, and piccolo. I also gave the U.S. premiere of a terrific piece by Brossé. I relished performing this very diverse program and the expanded improvisation in two very different styles in the orchestra's season of "Improvisation."
I'm sure readers have noticed how devoted I am to Debussy's music! Dolce Souno Ensemble is doing a "Claude Debussy Centennial Festival" this spring marking the 100th anniversary of the composer's death in 1918. We gave a concert of Debussy, Saint-Saens, D'Indy, Massenet, and Delibes with Sarah Shafer, soprano, Ricardo Morales, clarinet, Arlen Hlusko, cello, Charles Abramovic, piano, and myself, and are welcoming harpist Bridget Kibbey for the next program in April 2018.
I'm looking forward to recording great flute sonatas with Charles Abramovic, and to performing Leonard Bernstein's "Halil" with the Temple University Percussion Ensemble in fall 2018 as part of the global Bernstein centennial celebrations.
I joined the faculty of Temple University this year and am enjoying teaching three wonderful students there in addition to my own studio. I recently taught masterclasses and coached chamber music as Yamaha Performing Artist at the Music for All National Festival, and will return to the faculty of Curtis Summerfest this summer.
I continue to solo with orchestras and give recitals and masterclasses throughout the season. April-May 2018 will bring me to Texas Christian University and Southern Methodist University in Texas and the Chamber Orchestra of the Triangle in North Carolina. I love to meet my fellow flutists on the road!
I love going to concerts when not playing them, to the theater, art museums, seeing family and friends, vintage clothing, and Mexican telenovelas.
JD: What a wonderfully busy, fulfilling life you have! Thank you so much for sharing your story with us here at the Flute Examiner!
---
ABOUT MIMI STILLMAN
Mimi Stillman is one of the most acclaimed flutists in the music world. "A consummate and charismatic performer" (The New York Times), she has appeared as soloist with orchestras including The Philadelphia Orchestra, Orquesta Sinfónica de Yucatán, Bach Collegium Stuttgart, Indianapolis Chamber Orchestra, and Chamber Orchestra of Philadelphia, and as chamber musician at venues including Carnegie Hall, The Kennedy Center, and the Verbier Festival.
As founding Artistic Director of Dolce Suono Ensemble, she has created a critically acclaimed force in the music world.
Mimi Stillman and Charles Abramovic have been performing as a highly acclaimed duo for 15 years. They tour and record extensively and are founding members of the Dolce Suono Trio. "Their stellar artistic clarity and chemistry are palpable onstage and vividly captured on their recent recording Freedom." (The Huffington Post).
With an extraordinary range of accomplishments, Ms. Stillman made the leap from child prodigy to inimitable artist. At age 12, she was the youngest wind player ever admitted to the Curtis Institute of Music where she studied with the legendary Julius Baker and Jeffrey Khaner. She received a MA and PhD (abd) in history at the University of Pennsylvania, and is a published author on music and history. She is lauded for expanding the repertoire through her commissions and arrangements. She has won many competitions and awards including Young Concert Artists International Auditions, the Bärenreiter Prize for Best Historical Performance for Winds, and Astral Artists Auditions. A Yamaha Performing Artist and Clinician, she has taught masterclasses for institutions including the National Flute Association, Eastman School of Music, Cornell University, Rutgers University, the universities of Texas, California, and Virginia, and at conservatories and flute associations throughout the world. She is on faculty at Temple University, Curtis Summerfest, and Music for All National Festival. www.mimistillman.com