The last few years have been a bit of a challenge for us all. Many of us have experienced loss of jobs, loss of friends and family to illness, and loss of the life we knew pre-pandemic. Many of us have longed to get back to seeing friends, making music, and being social. This year, the National Flute Association celebrated its 50th anniversary and held their convention in Chicago. We powered through covid testing to assure safety in rehearsals, masking up when appropriate, and focused on keeping ourselves and friends safe in order to be together again. This year was different but also extraordinary in so many ways.

First, NFA offered their first ever LGBTQ+ flute choir under the direction of George Pope and organized by Vincenzo Volpe along with the assistance and hard work of many others. I had the pleasure of playing contrabass flute for a virtual recording last year and was invited again this year to be part of the in-person, inaugural performance. What a joy to be in a room full of so many talented, loving, and supportive people who are also good friends. Hal Ide, a wonderful human, excellent alto flute player, and artist behind the painting chosen to represent the NFA 50th was among our ranks. Humor and camaraderie abounded while we made music together. We also premiered several works that were written for the event. Seeing the broad spectrum of representation in the choir and knowing we were there to support the idea that it is the variety of colors in the rainbow that makes America great was an amazing thing. It was absolutely one of the highlights of NFA 2022 for me. I look forward to seeing the ranks of the LGBTQ+ flute choir growing as more family and allies join us in celebrating diversity.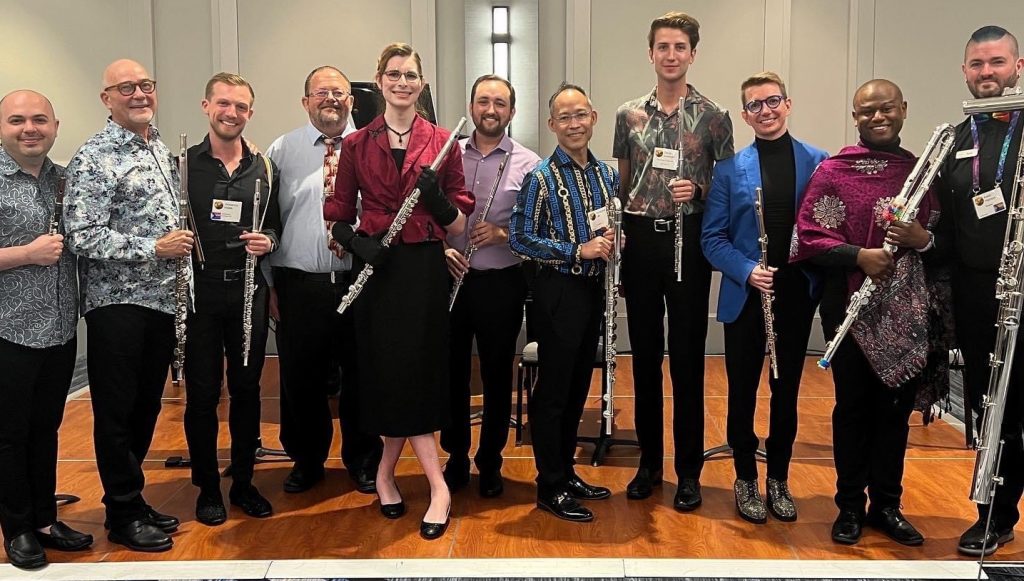 Another amazing experience was performing for the Friday night gala and premiering Julia Wolfe's "Oxygen," with 144 flutists. Can you imagine 12 parts, 12 people on each part, all being led in the performance by Ransom Wilson's baton (well, orange cleaning rod)? The organization of the performance was led by Lisa Bost, whose excellent communication and scheduling skills brought the whole thing together.
I got to share a stand with my dear friend Christie Beard (oddly we were both playing bass flute) and shared the stage (floor) with countless other big names in the flute world. Leonard Garrison was sitting behind us, Lisa Garner Santa (who photo bombed one of my selfies with Zach Galatis during a rehearsal..see photo), Jennifer Grim, and the list goes on. I even got to share the stage with some coworkers from Flute Authority, Tonya Adams and Emily Passini.
Adding to the excitement of the incredible performance (too many to list, but wow) I got to meet some of my repair clients and social media friends. I got two adorable little gnomes from Marla Snyder, and they now live in my home studio. I got to meet Dr. Stephanie Lupo, winner of the Graduate Research Competition for her dissertation focused on piccolo intonation. I bought her book and had her sign it. It was so validating for me to see that she cited my own dissertation AND multiple articles from the Flute Examiner. I can't tell you how it feels to know people are referencing the work that you are passionate about writing!

Yet another exciting moment for me as a teacher is having a former student of mine hired for a full time position with Flute Authority. Not only have I had the pleasure to watch Cris Dohler Rodas grow as a musician but now I get to work with them as a colleague and friend. I always told my students that the longer you are in the field of music, the smaller the world gets and that one day, we may end up working together. Along this same note, seeing a close friend, Adam Pettry, displaying his new piccolos at his first NFA brought me both pride and joy, seeing his success first hand.
Finally, probably the best part. Three out of four of our Flute Examiner team were in the same place at the same time. Jessica and I finally met in person although we have known each other for years. I also was very lucky to get to hear Kelly in her dress rehearsal in preparation for the alto flute competition. Wow, she can play her butt off! Our team is incredible and it was amazing to not only get to spend time with them but also perform in the gala concert with them. This was an incredible event and wouldn't be possible if it weren't for the National Flute Association team, specifically Aaron Goldman and Laura Benning, whose hard work brought the vision to life!