When did you know that flute was THE instrument for you? What has your education as a flutist been like?
I just followed the path of least resistance. I wish I had an inspirational story about how I fell in love with the flute but it was more of a marriage of convenience that turned into a lasting love. All of my friends chose the flute in the 5th grade so I went with it. I eventually got some lessons and the competitive nature of being a flutist in band meant that I actually had to practice. I wonder if I would be a musician today if I chose the bassoon. Not that bassoons aren't cool, but because there was always a shortage of bassoonists in my schools, I bet I would have done the bare minimum to stay in band! When I went to college I thought I was going to be a conductor so it didn't matter which music degree I got for my undergraduate degree. (There were no undergraduate conducting programs back in my day.) I got a flute performance degree from DePaul University but I didn't take it as seriously as I wish I had. Love for the flute came a lot later.
What was your plan as you set out into the world with your university degrees? Is what you're doing now what you thought you'd be doing?
Halfway through my senior year of college I realized that I had no idea what I was going to do after graduation since I didn't get into any of the conducting grad programs I applied for. I never took the flute seriously so I had no confidence in being able to freelance and teach. So I decided to start a Masters in Information Technology at DePaul. After one year of the program and interning in the IT department at the Chicago Symphony Orchestra, I realized I didn't need a degree to get a job in IT. So I moved back to California and worked in IT for a couple years. I put my music life on hold and wasn't sure if and when I'd get back to it. Then one day I woke up and realized that I was just helping rich people get richer in my IT consulting job. So I quit and plunged into the life of a hustling musician and music teacher. So, no. What I'm doing now is not at all what I thought I'd be doing when I was at DePaul.
How did you become passionate about the field of new music, complete with non traditional instrumentation?
After I quit my IT consulting job, I started practicing again and went back to school at San Francisco State University to get my MM in Flute Performance. I had many years of catching up to do so I practiced a lot and practiced playing with incredible tension. I almost quit the flute again at the end of my master's degree because I felt that I couldn't express myself through the flute. I was also in a lot of practice-induced pain. A friend suggested that I try this summer program where the teachers were flutists who were also somatic educators. I took my first Alexander Technique and Feldenkrais lessons there. It was mind blowing and it completely changed my life. After that, I started to relearn how to play the flute so that I didn't fall into the same habits that led to my injuries. And part of relearning meant avoiding the old repertoire. Playing brand new music and commissioning new pieces meant there was no "correct" way to play this music. It was liberating, intimidating, and necessary.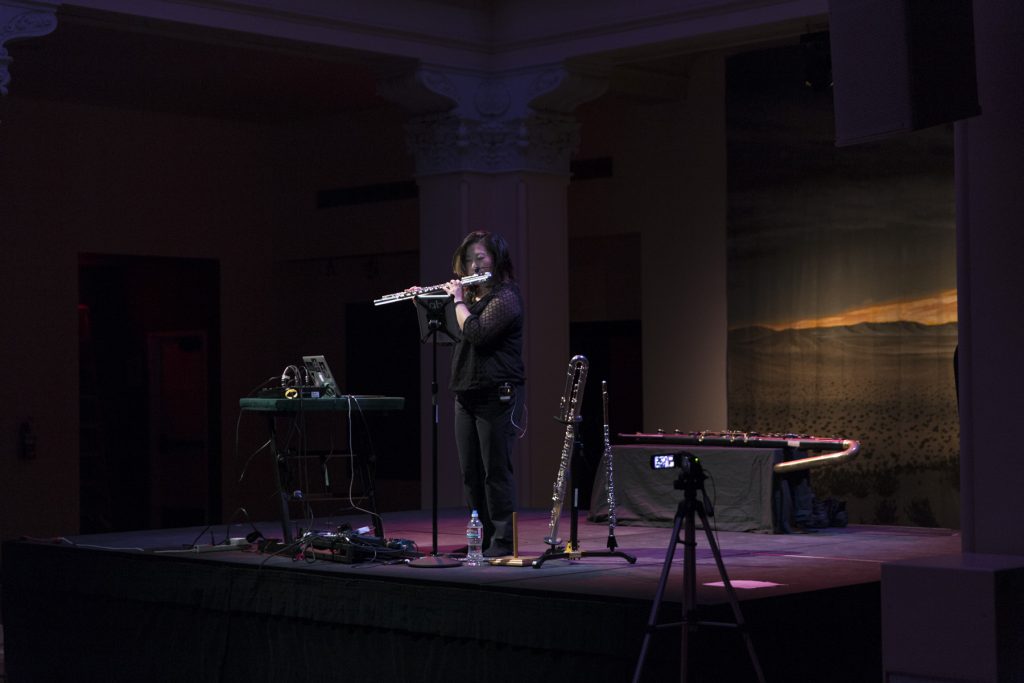 What is your favorite thing about working with composers on new music? What's the most challenging thing?
I love learning new techniques or being introduced to new sounds, ideas, and processes! I've learned so much from working with flutist composers such as Janice Misurell-Mitchell and Jane Rigler. The challenges come up when you and the composer don't have good communication or are just not compatible. Good communication can iron out many challenges.
What are your favorite pieces that you've performed and why do they make this list?
Echoloquacious for flute, percussion, and Gameboy by Matthew Joseph Payne
It's a really fun piece that sounds like a video game.
[Link to video game I made for the music: https://abduo.net/echoloquacious-the-game
The Pied Piper of Harlem for solo flute by Adolphus Hailstork
It's short, fun, and easy to listen to. Music doesn't have to be difficult to be great.
Yo Shakespheare by Michael Gordon
I love the instrumentation (all amplified large chamber ensemble with two flutists who also play pan pipes) and energy in this piece!
What are some things that you learned when recording your three albums?
Like every other project, the end product is only as good as the weakest link. Work with the best collaborators you can find. Recording can be a very intense and stressful process so choose collaborators who are professional, make you feel good, or inspire you to want to be a better person. Take your time and don't rush the process.
How did you get into record producing? What parts of that role do you really love? What's challenging about it?
After producing my own recordings and A/B Duo recordings, I learned a few things. I started to have ideas and opinions on how a piece could be recorded or how an album should sound or what I would have done differently. I can finally use some of the skills I gathered while studying conducting! Now that I have my own record label, sometimes artists bring projects to me at the idea or planning stage. And sometimes it makes sense for me to produce it.
I really love the editing and mixing stage. In a straight classical project, it might not be so interesting but in contemporary classical projects, it's really fun to translate what most composers wrote for the stage into a version that works best through a stereo image in a recording. I am lucky to work with Alberto Hernandez, a world-class engineer, for most of my projects.
Since I'm new to producing, there are so many challenges! Mainly, it has to do with managing unknown variables in the projects. Like working with a different engineer or a recording space I've never seen before. But I'm really enjoying the learning process.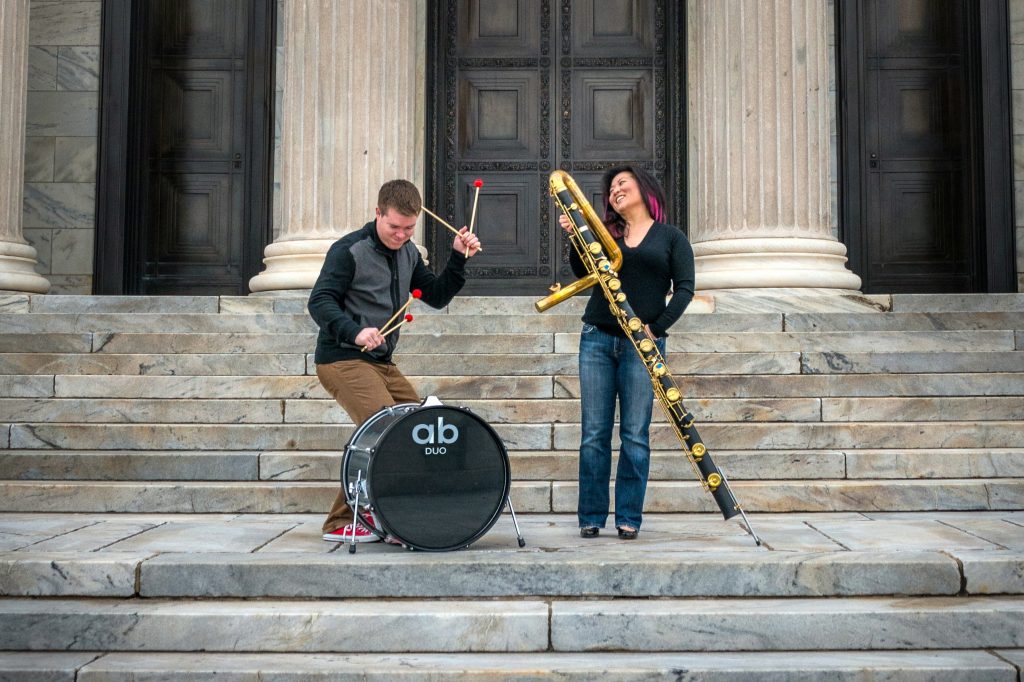 I admire how you are always learning new skills and creating opportunities for yourself. How do you go about doing this? Clearly, it doesn't happen accidentally. There's work that has to be done. How do you organize and approach that work?
Learning new skills is a necessity for me because I end up working on most aspects of a project on my own. This isn't because I don't want to work with people who already have those skills but it's most likely because I am an only child. I can't seem to make friends easily or communicate my vision in a way that attracts many collaborators who share my vision or want to work on something in exchange for artistic satisfaction or even for money. It's very limiting though because I sometimes find myself scaling down or simplifying a project to fit my abilities, experience, or knowledge base. Learning new things isn't difficult if you're willing to be bad at it or fail in the beginning. If you have an idea, research it and then make it happen! Creating opportunities sometimes means doing things before the establishment decides that you've earned their permission to do something. There are always going to be narrow-minded mid-career folks who don't think you deserve to do X, or that you didn't pay your dues enough to do Y, or you're too young or new to a scene to be starting projects. Forget those folks. They are too afraid to do it themselves so they don't want anyone else to succeed. Take risks and do cool things as long as you can stay humble.
What advice do you have for young musicians who want to carve out a place for themselves in the music business?
Be curious. Keep reading and learning.
Be proactive. Don't wait until someone else gives you permission or prompts you to do something.
You never know what the future holds. So if everything is going well, don't take it for granted. If it seems like the world is against you and nothing is working out, don't lose hope because you never know what's going to happen next.
Be a good person that other people love to work with because you create a warm and enjoyable environment. You can do this at every level and role. You're bagging groceries? Be the compassionate listener to a coworker or be the one with the corny dad jokes when everyone gets stressed out. You're a member of a school club? Be the one to introduce yourself to the new person and make them feel welcome. Be a giver, not a taker. Go to your colleagues' concerts. When you meet someone new, think about how you can be helpful to them, instead of trying to figure out how they can help you.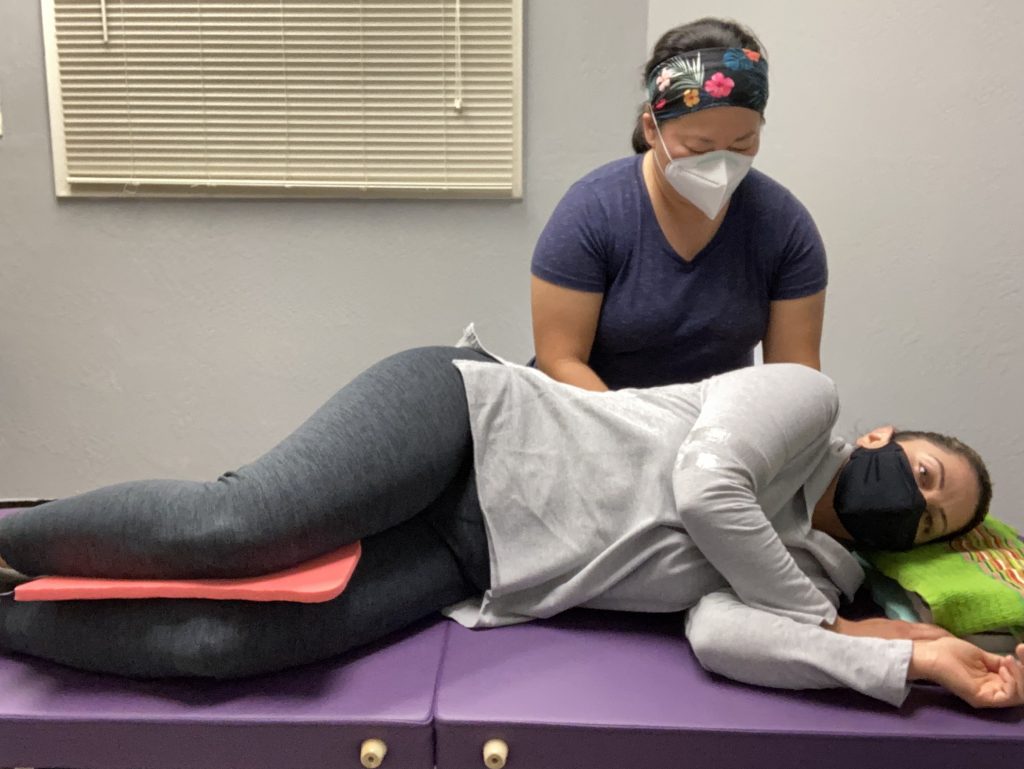 What led you to become a Feldenkrais practitioner? How does that fit in with everything else that you're doing?
In my flute relearning period, I became licensed to teach a Body Mapping course for musicians. It was very useful in helping me relearn to play. But the modality that really clicked for me was the Feldenkrais MethodⓇ. I finally had the time and resources to take a Feldenkrais teacher training course from 2016-2019. Feldenkrais can be helpful for a lot of things: from helping children with cerebral palsy learn how to move, to helping people recover from strokes and brain injuries, to improving that golf swing, or playing your instrument better. But one of my favorite aspects of Feldenkrais is that all of the somatic education is done from a standpoint of curiosity and nonjudgement. Observing instead of judging or evaluating helps one keep an open mind, open to possibilities. This mindset is helpful when learning new music and it helps me become a better person.
Sometimes things work out because we are in the right place at the right time or we have the right connections. There's a little bit of luck that is often present, which is not to discount the benefits that come from hard work and dedication to one's craft. What lucky things have happened throughout your career?
There are so many lucky things that have happened! I was lucky that my parents wanted to make sure I got music lessons that they never got as kids. Randomly learning HTML in a general education undergraduate English class let me gain the confidence to go into Information Technology. Those IT jobs let me pay off my student loans so I could get back into music without much debt. After I decided to quit music because I didn't get into any grad schools, it turns out the only thing I did get into was the Aspen Music Festival. I took on considerable credit card debt to have my last hurrah as a musician by going to the Aspen Music Festival as a conducting student. At Aspen I made a couple of friends who ended up getting married and I met my husband at their wedding! Meeting my husband who is an electrical engineer with a real job and benefits let me be pickier about which artistic projects to pursue. I randomly ran into Janice Misurell-Mitchell at an NFA convention soon after I picked up the flute again and she ended up writing a flute and percussion piece for me. I ended up premiering that piece in Chicago and met percussionist Chris Jones, who was supposed to be a one-time collaborator on this piece, that one time. Now he's the other half of A/B Duo and one of my most influential collaborators. Playing regularly with a great percussionist has made me such a better musician.
I can go on and on. When I was younger, I would have said all these little things were just life, not lucky events. But you never know how these little events can build on one another to become lucky turns.
What kind of professional performing opportunity do you want to have that you haven't had yet?
I would love to perform Bantammer Swing, a contrabass flute concerto written by Ned McGowan. If you know any chamber orchestras who want to try something new, you know where to find me!
Rapid Fire Questions:
What is your favorite color?
All the colors.
Coffee or tea person?
Anything with caffeine
Favorite things to do that are not flute related?
Napping
Dog or cat person?
Dog
Fun fact about you that most people don't know?
I am learning to play the drums and started a punk band with a friend. We have a couple songs out. If you're into profanity-laced angry feminist punk music, ask and I can give you a link.
Favorite book or book that you read most recently?
Accessing the Healing Power of the Vagus Nerve by Stanley Rosenberg
Place you'd like to visit on vacation?
Costa Rica
Favorite place that you've been on vacation and would like to go back?
The Cook Islands
Favorite quote:
"If you're not living on the edge, you're taking up too much space!" – from a keychain that a friend gave me many years ago.
About Meerenai Shim
Translated in Korean as "Milky Way" or "Galaxy", the artistic career of Meerenai Shim(pronounced "ME-ren-ey", like they) is appropriately expansive and all-encompassing. A flutist with a new music focus, she promotes contemporary work through myriad channels, including as a solo performer, her chamber ensembles, her record label, and her own discography of three albums, all of which have been warmly reviewed. Her background in Information Technology and management consulting informs much of her work— combined with her conservatory training, Meerenai works to create a singular impact within the classical music industry.
Ms. Shim has performed across the United States, including within the Soundwave Biennial in San Francisco, the Bang on a Can Summer Festival, the National Flute Association's annual Conventions, and numerous universities. Her impact across new music manifests in part from her two chamber ensembles: she is involved as a founding member of the innovative flute and percussion duo, A/B Duo (2013) and joined contemporary flute trio Areon Flutes in 2016. Her work in these groups has led to dozens of newly commissioned works for flute, including from composers Daniel Felsenfeld, Janice Misurell-Mitchell, Jane Rigler, and Isaac Schankler. On occasion, Meerenai has explored the idea of graphic notation in her own compositions, namely "Seriously" for A/B Duo (2017) and "Blueprint" (2016) for wind quartet, performed in the Bay Area's Soundwave Biennial.
Ms. Shim's discography, which include three albums, can often be heard on Music from Other Minds, Live from WFMT, and New Music Box. In her recordings, she is known for exploring unconventional instrumentation, ranging from playing castanets or mouth siren to her work with frequent collaborator Matthew Joseph Payne, who has written Meerenai pieces with accompaniment by Gameboy or other circuit-bent instruments. Her work has attracted attention from numerous press outlets, whether from Fanfare magazine who calls her "an amazingly dexterous flutist", or Sequenza 21, who proclaims that the success of her second album "validates Ms. Shim… as 'the ultimate indie music curator and performer." Her most recent release, the all electro-acoustic Pheromone (2016), was similarly praised by I Care If You Listen as standing "in a class of its own."
Outside of performance, Ms. Shim has made her mark in a number of entrepreneurial endeavors. Most prominently, she founded the independent record label Aerocade Music in 2015, which has released one dozen albums to date of contemporary classical, electronic, and experimental music from the West Coast. Meerenai also became a Guild Certified Feldenkrais Practitioner in 2019, inspired after a practice-related injury almost derailed her flute career. She maintains a small private studio wherein she teaches the movement-centric method to other students, and includes her pedagogical Feldenkrais philosophy in her book, "Scale Studies: For Beginner and Intermediate Flutists", deemed "highly recommended" by Flute Focus Magazine and available for purchase on her website.
Meerenai Shim holds degrees from San Francisco State University (M.M.) and DePaul University (B.M.), and is a fiscally-sponsored affiliate of InterMusic SF, a not-for-profit organization dedicated to small-ensemble music in the San Francisco Bay Area. She nurtures her creativity and work by seeking out unconventional opportunities like ad hoc performances of the tenor banjo at the Aspen Music Festival, where she was a conducting student. She resides in Silicon Valley with her husband Dave, and their Great Dane mix, Lady.