Tell us about your background. How did you come to the flute and to music as a career?
I grew up in a family of musicians, and music was a language before I spoke. My first memories were of my mom playing the piano when I was lying in my crib at night. I also remember feeling content as a small child to hear this music when I was falling asleep. I'm sure she played when she was pregnant with me and my older sister Annie, a clarinetist. To this day, I remember the melodies from Bach, Chopin, Liszt, Mozart wafting through the walls of our home at bedtime.
My mother was a pianist who had studied at Cincinnati Conservatory and Interlochen as a teen, and my dad was a professional musician, specializing in trombone and low brass. My parents were from a small town in Mississippi, and were fortunate enough to attend really outstanding music schools. My dad was a band director and arranger in the Navy during WWII, who later taught low brass at the Navy School of Music in Washington, DC after the war. He went to Boston University afterwards on the GI Bill to study classical trombone and got a teaching credential. A great fan of jazz, he said many times that "the ad libbers (jazzers) have it all!" He didn't play jazz, but at home we listened to Miles, Charlie Parker, etc., as well as the classics. It wasn't the main dish, but it was on the table. Dad's first job out of school was as a brass specialist in Lenoir, North Carolina (as a bonus we were descended from the North Carolina Lenoir lineage), which at the time had a world-renowned public school music program, thanks to a local philanthropist, Captain James C. Harper. It was a phenomenally successful experiment in public school music education, which has been written about widely, thanks to oboist Joe Robinson, former principal oboist of the NY Philharmonic. (http://archive.wilsonquarterly.com/essays/what-i-learned-in-lenoir-high-school-band).
We moved to Lenoir, NC, from Boston when I was nine, and I will never forget hearing those band concerts of the Lenoir High School Band, where some amazing wind players evolved and went onto careers playing in major orchestras and teaching. Capt. Harper established what was really a professional music school for average high school kids, many country kids, with private lessons every week, and donated top instruments (Haynes flutes, Loree oboes, Heckel bassoons, etc). I heard a high school band perform Bach, Holtz, Souza marches and arrangements of many orchestral works. It was truly spectacular by any standard. I chose flute when I was nine after hearing that band. I loved the sound of the instrument, and also felt it was a bonus to get two instruments, piccolo as well as flute.
I also have a clear memory of my dad playing woodwind quintet records, especially the NY Woodwind Quintet (Sam Baron!)'s recording of the music of Alec Wilder when I was eight. I remember distinctly loving the sound of the flute, and asking to hear that record over and over. My dad gave me a Conn fife at nine because wind students back then didn't start instruments in band until they were eleven. We moved to Tampa, Florida, after North Carolina, where my dad got a permanent teaching job in Brandon, Florida. I began playing flute in summer band when I was eleven.
My parents dedicated themselves to seeing that my sister and I had a great music education. I never even thought about other career options til I was much older. Now I can really look back with so much gratitude, but at the time, I really didn't know there were alternatives. I practiced all the time as a kid because I loved the flute so much, listening to recordings of Kincaid, Rampal, Charles DeLaney, Julius Baker, Doriot Dwyer, etc. I started using the French pronunciation of my name instead of the American because I was so enamored of the French flutists–much to the embarrassment of my family! I studied French in eighth grade so that I could write tributes to the composers on my music! Crazy! I was obsessed. My mom would play through my pieces with me as soon as I learned them. Also, at that time, it was considered the norm to memorize solos, which I did, almost immediately. This was great gift, as now I have a goal to memorize most everything I play.
My first flute teacher was an oboist in the Tampa Philharmonic (now The Florida Orchestra), and my dad played trombone in that orchestra as well.
Oboist Pat Stenberg was a wonderful musician, and she also played the flute very well, with degrees from the University of Michigan Music School. Pat had me performing once a month at Tampa's Friday Morning Musicale, which was a great experience, because it gave me a monthly goal. My mom also accompanied me on the piano.
When I was 13 and 14, I went to Brevard Music Center in North Carolina, which was another incredible experience. I studied with Charles DeLaney as a young teen, and he was an inspired and creative mentor, and a really fun guy. The stories about him are epic: he had us improvising in one class, and another time he had us taking our flutes completely apart and putting them back together, screwdrivers and all. What a mess! He was such an enthusiastic, funny guy. I still have friends I knew there at the time. I went to National Music Camp at age 15 to 16 in the summer, then Interlochen Arts Academy for three years of high school.
My first summer at Interlochen, I managed to win the concerto competition and get first chair flute in the school orchestra. A great honor and terror as well since I was not experienced in orchestral playing. Going to Interlochen was a big turning point for me. At the time, Dr. Joseph Maddy, founder of National Music Camp, had raised funds to start the year-round academy for talented high school students, Interlochen Arts Academy. The scholarships were plentiful, and many kids from backgrounds similar to mine were recruited to attend the school with generous funding. It was an epic undertaking and experience as well. We played an orchestra concert every week, with new repertoire: Mozart, Beethoven, Haydn, Stravinsky, Shostakovich, Kodaly, and Baroque composers — you name it. Additionally, we had challenges once a week so the ability to move up or down the section was a motivator to practice maniacally on those excerpts.The way it worked, the teacher would choose the most impossible excerpts in the week's repertoire to weed out the faint of heart (no kidding!) No worse experience of shame and failure threatened as knowing you could be demoted weekly. I will say that to this day, I can credit my strong technique to that experience. "Thou shall not miss a note" was the mantra. Weekly challenges were eliminated at IAA a long time ago, and I will admit to serious reservations about the philosophy of "make it or break it" for 14 year olds. My last year, I was able to hold onto the first chair in the flute section, which was a great experience in repertoire building and nerve control! Now I see so many talented young flutists who have gone to Interlochen Arts Academy–a great training ground for sure. But I was part of the original experiment–kind of daunting. The competition was massive. It was like being in a professional orchestra as a teen.
In my 20's and early 30's, I was also playing with lots of orchestras and taking auditions. I had beginner's luck in auditions, making the finals down to the last two-to-four players in three major orchestras right off the bat. Everyone would say, "Hang in there–you're close." I did my best to conform to this agenda ("Thou shalt play in an orchestra!") but I feel that my personality and musical interests did not make me the best candidate for this path. It took a few years to come to this conclusion, as I was driven to be "successful" financially, and like everyone else, wanted recognition and security.
I will credit my longevity in the music world to an honest, obsessive drive to play different styles of music. I studied baroque flute, early music, Celtic and Scottish music. I love these styles, but at some point, focusing on one style is important, as being a professional "dabbler" will not create a loyal following of fans.
I feel compelled to write about this background, because after so many years of teaching students at literally every level, I always come back to what it means to have "talent." I can only say that whatever "talent" I have came directly from the womb and family environment, with opportunities galore. With my students as well, the ones who come from homes where music is alive and constant tend to be the ones who practice the most and become enamored of music in all its various forms. I'm happy to teach students of all levels, ages and interests. But my own experience as a student was not typical.
After Interlochen, I decided I wanted to go to a college that offered a well-rounded education and I chose Oberlin. Robert Willoughby was the best overall teacher I had in my school years because he was deeply grounded in a strong creative approach encouraging color, dynamics, and breath control with an intelligent consciousness about phrasing, structure, and musicality. He was also demanding.
Prior to that, I had operated on an intuitive level, enhanced with strong technique and a natural ability to play from memory — important skills, but lacking a conscious approach to the "big picture." I feel honored to have had this opportunity to learn from an excellent teacher as well as a kind and decent man. When I started playing jazz after I was on my own, I sent him my first CD, "fluid" (2003), and he loved it, telling me that he had always loved jazz and listened a lot! Who knew? Jazz was not on the agenda at Oberlin or most music schools I attended back then. It was definitely considered a "lesser" art form. Those days are over! At the NFA Convention in SF many years ago, we went to a North Beach jazz club where I sat in with Roger Glenn, a great local jazz flutist, and we had a blast.
My sister Annie Lenoir, a wonderful clarinetist who had a similar background to mine, ventured outside of the classical world almost immediately after leaving Oberlin. She played for years in a blues band in Colorado, covering many styles: blues, rock, jazz, country, and folk. She doubled on flute, violin and sax and also sang. Annie died 3 years ago, but I can't underestimate the influence she had on me in terms of experimenting in styles of music outside the classical world in which we were trained. She was a real character, a fantastic talent, and she had this ability to hear greatness in music immediately and verbally articulate and focus on the core of what she was hearing. We collaborated on a number of concerts featuring Brazilian music and chamber music, and she was the original clarinetist in the Berkeley Choro Ensemble, although she lived in Colorado and couldn't participate in regular concerts.
My journey into Brazilian music was the outgrowth of a tragedy in my own life. In 2009, my younger son, Jamie, then 21 years old, died after being in a coma for eight months. He had gone into the hospital for what was described to us as "routine" surgery, stopped breathing for 10 minutes, and lapsed into what was described as a "vegetative state."
I was immobilized by grief and hopelessness, and could only keep going through pure force of will. The most terrible thing that can happen to anyone had happened to me. My older son, Max, gave me a birthday present one month into this period: the book The Sum of Our Days (2008), by Chilean-American writer Isabel Allende, who lived in San Rafael, CA. An autobiography, the book detailed a two-year period of her life following her daughter Paula's death after two years in a coma.
I couldn't believe it. THIS happens to other people? After Jamie was transferred to a nearby rehab hospital, I met the chaplain who had worked there when Isabel's daughter was a patient and I asked her if she knew the author. She said they were friends, so I asked her if she thought I could talk to her. She set up a meeting.
Isabel, a lovely woman, a world famous author, was so kind and helpful. We cried together, and I asked her how she recovered from Paula's death. She said that she couldn't write for a year, and then she took a trip, which healed her. Also, that the death of her child lifted any self-imposed burdens about insecurity and confidence — you just stop caring what anyone thinks of you.
I also thought, what would Jamie want for me? The worst thing ever has happened to me. Two months later, my sister Annie, an accomplished clarinetist who was already playing Brazilian music, told me we were going to Brazil; she literally forced me to buy a ticket and make reservations. We attended a workshop by Hermeto Pascoal in Uba Tuba, Brazil, but also visited Rio, where we met with Annie's mentor and inspiration, Paulo Sergio Santos, clarinetist with Quinteto Villa Lobos, and the musician who inspired her to learn choro. That was the first of many trips.
When I think about you, I think about stylistic versatility. Do you have a favorite way to play, and what's the best part of being conversant in all of these genres of music.
In general I feel most comfortable in genres of music where there's an element of improvisation, but grounded in a strong sense of form and harmonic outline. This would include jazz, Brazilian choro, and other styles, including early music, "new" music, Celtic and Scottish music. These are all styles I have spent time studying, practicing, and working to understand.
Also, I would include "world music" in a broad sense, as immersing oneself in the musical language of other cultures involves learning by ear and memorizing, but also surrendering to that culture itself. One learns from elders, in a circle, at regular jam sessions (Rodas de Choro in Brazil). The sense of freedom accomplished through this is the highest level of music making, because it requires listening, responding, and creating with total freedom, like having a conversation. This is the language of blues, jazz, and other cultures of the world. If you learn to play a style of music that is communicated by ear, your abilities as a musician will soar, as will your sense of freedom and joy.
In Brazil, there are unbelievable musicians who don't read music at all. They learned completely by ear, and their command of harmony and form is spectacular. Almost everyone composes as well — it's part of the culture of improvising. When you improvise, you're literally composing on the spot.
When I talk about Brazilian music, I'm referring to musica popular, not classical music. There are plenty of amazing classical players in Brazil, orchestral, chamber, soloists, etc., whose focus is not these styles. But through my many trips to Brazil, immediately I realized early on that I couldn't carry musical charts into sessions… embarrassing and humiliating! Many jam session are outdoors, no lighting, wind blowing, music flying away. I observed a class here in the U.S. with clarinetist Anat Cohen, a great choro and jazz player, and the first thing she did was teach everyone how to memorize the melody, form, and chords. You get to a point where looking at the music is a distraction, and it can make you feel confined and constricted. Mistakes are O.K., and can lead to some amazing musical ideas.
I chose to focus on playing Brazilian music, which includes choro, samba, forro, baião, and many other related styles, after going to Brazil in 2010 and studying and listening to the great players there. It's important to play a style of music you love, and if you have the opportunity to play with great players in this style, grab it. I was never shy about finding mentors, but when people asked, why did you choose choro and Brazilian music?, I have to honestly admit that it was almost an accident. Once again, I have my sister to thank, as she heard a great Brazilian clarinetist, Paulo Sergio Santos, at a clarinet convention, and called me from the convention floor — holding the phone up — and telling me she heard something so incredible and we had to play this music. I have been going to Brazil for 10 years now, almost every year. It's the training ground for anyone who wants to play the music.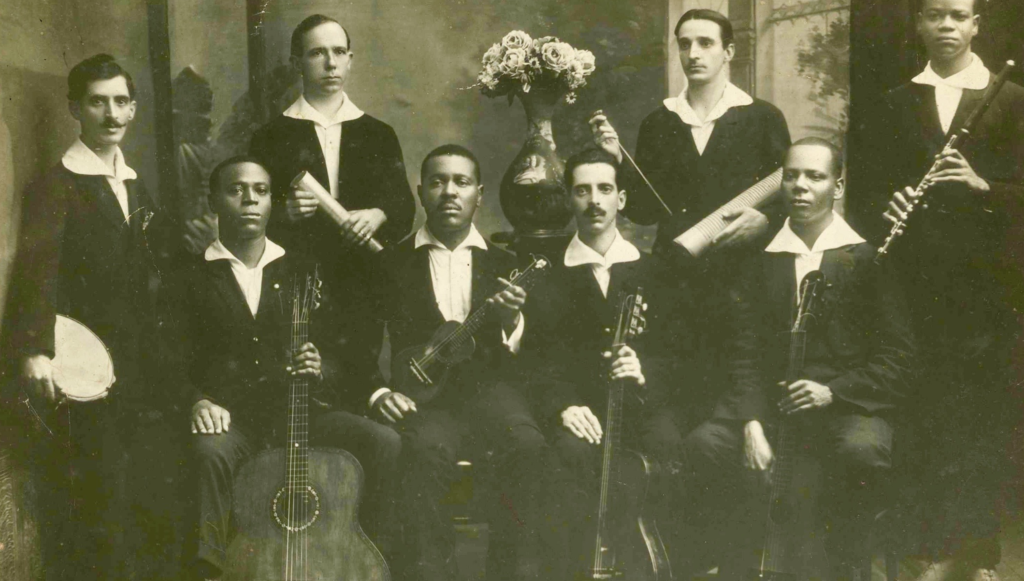 I founded the Berkeley Choro Ensemble in 2010 after that first trip to Brazil. The SF Bay Area has a vast concentration of incredible musicians, and right away, I could see that if I wanted to play this music and understand it, I had to surround myself with the most skilled and knowledgeable players I could find. I went straight to the top, offering these musicians concerts, pay, and recording opportunities. Berkeley Choro Ensemble is a quartet: flute, clarinet, 7-string guitar, and percussion. This was in no small part because I had business and marketing skills, having had a real estate license for several years, so we kept busy. Our audience grew and I got work for them!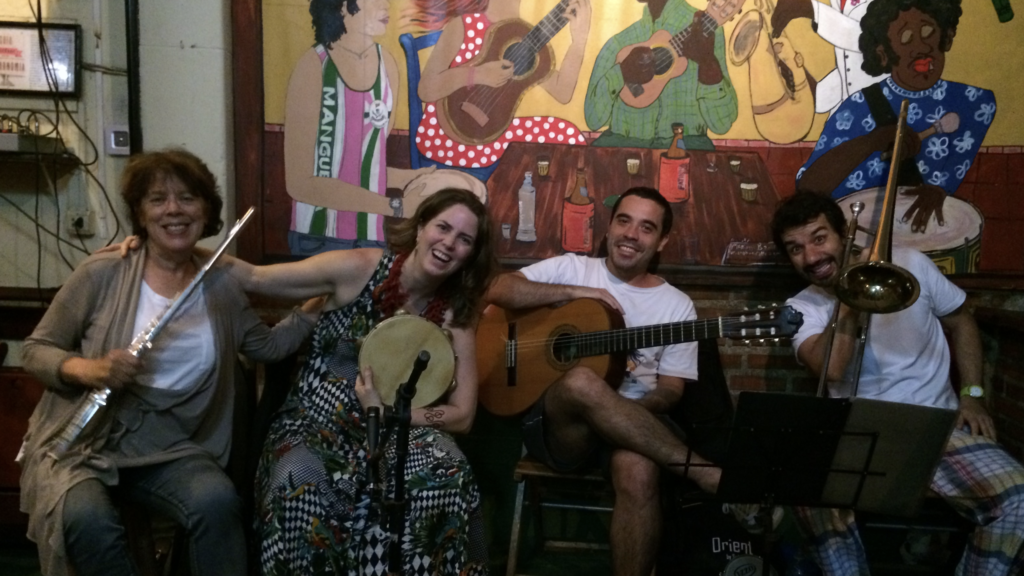 I want to point out the huge importance of business skills: knowing your market, your audience, and learning how to continually grow and build your base. This involves collaboration with guest musicians, original composers, and an incredible amount of networking. You will be effective if you put all these elements together.
Choro style is virtuosic, but also groove oriented, combining elements of European style, form, and melody with Afro-Brazilian percussion grooves. The ability to improvise is not required, but it is definitely encouraged, especially in the U.S. where most of the players attracted to this style come from the jazz world.
The journey has been amazing, in no small part due to the collaborative nature of my group: two world-class jazz players, clarinet and guitar, both great arrangers and composers, and a brilliant percussionist/pandeiro/ethnomusicologist who started going to Brazil when he was at Oberlin. Lucky me!
My instincts from the beginning told me that we had a winning combination of players, and that the choro music was novel to much of our audience, drawing a large segment from the classical chamber-music crowd and jazz audience as well. We literally built the audience for this music from the ground up, beginning with house concerts, and one by one adding to the email list. We got a non-profit fiscal sponsor so that we could apply for grants. We have been very successful at audience building with a regular concert schedule, often featuring visiting guests from Brazil who are in the U.S.
I also founded the Berkeley Festival of Choro in 2013 with Brian Rice, our percussionist. We are now on our seventh festival, and our March 2021 event will feature women from Brazil and the U.S. in two live-streamed, prerecorded programs on our YouTube channel, Berkeley Choro Ensemble. www.berkeleychoro.com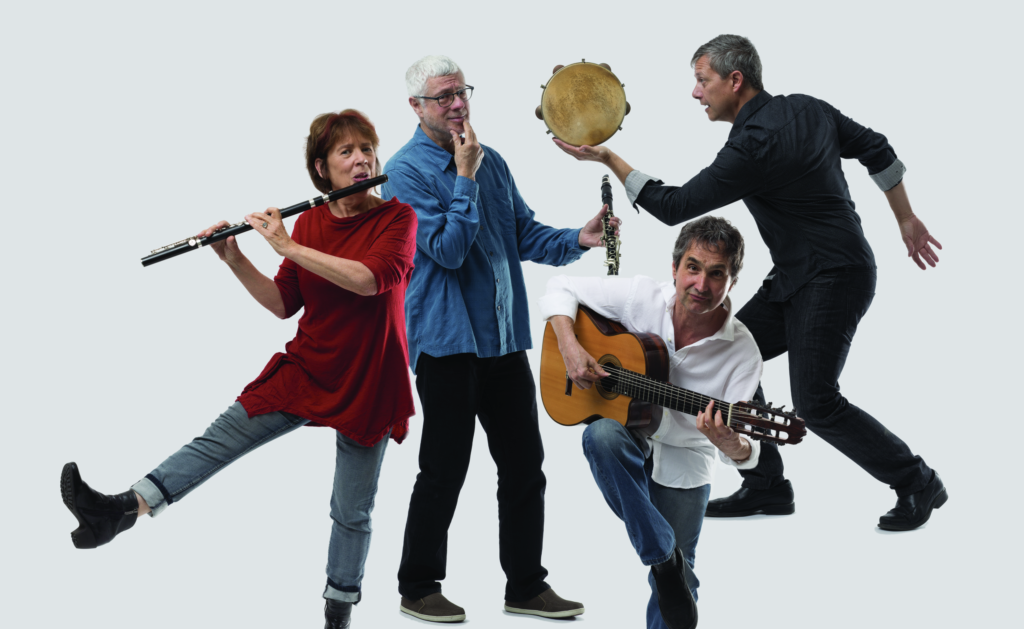 How do your experiences outside strictly classical music influence you as a teacher?
I think that teaching is a two-way street, and the process of teaching is a constant education for the teacher as well. Every student is unique, and  I try to avoid a boiler-plate approach. But first, being able to play your instrument at a very high level is critical to navigating any style of music.  So I work on the fundamentals: tone, scales, memorizing, etudes, and covering "classical" repertoire that suits the individual. Very important is the ability to control the vibrato, as most non-classical styles are played with minimal or no vibrato.This applies to articulation as well, as in baroque articulation, where Quantz in his book talks about styles of tonguing that aren't the usual "t"and "d," but based on "l" and "r," or breath attacks. 
I've already mentioned memorization, and I would emphasize trying to memorize by ear as opposed to reading the music. I do use written music plenty, but my most successful mastery of certain tunes has come from "ear" learning.
I have been going to institutes, workshops, and lessons during my entire career and watching others teach these styles. I have students now studying jazz styles as well as classical. Over the years I have had students who wanted to focus on Irish flute and traverso as well so I went to Boxwood, Canada, seven times, bought a beautiful Celtic flute, and have played in several Celtic groups. The same is true with baroque flute. And I took many classes at the JazzSchool (now California Jazz Conservatory) in Berkeley, from improv, jazz keyboard and theory to Latin jazz and more. I also studied traverso here in workshops and Europe. Everything has influenced my approach as a player and teacher.
Recently, I took lessons with a young tenor player who introduced me to some great apps as learning tools, as well as a more contemporary improvisation style from mainstream jazz.
With Covid19 and Zoom, I'm working with technology to find ways to keep them playing in "ensemble" situations that involve tech skills and programs.
In improvisation of any style, the key is training the ear by listening, taking down other player's ideas by ear, creating your own melodies that flow from this and understanding harmony. When I first started working on jazz in my 20's the level of jazz education was pretty low. With the growth of so many jazz education programs in the public schools as well as colleges, the methodology has greatly improved. With Brazilian styles, the rhythm is the big challenge. There are many rhythm tracks and recordings that can facilitate the progress.
Is there any part of your career thus far that has surprised you? If a 20-year-old you were looking at what you do today what would she think?
I guess I would have to say that I'm genuinely thrilled to see that after all these years of playing and performing, I'm having some late-life success (I am a grandmother with a 38-year-old son!) through my Brazilian groups, and that my playing is still at a high level. I would attribute some of this to fitness (I have a life-long passion for cycling, yoga, and hiking), which keeps my energy level high, and also to a passion for music, and constant quest to improve. Strong body equals strong mind. Your body is your instrument; never forget that!
What's the most fulfilling part of musical life for you?
I love it all! Performing, rehearsing, teaching, producing, and sharing my life and experiences with colleagues and students. I love the joy that comes from performing in my choro group, and from the relationships I have built with incredible musical partners in Brazilian music, jazz, and classical music. As a producer as well, I feel fulfilled in providing work for my colleagues, especially during this period.
Is there anything you'd share with our readers about finding your way into a satisfying musical life?
Be fearless, generous, and supportive to everyone. Follow your passions, listen to all kinds of music, and avoid negativity.
Work to build strong relationships with your colleagues, and learn technical, marketing, and production skills as much as possible. Be a lifelong student.
Learn and grow from failures and disappointments.
Make physical exercise and activity part of your life.
Listen at https://soundcloud.com/bossanova412