EDITOR'S NOTE:
I had the pleasure of meeting Canadian flutist, Rozalind MacPhail two years ago through the Cucalorus Film Festival in Wilmington, North Carolina. She was performing the US premiere of her audio-visual project, HEAD FIRST. I'll never forget my first experience hearing MacPhail perform alongside her film creations.
Her new album, FROM THE RIVER TO THE OCEAN, is a breath of fresh air. MacPhail's passion and skill on the flute is obvious; She inspires the listener with uplifting melodies and dance-inducing grooves. MacPhail is forging new territory for musicians everywhere. I highly recommend everyone listen to this album!
Her work has not gone unnoticed! Join me in congratulating Rozalind on her recent accomplishments, including receiving 2 nominations by MusicNL in the categories of Instrumental Recording of the Year and Female Artist of the Year!
---
Could you share with us how you transitioned from classical flutist to one of Canada's leading flutists in looping and live scoring for film?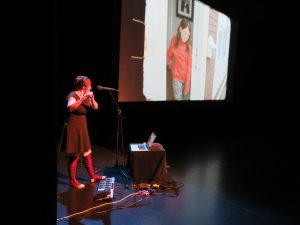 MACPHAIL I've been lucky. People often say that luck happens when preparation meets opportunity and I would have to agree. It's usually when I'm working the hardest and taking the biggest risks that I experience the most rewarding career results.
When I was younger, I struggled with asthma. They used to call me Darth Vader in school. A family member read an article about how playing a wind instrument helps asthmatics learn to manage their breathing better. My parents wanted to try anything that would help keep me out of the hospital. There happened to be a wonderful flute teacher who lived down the street from me on Toronto Island and the rest is history. I was fortunate to study with many inspiring flute teachers over the years. I performed in a local youth flute choir, busked at the local farmers market, attended master classes featuring visiting flutists, played in the Toronto Symphony Youth Orchestra and attended summer music programs at the Banff Centre, Domaine Forget and the Orford Arts Centre. I read every article there was to be found about famous flutists and went to the opera and symphony concerts as much as I could afford to.
After completing my performance degree at the University of Toronto, I continued my flute training with Robert Cram at the University of Ottawa.
I decided to leave the university for my bigger love – the stage.
I began performing on flute with touring indie rock bands and improvised with songwriters at local open mic nights. I taught flute lessons during the day and performed my heart out at night. The risks I took during that time to get on the stage with my favourite musicians are some of my favourite memories. I was known as "Mystery Flute Girl" around town, a nickname that stuck with me for years.
I began writing my own songs when I turned 30. A friend gave me a classical guitar to take home with me and 6 months later I recorded my first EP for voice, guitar and flute. A month after I released that recording, I packed my bags and hit the road to become a solo touring musician.
I experienced much of Canada as I toured with a Greyhound bus pass and later in my wood-panelled station wagon.
I met New York flutist, Robert Dick while I was traveling through New York and he invited me to attend the Atlantic Centre of the Arts where I began making the transition from songwriter to looping artist. I was based in Victoria, British Columbia at the time and would take lessons in Seattle with saxophonist, Greg Sinibaldi and flutist, Clifford Dunn who helped me make the transition to loop through Ableton Live. It was also during this time that I began collaborating with Victoria filmmaker, Scott Amos as I composed music for his short films.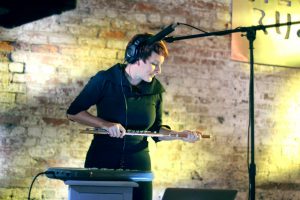 After many years on the road, I decided to make St. John's, Newfoundland and Labrador my home in 2009. The music and film scene in St. John's is like nothing I have experienced elsewhere. It's one of Canada's best kept secrets.

What inspired your most recent audio-visual project, FROM THE RIVER TO THE OCEAN?
MACPHAIL In 2014, I was invited to be an artistic resident through the Cucalorus Film Festival in Wilmington, North Carolina. During those three months, I fell in love with the city and the vibrant film community. I wanted to create a unique project of live music performed to contemporary silent film.
All the footage in FROM THE RIVER TO THE OCEAN was shot in various film mediums throughout Wilmington, North Carolina by various filmmakers I had met through the Cucalorus Film Festival.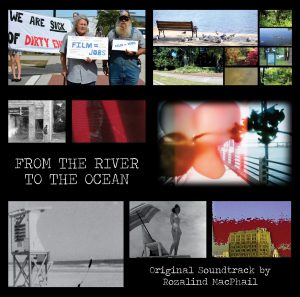 Two years later, I premiered the project through Gros Morne Summer Music and released the soundtrack on CD. The soundtrack has been nominated for a MusicNL Award (Instrumental Recording of the Year). The US premiere of FROM THE RIVER TO THE OCEAN takes place at Cucalorus Film Festival this November. Although the soundtrack can be streamed online, the films will only be experienced live.
The full album can be heard in the YouTube video above.

How did you approach the composing and recording process in FROM THE RIVER TO THE OCEAN? Did you use any particular recording equipment?
MACPHAIL Unlike my HEAD FIRST DVD which cost me a small fortune to produce and took me many years to complete, I wanted to approach this project with a beginner's mind and I kept things simple.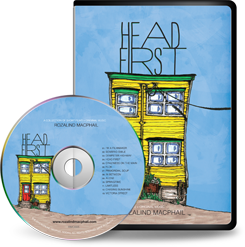 All of the music was inspired by the films and the vibe of Wilmington. I wanted to bring the listener on an audio-visual journey to inspire them to think about how they capture their own memories. I had done a lot of field recording during my time in Wilmington and incorporated these sounds into my songs. One can hear crickets, the Atlantic Ocean, an ice cream truck and more. It's amazing what we can capture when we are present with each moment.
I recorded the electronics in my St. John's apartment the following summer, using an omnichord, a MicroKorg and programming MIDI through Ableton. When I discovered that the street was too noisy to record flute, a friend offered her empty apartment for me to record in. I recorded the flute and vocals over three days with a Rode M3 condenser mic through Ableton Live. Luckily, no neighbours were disturbed by the process!
Any career advice you'd like to share with your fellow flutists?
MACPHAIL I can't stress building one's technical foundation on the flute enough. It comes down to what kind of palette one would like to use with their flute and how hard they're willing to work for it.
Don't give up!
A friend once made me promise that I wouldn't give up when times got hard. That promise has stuck with me during my darkest moments and has kept me going. My music career has been about finding my own voice and not following the norm.
We all have special abilities that contribute so much but it is our responsibility to nurture those talents. Our inner artist quietly guides us in the direction of our dreams and it is up to us to closely listen to that soft voice. We often play small in our lives when who we really are is much larger than what we envision. Be fearless! Be your number one fan and don't let the word "no" get in your way. Make a lot of mistakes. It means you're getting somewhere!
Most important – the sooner one can become indifferent to the opinions and actions of others, the better. The music industry is a tough ride – there's lots of rejection and uncertainty but enjoy every bit of it because it makes us better artists.
---
About Rozalind MacPhail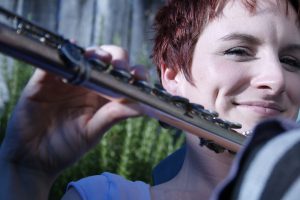 A fusion of classical, electronica & jazz accompanying visual storytelling
"Rozalind MacPhail weaves a wicked and magical soundscape with exceptional imagination and an artistry that is both visionary and innovative." – Viviana Guzman (The Flute View)
A classically trained flutist, Rozalind MacPhail fled the boundaries of classical music to create unique fabrics of sound, blending flute, voice, omnichord and electronics, and has created live music for film as well as releasing several albums of original work. Uniquely placed in the St. John's music scene, she explores new ways of combining image and sound, in works that speak honestly of place, person and the human experience.
HEAD FIRST, MacPhail's collaborative audio-visual project was nominated for an ECMA and a MusicNL Award. She has collaborated with celebrated Canadian director, Ingrid Veninger, improvising a live score of original music for her award-winning feature film, HE HATED PIGEONS which has screened at film festivals worldwide. MacPhail's newest audio-visual project, FROM THE RIVER TO THE OCEAN premiered at Gros Morne Summer Music and has been nominated for a MusicNL Award (Instrumental Recording of the Year).
Rozalind's performance highlights include: Dawson City International Short Film Festival, Banff Centre, Atlantic Center for the Arts, Canadian Flute Convention, Electric Eclectics Festival, Cucalorus Film Festival, Ashland Independent Film Festival, Nickel Film Festival, Atlantic Film Festival, St. John's International Film Festival, MusicNL Week and TEDx St. John's.
As a music clinician, Rozalind has presented workshops in Canada and the United States in flute performance, live scoring for film, looping through Ableton Live and music career development.
Upcoming Performances:
Oct 16, 2016 – MusicNL Awards Gala – Bonavista, NL (Canada)
Oct 22, 2016 – HE HATED PIGEONS at NewFest – New York, NY (USA)
Nov 9-13, 2016 – FROM THE RIVER TO THE OCEAN at Cucalorus Film Festival – Wilmington, NC (USA)
Download Rozalind MacPhail's music:
BandCamp – https://rozalindmacphail.bandcamp.com
iTunes – https://itunes.apple.com/us/artist/rozalind-macphail/id264950174
CD Baby – https://www.cdbaby.com/cd/rozalindmacphail3
Stay Connected:
Website – http://www.rozalindmacphail.com
Twitter – http://www.twitter.com/flutegirl
Facebook – http://www.facebook.com/rozalindmacphail
Soundcloud – http://www.soundcloud.com/flutegirl
YouTube – http://www.youtube.com/mysteryflutegirl