Emma Resmini is an exciting, inspiring voice in our musical community. Combining strong talent and expression with expert use of social media has made her a household name for flutists, but Emma is also possessed of a deep-thinking philosophical bent and love for performing new music. The same person who impressed us all as an adorable sprite with an incredible talent is now in her final year of schooling at the Curtis Institute of Music, and she has grown into an interesting, compelling young woman. We'll all be excited to see where she goes next!
Tell us a little about your background and how you came to choose the flute.
Since hearing the flute at the age of three I have known the flute is my instrument and I couldn't get the sound out of my head. Early on, Alice Kogan Weinreb of the National Symphony became my teacher. She empowered me to really develop my chops and to explore the emotions, sounds and textures that to me are so integral to the music. I am now in my last year at the Curtis Institute of Music, where I study with Jeffrey Khaner, Principal Flute of the Philadelphia Orchestra. He has been an incredible sounding board for my ideas, and I have really grown as an orchestral musician from his guidance.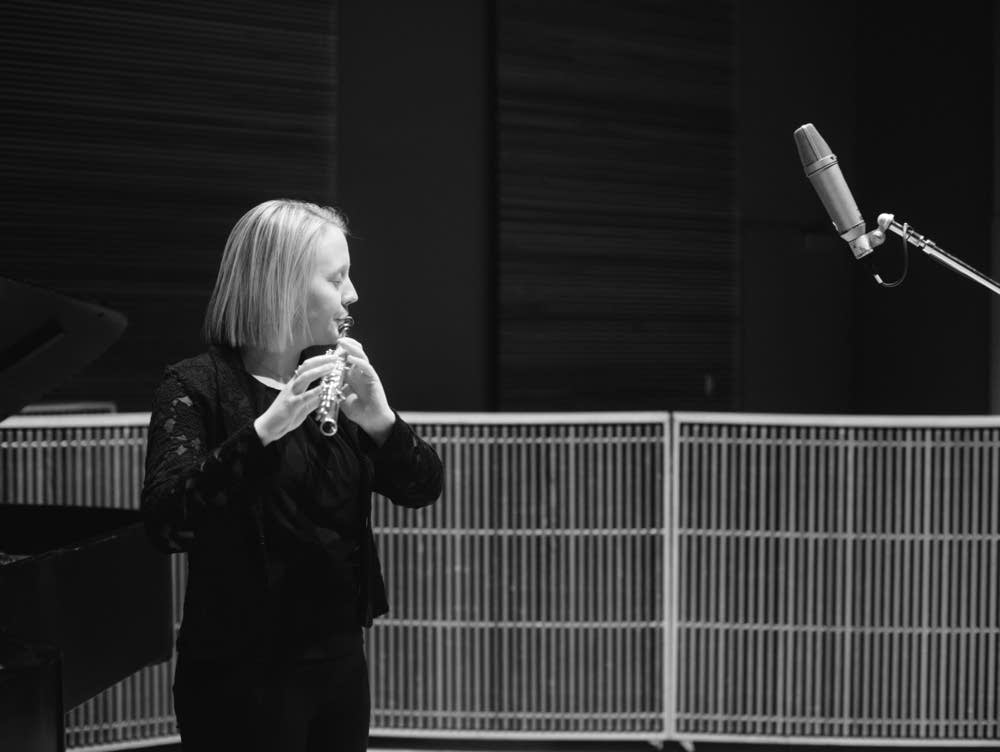 What is it like to wear the label of prodigy?
Though I realize people attach the "prodigy" label to me, I simply think of myself as a flutist and musician. I'll be 18 soon, so hopefully I'll soon leave that label behind. To me it has the connotation that the music pours out with little effort, when the reality is that music is and has been my active and single-minded pursuit.
If you could commission your perfect piece of music, who might you ask, and what might it sound like?
I think we're living in a Golden Age of composition, with wildly creative concepts of sound being investigated. It's difficult to narrow it down to three, but I'll call out Jennifer Higdon, Kaija Saariaho, and David Lang. They're all so different, so it's hard for me to say what my dream piece would sound like.
I definitely like pieces that showcase the flute in unexpected ways beyond its traditional role.
And with any composer who writes for me, I tell them to fully utilize the flute – make it challenging, use a wide range of sounds and emotions, and create a dramatic sound world that really impacts the listener.
I find your playing to be wonderfully expressive, and I find, as a teacher, that that can be one of the hardest things to teach someone who doesn't naturally "feel" the music. What do you do to encourage expressiveness in yourself?
I feel strongly that music should be about something, and not simply pretty or nice. But also, expression in music isn't something that can be completely forced. Overthinking it, in  my experience, frequently leads to melodrama. A common way of achieving expressiveness is making a story that goes with the piece you're playing. For example, when I was first learning the Nielsen Concerto, I imagined it was a medieval war for the first movement – the beginning was the army getting ready to battle, the first lyrical section is the queen, the flute+bass trombone section is the battle starting, and the big cadenza is a soldier stopping everything to say "why are we doing this?" And then the end is everyone calling a truce and going home. But now I don't make stories for my repertoire anymore (unless the piece itself is inspired by one). Instead I think more in terms of emotions, and I try to convey what I feel during the piece.
You are building your career both the old-fashioned way (recitals, concerto performances, degree from a major music school) and in a more modern sense, by using social media and technology like your YouTube channel. How has the availability of these technological outlets affected or enhanced the work of building a reputation?
The invention of social media has made it possible for anyone from anywhere to become known. If YouTube and Facebook didn't exist, there's almost no way that anyone would know who I am. YouTube definitely started my reputation, and Facebook and Instagram (and my new website: www.emmaresmini.com) allow me to share my upcoming performances, new videos, and other announcements. Social media also makes communication so easy – I like the ability to be able to communicate with people, and to collaborate with composers that I would have never met in person.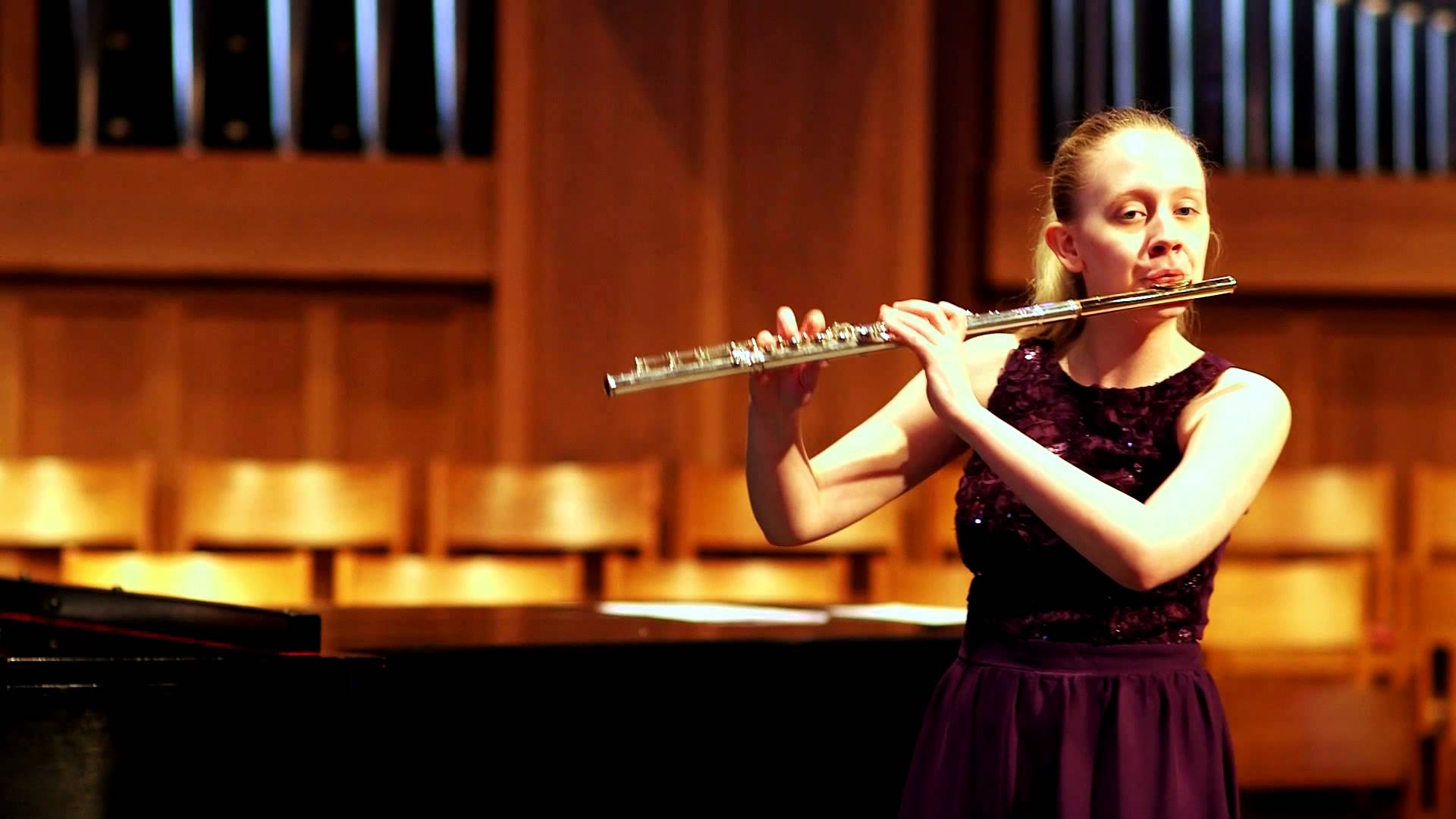 What is your daily practice routine like?
It varies depending on what my overall schedule is on a given day. Generally, if I have a lot of rehearsals/coachings/lessons, I don't practice as long to avoid injuries. But on a perfect day, my practice session is 2-3 hours long. I mostly just work on whatever repertoire I need to learn, and if I feel like a certain aspect of my technique needs attention, then I select etudes to address the issue.
What does the future look like for you?
It seems the best way to build a career today is to choose "all of the above." The established paradigm is to be a flutist who specializes in a certain style of music. But I think a new paradigm is necessary: I'm striving to be a versatile musician who specializes in the flute.
I think we need to cast aside the misconception that being a trained musician somehow limits the music where we can make a contribution. Even with a steady gig, musicians need to constantly engage both new and established audiences.
We have to fight for the importance of classical music.
---
ABOUT EMMA RESMINI
"An amazing musician… your artistry is astounding." (NPR's Performance Today)
Flutist Emma Resmini is a soloist, collaborative artist, and new music advocate. She has soloed numerous times with the National Symphony, as well as the Philadelphia Orchestra, Dallas Symphony, Pittsburgh Symphony, and Shenandoah Valley Bach Festival Orchestra. Emma was a 2016 NPR Performance Today Young Artist In Residence, with interviews and performances airing over three days, primarily focusing on American contemporary composers.  Her performances have also been aired on WHYY-TV.  Other recent solo engagements include the Penn Composers Guild, National Flute Association Convention, New York Flute Club Concert Series, Music for Food, Odeon Chamber Music Series, and Music at Penn Alps.
Beyond the classical canon, Emma is also an avid performer of new music.  A review of her performance at the 2016 New Music Gathering raved, "Emma Resmini stunned the crowd." (I Care If You Listen) At the Curtis Institute of Music she was a featured soloist in the tribute concert to composer Kaija Saariaho, performing NoaNoa for flute and electronics, and as a member of the Curtis 20/21 Ensemble's performances of Schoenberg's Pierrot Lunaire in NYC, Philadelphia, and Washington, DC. She'll once again be a featured soloist on the Fall 2017 20/21 concert. As an advocate of emerging composers, she has performed the world premiere of over twenty new works. She is also in her third season with the Arcana New Music Ensemble, where her music has been described as "masterfully performed." (DC Metro Theater Arts)
With a worldwide following, her classical flute videos have millions of views across social media. Emma attends the Curtis Institute of Music, studying with Jeffrey Khaner, Principal Flutist of the Philadelphia Orchestra. She was the youngest member ever accepted to the National Symphony Orchestra Youth Fellowship, and was a long-time student of NSO flutist Alice Kogan Weinreb.