Most flutists are familiar with the piccolo and have a love/hate relationship with the instrument. When we hear the word "piccolo," many of us think of cold and rainy marching band performances on a high school football field. Those of us who have pursued the instrument further may think of some of those amazing and challenging orchestral excerpts like Tchaikovsky 4. What many of us don't realize is that the piccolo had a "Golden Age," right around the turn of the twentieth century, which is really what launched the instrument into becoming a solo instrument today. My good friend Christine Beard has a unique perspective on the instrument and is helping to keep that small niche of repertoire from the Golden Age alive and well. I asked Christie to elaborate a bit on her life as a piccolo player specifically focusing on a very specialized area of piccolo playing that she happens to enjoy.
What made you pursue the piccolo specifically? and Can you think of a defining moment in your career that set you on this path?
Despite none of my teachers being piccolo players themselves (and frankly, actively avoiding the instrument), I started to gravitate towards the piccolo when I was in college. My undergraduate flute teacher, Joe Bonner, heard me practicing piccolo for marching band one day and realized I had a natural knack for it. He encouraged me to audition for the piccolo spot that was coincidentally open in the Northeast Arkansas Symphony (now the Delta Symphony). I won that spot, as well as the piccolo spot in the Pine Bluff Symphony (in southern Arkansas) a year or so later, and I remained the piccolo player in both orchestras until I moved to Texas for graduate school in 1996. As much as I enjoyed playing piccolo, it wasn't until I was in grad school at the University of Texas that I heard one of my colleagues, Victoria DeLano, give a recital performance that included Thea Musgrave's "Piccolo Play." Her performance made me realize there wan an entire world of piccolo solo repertoire out there about which I knew nothing. At that moment, I was inspired to learn as much of that repertoire as I could. My teacher, Fritz Kraber, was open to my choosing piccolo literature to include on my doctoral recitals and consequently the first work I performed was Lowell Liebermann's Concerto, Op. 50, which was only a few years old at the time. That same year (2000), I heard Zart Eby perform a piccolo recital at the Texas Flute Festival and was mesmerized. I contacted her after the festival and flew out to Seattle a few months later to have the only two official piccolo lessons I've ever had. I had already begun to set my path into motion by the time I went to study with her, but her constructive comments and positive feedback helped to give me confidence as proceeded to carve out my niche as a piccolo specialist going forward.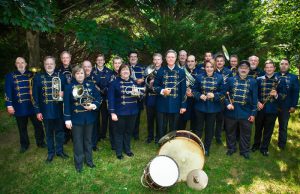 Another defining moment came in 2005, when I decided to create the world's first piccolo-specific website, "Piccolo Headquarters" which at that time was the only place online where one could go to find out anything an everything about the piccolo: players, repertoire lists, fingering charts, makers, piccolo events, etc. A year later, my work had caught the attention of two prominent European piccolo players – Nicola Mazzanti and Jean-Louis Beaumadier – both of whom recognized me by name when we all attended the NFA Convention in San Diego that year. Inspired by their support of my work, I went home and started hatching my plans to form the world's first piccolo-specific festival, The International Piccolo Symposium. We held our first event in 2007 with Beaumadier as our first international guest artist (with Mazzanti being the second in 2009). Jean-Louis then invited me to be a guest artist at his Flute Festival in France in 2010; not only did I get to perform and record for his upcoming CD with him, but the contacts (and friends) I made there ended up being some of the most important in my early career. That event is the point from which my international career began to grow exponentially, which has resulted in my being on the regular guest artist circuit for flute festivals throughout South America, as well as invitations to appear at major piccolo events including the 2011 European Piccolo Festival in Slovenia and the 2018 International Piccolo Festival in Italy.
In recent years, I have come to know that you have a love of historical instruments. Can you tell us how this came about and a bit about what performance opportunities you have found because of it? Where did you find your historical piccolo and how did you learn to play it?
I fell into historical piccolos rather by accident. My doctoral lecture recital was "The History and Development of the Piccolo as a Solo Instrument from Vivaldi to the Present," and through that research I became well acquainted with much of the "Golden Age" solo music of the late 1800's (building on the excellent research first done on the piccolo in this era by Canadian flutist Richard Roberto). While exploring for performance opportunities during my tenure process in 2006, I ran across an event called the "Vintage Band Festival" held in Northfield, MN, for which nearly 100 bands from around the world were invited to perform. I noticed that many of them were historical performance groups. I wrote to the festival's director and asked him to send my credentials along to the invited bands to see if any of them might be interested in featuring a piccolo soloist at the festival. Out of the 100 ensembles, only one responded: Newberry's Victorian Cornet Band (NVCB), a group based in MD comprised of professional and semi-professional players from all across the East coast who specialize in pre-Sousa (Victorian-era) repertoire and perform on vintage instruments built prior to 1900 (not reproductions, including all the brass players' mouthpieces). They invited me to solo with NVCB at the VBF that year (for which I performed "Kinloch 'O Kinloch" by J. Occa), and also to play in the band, which at that time was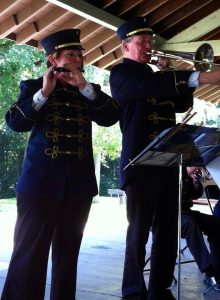 only comprised of brass and percussion players. After that festival, the band's artistic director, Dr. Michael O'Connor, invited me to be a core member of the group…with the stipulation that I buy a historic piccolo on which to perform with them. So I contacted Robert Bigio in London to ask about finding a high pitch Boehm-system piccolo (NVCB plays at A=456). He had a drawer full of HP piccolos in C made by Rudall Carte, a well-known British maker of the time, and sold me a beautiful rosewood model made in 1900, which features a silver inlay in the headjoint which produces a beautiful sweet tone. I've been playing with NVCB ever since, and have become quite adept at transposing D-flat piccolo parts by sight.
Since that initial introduction to historic performance practice, I have since bought several more antique instruments which include a very nice 6-key rosewood piccolo in D-flat by Boosey and Hawkes, and a cocus wood Louis Lot ring-key piccolo in D-flat. I taught myself the fingerings for the simple system instruments, and have performed select recital pieces on the antique piccolos in my collection, including a lecture-recital performed at the National Music Museum in Vermillion, SD with USD flute professor, Stephanie Kocher. However, the technical demands of the band music performed by NVCB (much of which are operatic transcriptions) is better suited (for me) on my Boehm-system Rudall Carte piccolo. I also regularly give lecture-recitals on the evolution of the piccolo as a solo instrument at music conferences and flute festivals worldwide, which covers the composers and music for piccolo, as well as the instrument's mechanical developments and the famous players throughout history.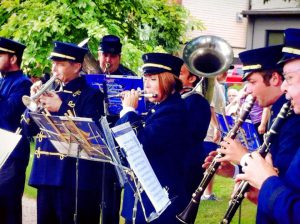 (I should note that I only play simple-system piccolos but not flutes. The reason for this is due to hand strain, as I am unable to negotiate the stretch and hand position required to play simple-system flutes. I would love to add Baroque Flute to my list of skills as a professional musician, but sadly it's just not in the cards for me, as I experience shooting pains in my fingers within minutes of trying to play simple-system flutes.)
What advice would you give to other piccolo players who might be interested in exploring this niche in the world of piccolo?
If you're just starting to delve into the world of historic performance, find an inexpensive but good quality instrument on which to practice until you make the commitment to take your skills to the next level. Although some good finds can happen through sites like eBay, if you're going to purchase instruments via these avenues, do your homework: ask the seller all the pertinent questions (e.g. verify the key of the instrument by finding out the length/dimensions, if it is at high or low or modern pitch, if there are any cracks in the instrument, if it has been recently serviced, etc.). For serious collectors, search the inventory of reputable flute dealers who often sell antique/historic instruments. As for learning to play historic instruments, there is so much that can be learned through video tutorials on the internet and through simply reading books on the subject, but I would also suggest getting with a teacher who can help you correctly deal with some of the physical issues encountered when approaching simple-system instruments, as the hand position can often be much different than what is required on the modern flute.
Christie's upcoming engagements with Newberry's Victorian Cornet Band (https://www.facebook.com/newberryband/):
NVCB will release their 2nd commercial CD on the MSR Classics label in late 2018/early 2019 which features Beard on a solo track, performing "Through the Air" for piccolo and band by August Damm.
NVCB will make their inaugural appearance at the Great American Brass Band Festival in Danville, KY from June 6-9, 2019 (https://www.gabbf.org/full-schedule/).
NVCB will return for their 4th consecutive Vintage Band Festival in Northfield, MN from August 1-4, 2019 (https://vintagebandfestival.org/)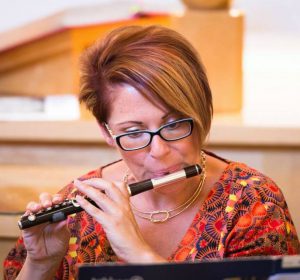 Described by Flute Focus as "…having shattered any notions that the piccolo might be lacking in deep, expressive powers," Christine Erlander Beard enjoys an active international career as a soloist, chamber artist and teacher throughout North and South America and Europe. Noted for her "warm lyricism" (BFS Pan) and "great expressive tone and range" (Christopher Caliendo, composer), Christie strives to showcase expressive music written for the flute and piccolo as well as promoting new and original works by living composers. Recently invited to perform as a concerto soloist with the Orquestra Filarmonica de Mendoza (Argentina) and the Orquestra Sinfonica de Porto Alegre (Brazil), her 2017-2018 schedule included serving as a guest artist at flute festivals in Canada, Honduras, Italy, France, and making her 15th appearance on the program of the National Flute Association Convention. Christine's upcoming engagements in 2019 include serving as a guest artist at festivals in Canada and Costa Rica, as well performing in KY and MN in her role as solo D-flat piccolo with Newberry's Victorian Cornet Band. Founder of the International Piccolo Symposium, she serves the National Flute Association as a member of both the Scholarship and the Piccolo Committees, and as a contributing editor to The Flutist Quarterly. An international solo artist for Sankyo Flutes and piccolo artist for Hernandez Flutes, she can be heard alongside the French piccolo legend Jean-Louis Beaumadier on his CD, Postcards: World Piccolo, Vol. 2, and with Newberry's Victorian Cornet Band on their inaugural CD, Victorian Era Music for Brass Band by Thomas Coates. Recently named a semi-finalist for the coveted American Prize professional soloist division 2018-2019, Beard is the Regents-Foundation Professor of Flute and International Studies at the University of Nebraska at Omaha.  www.christiebeard.com