There is a place I can go in my mind, with a moment's notice, to relive some of the best and most foundational musical experiences I ever had. I spent four summers there, learning how to be expressive, reliable, collegial and, most of all, professional. I made friends there who I still see in the wider world, and I wouldn't give up a moment of that time for anything. Where is this Eden, you ask? It's Sewanee, TN, home of the Sewanee Summer Music Festival, and I am more than certain that I wouldn't be a successful musician without the lessons I learned there. Just a few weeks ago, I had the opportunity to write a letter of recommendation for one of my high school students who is looking for a summer opportunity, and Sewanee is one of the places she's trying. I'm always happy to write such letters because my students are great kids who deserve great experiences, and my summer orchestra camp experiences were really wonderful, life-changing, path-shaping times for me.
There are fairly significant barriers for many students. For example, it's expensive. First and foremost, there's sticker shock for these families, and mine in the 90's was no different. I was fortunate to have a grandmother who believed in what I was trying to do and sent me to Sewanee four times. The first summer, I was fifteen and filled to overflowing with excitement. I studied the orientation materials as if they were holy writ and planned my packing down to the smallest detail, waiting impatiently for that magic first day to arrive. Middle-aged me is amused to remember how excited teenage me was about living in a dorm, having a roommate, eating in a cafeteria and doing my own laundry for A WHOLE SUMMER! On the other hand, because of that experience, I had spent roughly a full semester away from home before I went to college, so I was past the dying-things-pink stage and much better at getting along with people from other places than I otherwise would have been. In fact, my roommate that first summer was Japanese, as in actually from Japan. I met Haitian students, Bulgarian students, Russian students over the years—it was fascinating and so broadening to meet people my age from all over the world, and that, again, shaped the adult I have become.
The program was intense. It was five weeks per summer of daily orchestra, chamber music, theory class, practice time and weekly lessons, with a different chamber group and a different orchestra program weekly. The first summer, after a year of flute lessons and four years of band, I was really underprepared for it, but I learned quickly how to learn quickly, not to put too fine a point on it. I learned how to sight-read, how to play in an orchestra, how to communicate in the much more intimate realm of chamber music, and from listening to older students and my teachers, I learned about the kind of sound I wanted to make and the way I wanted to make audiences feel when I played for them. As much as all the performing opportunities were a boon, having the chance to hear amazing professionals perform twice a week lit all kinds of fires in me.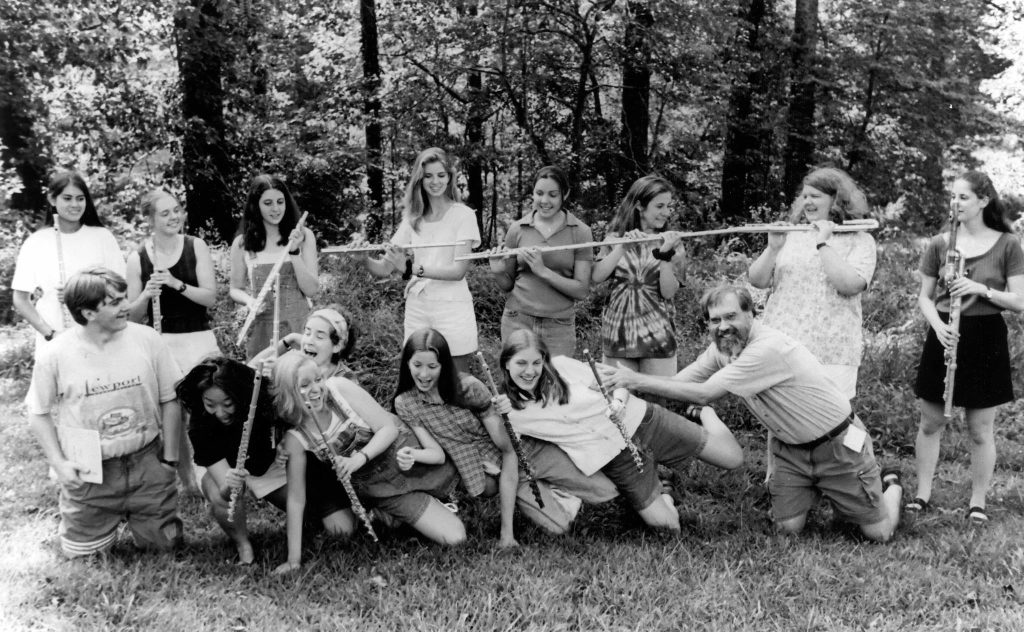 So, now that a few more weeks have passed, the acceptances are coming. I have one accepted to Interlochen this summer, one who might have to choose between Sewanee and the TN Governor's School for the Arts, and one who is going to Europe on a three-week tour to play in a band and see all the sights. Helping them prepare, I've been going back to my memory place more frequently—Guerry Garth on a Saturday afternoon, breezy and warm and packed with people trying to sit quietly on folding chairs to hear the week's chosen chamber ensembles. I hope I'll always be able to feel that breezy anticipation and I hope like anything that my lovely students will have those same experiences!