About Shelley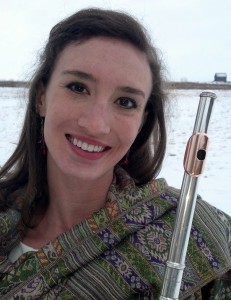 An active performer, pedagogue, and arts entrepreneur, Shelley Martinson joined the faculty of Southwestern Oklahoma State University as Assistant Professor of Music in fall 2013. Martinson is founder and president of the Flute New Music Consortium (FNMC), an award winning commissioning organization dedicated to expanding and enhancing the modern flute repertoire. Recent recognitions include grants from the Illinois Music Entrepreneurship Competition, the National Flute Association, and the Oklahoma Arts Council. Martinson also serves on the board of the Oklahoma Flute Society (Vice President) and will begin her term as chair of the NFA's Career and Artistic Development Committee in fall 2016. Recipient of the NFA's 2014 Graduate Research Competition for her doctoral research, Martinson completed her DMA in flute performance with a certificate in World Music from Florida State University. She holds additional degrees in flute performance and music history from the University of Akron and Skidmore College. Former teachers include Eva Amsler, Mihoko Watanabe, George Pope, Jan Vinci, and Wendy Matthews. 


Tell us about your current project (what inspired you, how did you get it off the ground, etc.).
I'm President and founder of the Flute New Music Consortium (FNMC). FNMC is an organization committed to commissioning and promoting new music for the flute. In a certain way, FNMC was the solution to a problem. I graduated with my DMA in December 2012.
Excited to work with composers and commission new works, I researched grants but quickly realized that grant funding was a very limited solution to funding commissions.
I liked the idea of a consortium – a group of flutists making a relatively small financial contribution and sharing in the title of "commissioner." Consortiums often center around specific commissions, but I wanted to create something more permanent and more inclusive. All flutists and flute enthusiasts can join FNMC.
Founding board members Elizabeth Robinson, Ashley Shank, David Graham and I were the first members. We started small, reaching out to friends, former teachers, and colleagues. We brainstormed, adapted, and met online each month to create the organization that exists today. Like our membership, our board members live in different states, so our meetings rarely take place at a physical location. In the early stages, FNMC received nonprofit status through Fractured Atlas, which gave us time to complete the paperwork required of 501c3 status. Our approach to membership also evolved over time. We originally offered only commissioning membership, but have since added performing membership and, more recently, corporate sponsorship and collegiate membership.
Our first large scale commission, Zhou Long's Confluence, included 19 commissioning flutists, all of whom were invited to premiere the piece on October 1-2, 2015. We also host a composition competition each year, which is unique in that all FNMC members can vote to select composition competition winners and can eventually perform winning pieces. I love that the competition introduces me to so many great new works and allows me (and our members) the chance to connect to composers in a new way.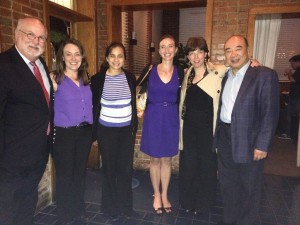 What advice would you give to upcoming professionals?
Music is filled with opportunity, but not all of those opportunities will be pre-made. Don't be afraid to create or take part in something new. Once you find a project you're passionate about, commit to it! Roadblocks are often the gateway to great ideas and/or personal growth. You'll need to adjust, adapt, and innovate. Keep the big picture in mind to help you stay focused on what matters; break down large projects into small daily or weekly steps to encourage steady progress. Take advantage of the opportunity to learn new skills.
If you're a student, develop multiple areas of expertise while you're in school. Even if you learn as much as possible, there's still more!
I'm grateful for my background in musicology and arts administration, but I still continue to research and learn as FNMC grows.

How do you keep motivated with your work, and how do you manage your time?
Working with wonderful people and filling my days with activities and projects I love keeps me motivated. Not all aspects of any job or project are glamourous or fun, but if you're invested and engaged in your daily activities, it really doesn't really feel like work. The composition competition and our commissions introduce me to fantastic new pieces and composers, which is exciting and worth the time that I invest.
I'm generally very organized, which helps me balance a large number of responsibilities.
I use a reminder system in my Google Calendar and the Any.Do app to track and prioritize my short and long term "to do" list. My time is limited during the semesters, so I tackle big projects during breaks.
During the school year, I look ahead and block out time for larger tasks in my calendar. I really don't procrastinate because pushing work to the last minute doesn't allow me the flexibility to deal with unforeseen events and issues as they arise. I've slowly learned that I sometimes need to say "no" to new projects or commitments to protect my time. I'm dedicated to performing and teaching at my best and don't want to compromise my work in any of these areas.

Anything exciting on the horizon?
Yes! The annual FNMC Composition Competitions begin June 1st.
We have four categories this year:
solo flute,
flute and accompaniment,
newly composed, and
chamber works.
We're also looking forward to our next large scale commissioning project that comes to fruition in fall of 2017. Carter Pann will write an 8-10 minute work for flute and piano. In fact, we're still accepting commissioning members to join us in premiering the work late fall 2017/winter 2018! Please visit www.flutenewmusicconsortium.com for more information about joining us.