I'm enchanted, occasionally, by a musician's bio, if it's charismatic, revelatory, charming, witty, or elegant. Many bios I read, though, are boring, ordinary, and poorly written……like my husband's, before I got my hands on it.
Your bio is an introduction on concert programs, social media, and websites. As part of your complete performance package, like stage presence, your bio represents your personality, music, and vision. I encourage you to consider revising yours using these ideas:
Open with a sentence that draws in the reader and that shows a distinctive quality about your musical life, using interesting words or a quote from a review.
Begin with a subject other than with whom or where you studied, especially if you're past high school and very especially if you're an adult amateur or a professional. Place this topic near the end of your narrative.
In a sentence such as: "She has been a prizewinner in several competitions such as the ABC Competition, the DEF Competition and the XYZ Competition." Delete "in several competitions such as." Good writing is concise; those five words are unnecessary. Read the sentence without those words and notice how much more impact it makes.
Eliminate the words "also," "in addition," and "previously." They're almost always superfluous.
Avoid using the passive form: "was named the principal flute chair," "was appointed Assistant Professor." Instead, use the active form: "won the principal flute chair, "attained the position of Assistant Professor." This form of writing portrays you in power.
Similarly, instead of writing "She was invited to appear at the Blue Festival and the Green Convention," a more active, powerful (and concise) stance is: "She appeared at the Blue Festival………"
Avoid overused, commonplace lists, such as "Joe Smith is an active soloist, chamber performer, and orchestral violinist." Create every sentence to contain colorful and specific information.
Keep the tense of your bio the same throughout, except when necessary for a specific reason.
Use correct punctuation, especially commas.
I invite you to devote the same thoughtful energy and detailed attention to writing a rave review bio that you expend on earning rave reviews for your performances.
About Helen Spielman
Helen Spielman has been an inspiring voice in the field of performance anxiety and flute teaching for three decades. She has taught countless musicians to take the excellence they produce in a relaxed practice room to the high-stakes arena of auditions, recitals, and pressure-cooker orchestras. Gently tackling subjects such as positive self-talk, mental visualization, and self-compassion, Helen has guided musicians who, ready to quit their careers, regain their original love of music and return to the stage with joy.
Helen Spielman has taught at international conventions, prestigious music conservatories, music festivals, and private studios in Africa, Europe, Central America, and around the US. Her articles have been translated and published around the world. Helen is a Fulbright Senior Specialist and a Distinguished Honorary Member of Sigma Alpha Iota, the international music fraternity.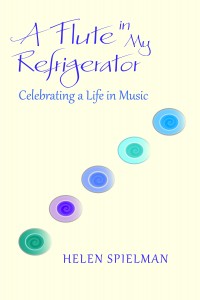 Helen's personal struggles and joys as a performer, innovative flute teacher, and adult music student are portrayed in her riveting, popular book A Flute in My Refrigerator: Celebrating a Life in Music, available Carolyn Nussbaum, Flute World, and Amazon. It has been described as "one during which I had to pace myself, or I would've finished it in a day. Each story is a treasure, worth savoring for its love, spirit, humor and humanity." (C. Beely).
Helen lives with her husband in Chapel Hill, NC and is a criminal justice volunteer.