JD: I always start with the same question, like, literally always, but I think that it's a really inspiring part of everyone's story. Will you tell me about your background, and what drew you to a life in music?
AF: I grew up around Philadelphia—if we go way, way back, back to when I was a toddler, there was a piano in the house and I just started playing songs I would hear on the radio, like pop songs. I don't remember because I was three! But it was enough that my mom signed me up for piano lessons. And then, around kindergarten, my teacher told me I had perfect pitch, which is something that needs to be developed by a certain age. So I started off with piano until about fourth grade, and then I wanted to be in band like everyone did because I wanted to be part of group. Playing piano is a little bit lonely. There was a flute in the house—I don't come from a musical family, but my mom played the flute in high school. I started flute around 4th grade, then sometime in high school I started playing the bassoon because they needed one in the school orchestra. I guess the band director asked me because he knew I could pick anything up. I played bassoon in most of the youth orchestras and wind quintets, so I learned a lot of our repertoire as a bassoonist. I even played contra. I was studying tenor clef, which was invaluable—you know, knowing music from the bottom rather than the top. As a flutist, I always wanted to clone myself so I could accompany myself. I would always study and learn the piano parts, and that is so important, too! I remember accompanying most of the flutists in my teacher's studio, because I knew all the piano parts.
Flutists are very flutistic, but do not always know the harmony or the rest of the score. A lot of our great repertoire is written for flute and piano. It's chamber music, and thinking of it linearly is wrong. And that's what kind of spawned the organ thing, because I love playing flute. I went to Juilliard for flute, got my bachelor's and master's in flute. In high school, I studied with Jeff Khaner, and I also attended the Settlement Music School in Philadelphia, and I passed out of two years of ear training at Juilliard because I'd studied it there. Settlement had such a great program, they still do. I was in Philadelphia Youth Orchestra as a bassoonist, and I played with the Young People's Philharmonic on flute, and then I was taking piano lessons, too. So for me, as a whole musician, I had that on every level. I had a bass instrument, a treble instrument and a keyboard instrument. Eventually, I stopped playing bassoon. I liked it, but flute is so much better and I couldn't make reeds.
JD: So, following on with that, was there a time when you wanted a traditional, like, "I'm going to get an orchestra job" or "I'm going to get a university job" career, or were you always kind of more interested in finding the right place for you in the musical world?
AF: I went into Juilliard wanting to be an orchestral player. I studied with Jeanne Baxtresser, so we were very orchestra focused. I took auditions, and I got runner up for The Barcelona Symphony while I was still a student. I played a great audition, but I know I didn't get it because it was in Barcelona and I didn't speak Catalan. It's expensive to take these things, and I was noticing peers at Juilliard on their 12th audition and going to Kansas or someplace and for a job that pays $20,000 a year and just wasting their time. I love playing in orchestra, and I would freelance after school. I played in these video game orchestras—people get really excited for those. I was living in LA and we did all the West Coast ones, and I did the Zelda Symphony and National Geographic Symphony. Those were cool orchestral experiences where I would do that again, but I'm less interested in the traditional rep and experience. I go to hear concerts nearly every week—I love orchestra. But even during my Bachelor's, when I switched over to Carol Wincenc, I was ready to do my own thing. And Carol was always very supportive of that. So I was able to play bansuri and shakuhachi, and she was cool with that. She let me broaden my horizons, and I'm so glad I did, because now I have these meditation albums where I play these ethnic flutes.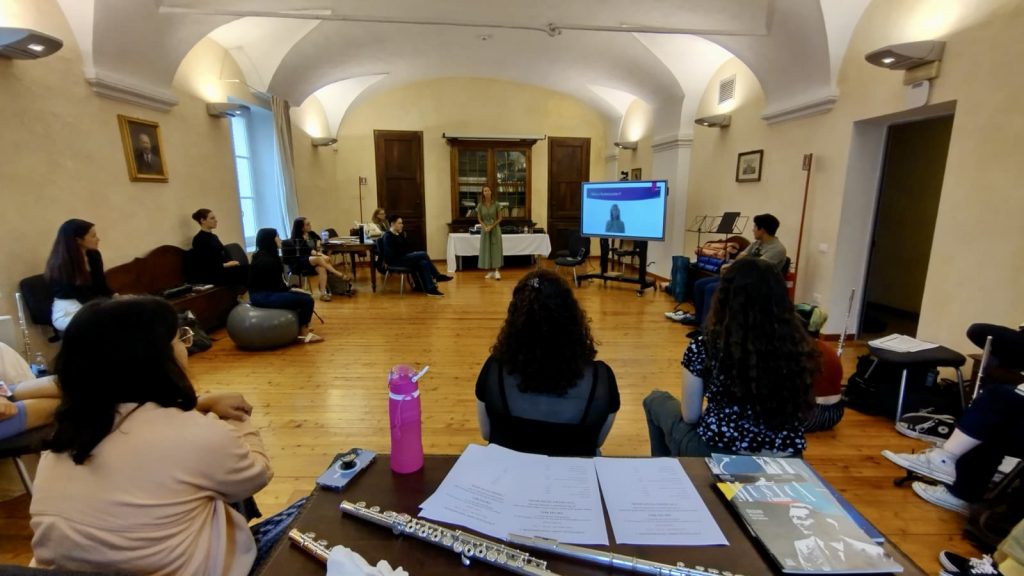 JD: Yeah! So, tell me more about the organ thing. For years I have associated you with Fluterscooter bags and I've known you that way. Then one of my friends posted a video of you on social media playing the organ with your feet and the flute with your hands, and that was the coolest thing I've ever seen!
AF: I was doing a masterclass, Flutes by the Sea, out in Half Moon Bay, California, and I just remember that I had a church as a practice room, and I had practiced enough and had two hours to kill, and there was an organ… I should have mentioned my organ background! I taught myself organ because, when I was 12 or 13, I started working at my church, playing for mass. I had played for the choir director, and I didn't know it would be a paid thing—I went to church every week already! She told me if I learned organ, I could play two or three services a week. It was a big church with lots of services. So I learned organ because I needed to pay for a lot of stuff. I don't come from money. So I played organ until I graduated high school as a part time job, and when I was freelancing in NYC, I had a church gig as an organist and I would get called to do weddings, funerals, things like that, but on organ.
So when I was at that festival, I was messing around, playing a Bach sonata, and I had the piano score. I thought, "This would be cool!" A teacher who was there took a video of it and it's one of the first of these things I put on YouTube. And that's kind of how it started. It was kind of a random thing! But enough people saw it, and then a year or so later, I was a guest artist at the Iowa Flute Festival when it was at the University of Iowa, and they had just installed a new organ in the hall, and it's beautiful—it's a huge, rare, German orchestra. And it was crazy to be able to do that there. It was Professor Nicole Esposito's idea—she asked me to do that when I came to Iowa.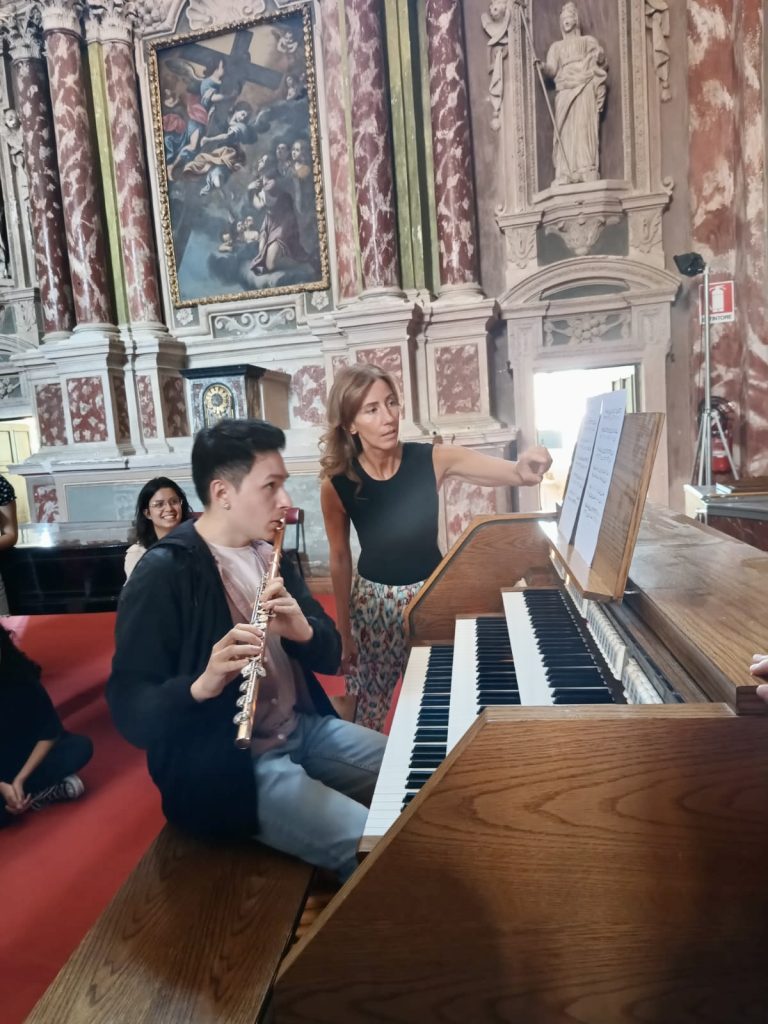 I move a lot. I was living in Philadelphia at the time, and the challenge (I always say) was finding an instrument to practice on. Unless you have a church job, and I didn't at the time, I had to ask a friend of a friend, and I took 2 buses to get there and I had a set amount of practice time three days a week. It worked, but it was hard. Then I had a composer, Joseph Hallman, write me a piece for flute and pedals, so on this concert in Iowa I played Bach e minor and Joe's piece. That was in 2017. That was the inaugural thing with the organ and it went very well, but then I realized the organ is usually up in a loft, and I was very separated from the audience, which I didn't like. It's better to see it on YouTube. And then Classic FM shared the Bach e minor, and that was the first little bit of fame I had. It was a big deal back then and it kind of went viral from there. I did a couple of things after that, little pieces, and then, I was living in Iowa, and I had another opportunity to do the Iowa Flute Intensive, and I was living out there for a year and a half, and I was able to use the practice rooms there—ample practice rooms! I don't know why I chose Dance Macabre, and starting playing some chords with my left hand. No, I did it because of a Halloween Flute and Friends Concert, and it's the quintessential Halloween piece, and I knew it was in g minor—we can play the solo with one hand. Is it comfortable? No! Don't try this at home, or make sure you have a good ergonomic grip with your hand. I printed out the score, and there's an organ transcription. Olivier Latry plays it live and I've heard it—it's stunning. So I got the organ score, and I highlighted which parts I'd do on flute and color coordinated what needed to happen when, and on top of that, I had to have it memorized because there was no way to turn pages. It was like 24 pages long! The three part fugue was the biggest challenge. It was also hard to maintain it from day to day. The coordination was sort of starting from scratch all the time. I used my metronome and just inched up the tempo, and I had to really be careful not to hurt myself trying to perfect it. Click here to see the performance of Dance Macabre!
Then I did Sleigh Ride for Christmas because Dance Macabre was so fun, you know, I had a costume—I love it and arranged it myself and that was fun, too. Last Fall I did seven flute and organ pieces. Vivaldi's Winter is a recent addition that I just did a couple of weeks ago in Croatia.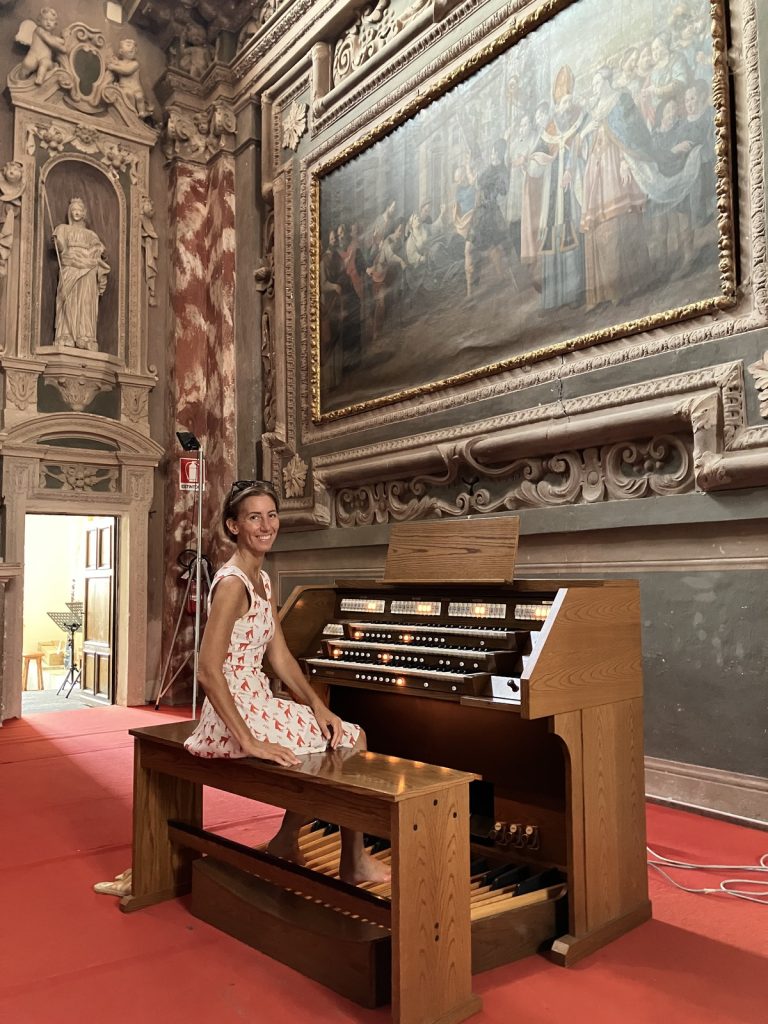 JD: Tell me more about the meditation albums.
AF: They're called Aya Tunes, and they're played in these plant medicine ceremonies. I've been working with these plants, and you go into these ceremonies, ceremony meaning self-healing. You're with a bunch of other people, and my music is playing. It's essentially for these healing journeys, long meditations. Each album is 90 minutes to 2 hours long—each track is about 20 minutes or more. One of the albums is dedicated to deer, because I love deer. It's called Deer Magic. I compose everything, play keyboards…if you go to a spa, it's that vibe of things, but it's all organic, everything is live, is real, and I'm playing a ton of world flutes. Basically, I just go in and lay down a pad, some sounds, and layer it up from there. I don't call myself a composer, because nothing is written down. Some of the comments I've gotten from this music have been so life changing—what this music has done for people, in helping them heal. So that's a project that I don't really promote to the flute community, because it's a whole other circle that this goes to. One day I'd love to perform some of it live. I play a lot of Native American flute. I love playing Native American flute, bansuri, shakuhachi. I was in Berlin a lot last year with my bansuri teacher Steve Gorn recording the next installment of that project, which hasn't come out yet.
I like to do a lot. Sometimes I probably do too much! The bags are very busy right now.
JD: And that does bring us to Fluterscooter bags! What inspired that? And I love your nickname. Tell me about how that started, and then tell me about the bags.
AF: After Juilliard, I was doing hip hop sessions in NYC. 50 Cent, John Legend, etc. That was around 2008-2010. I had a scooter, and at that time, no one had scooters—it was me, my friends and the food delivery guys. I was living in Brooklyn and the sessions were in Manhattan, and even late at night I'd have the scooter. My flute was in a Hello Kitty yoga bag on my back. One of 50 Cent's producers coined the name. I didn't make it up and I don't think I could have. Everyone in these sessions used their made up names, never their government names. The guy who coined the name went by Animal Steele! Fluterscooter just happened. So then, that became my artist name, so I would be listed in credits on albums as Fluterscooter, and I got used to it. At that time there were no flute bags…yet…It all goes back to those hip hop sessions. It's so funny, it's based on youth, and I was in my 20's. I got in at a good time when they were really using orchestral instruments, and then it switched to electronic. I was on John Legend's 2nd album with all this awesome acoustic stuff, but by the 3rd it had changed to lots of electronics. I think we are seeing a resurgence of acoustic instruments with Lizzo, which is great. We're kind of getting back there.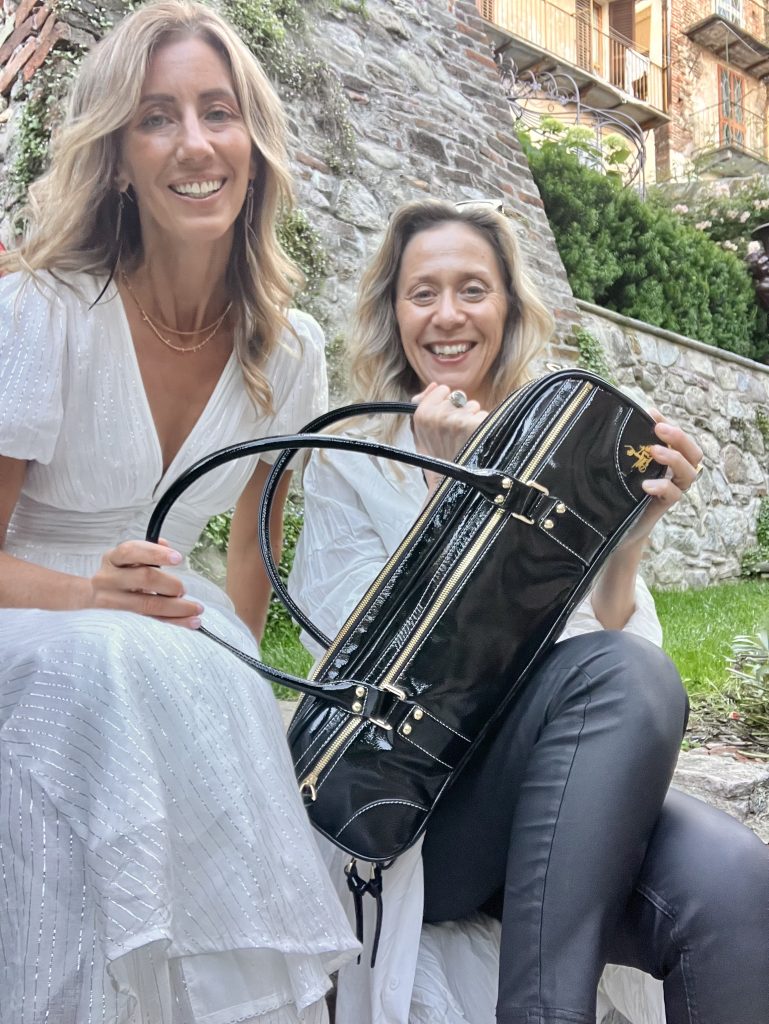 So, anyway, I was always networking at the sessions. I met so many people, fashion designers, models, photographers, business students, you name it—anyone would go in. They'd bring a crew with them. So even if it just needed to be me and a producer, there would be like 20 people in there. They started so late—we'd be booked for 9:00 but not start till 11:30. It was casual. So, the business student—I had an idea of my flute bag, because I was sick of the Hello Kitty yoga bag, and I wanted a really stylish flute bag. Everyone went into those sessions really high fashion, but I didn't have the flute bag to match.
JD: Cavallaro and Alteri are not going to cut it in that world!
AF: Nope! Not at all! You know, these guys were into sneakers, hip hop fashion, and that stuff is a big deal. I really wanted to look the part. I had a fashion designer friend, also met through that network, make me a bag. And I would wear it just as my personal bag with my flute. I started getting compliments on it, and at the NY Flute Fair, and as I was walking up to the venue, these three high school students stopped me before I even got in the door, and they were like, "Oh, that's such a cool flute bag! Where did you get it?" I said, "Someone made it for me, you can't really get it." And they were disappointed and said they would buy it if it were sold. That was the aha moment—the light bulb went off then. The sessions were dying out as the music was changing, and I wanted a stable income, living in NYC. I had all kinds of jobs, including an ice cream truck for 8 summers, that was a side hustle which eventually made me enough money to buy out the investor who helped start Fluterscooter. So that's how the idea came about. The business student helped me write the business plan and helped me come up with how to do it.
So, back to the flute fair. I went up to Flute World's booth, and keep in mind, this is before social media, barely anyone even had email addresses. But everyone knows Flute World. I showed it to them, and asked if they'd be interested in selling them, and they said, 'Yes! Can you give us the minimum order, the pricing, the map?" And I said "Sure, I'll have that for you on Monday!" with no idea what they were talking about. Appear confident even when you have no idea what's being asked. You can figure it out!
JD: Is there anything you wish you'd known before you started Fluterscooter? What's the most helpful thing you've learned along the way that would have been nice to know in advance.
AF: Hmmm. Shipping. Honestly, it was the busy work stuff! I couldn't figure out how to make a shipping label for 2 years. But you know, I am happy with how I've learned everything along the way. I'm still learning stuff every day. I enjoy the process of knowing nothing and going from there to really knowing how it all works. Right now I'm learning what is involved in making a clarinet bag. Or marching band! Right now in my career, the bags are at a level where it kind of runs itself. I don't need to. I have a Sales Director, Jessica Pelltier, helping with the band market, and right now I want to help inspire the next generation of musical entrepreneurs. I think what it takes is this drive from a young age. You've got to have a hustle mentality. When I see that, I want to help. There aren't a lot of classes for music entrepreneurship, even in the states. I love to be able to inspire and see someone else's thing get off the ground.
JD: That's beautiful! Even though we do have music business and music industry degrees, they are also kind of all the same thing—this is how you do artist management, produce, engineer—but there's not, and I say this as someone who lives in Nashville, where that's the side we do—but real entrepreneurship, taking something new and bringing it to the world—I don't see that being taught.
AF: I don't know that it can be taught. It's about how you think. It's about always keeping a very open mind, always being confident, eliminating your self-doubt and giving it 1000%. And if you fail, that's part of it. Don't take it too hard. I have other business ideas that have tanked. That's part of being an entrepreneur, and we all learn from our failures. You have to be fearless and not worry about failing or what other people will think, and don't listen if someone tells you no, you can't do it. I've had a very unconventional lifestyle, and I wouldn't trade it for anything. You have to silence those outer voices (and those inner voices) that say you can't do it. I'm a big meditator, and in transcendental meditation you're taught that thoughts come but they'll also go. They're just thoughts.
JD: What advice do you have for young people considering a life in music?
AF: I think you can do it all. You can live your dream. It's not going to be easy—don't expect it to always be perfect or easy. What you see on Instagram is not really real. Don't spend so much time on social media. I do a tech detox for a day or two per week. For music students now, I think they have so many resources. Use them. Start building your fan base and your audience. Find out who aligns with what you are doing. They can be people in the arts or people in advertising or some other thing. The people who love the flute the most are often not musicians. I used to know a lot of people in advertising, and they loved coming to my concerts! They know nothing about it, and we tend to intellectualize all our music. We're very critical—but these people don't care! When the music is played in these medicine circles, very few people are musicians there. Find those people and start finding them now. You need to find your audience.
JD: What are you excited about now? What projects are you working on that you would be willing to talk about that excite you right now?
AF: I'm really focused on the School Spirit line with clarinet bags as well as piccolo and flute bags. That's my big project now because of marching band season. The bags are leading up to something else, and my big dream is to make a deer park. I love them so much! The most magical experience I have ever had is when a deer ate from my hand, and it took me six months to train her to do that. I felt like that was the most successful thing I ever did—a whole other type of success. I love deer and I want people to understand the beauty and the magic of deer. They're healing. And obviously there will be music involved! It will be a venue where you can hear music and see them and then go feed and pet the deer. I'm not sure where I'm going to do it yet, but I'm putting this out there. You have an idea, you put it out there. It's just energy. We're putting it out there into the world, saying "here it is, it's existing, it's already a thought" and we'll build on that.
JD: I would so come to your deer park!
AF: I'll give you a special pass.
JD: OK. That sounds good!