JD: Tell us about your background. What drew you to a life in music?
AS: My musical career probably began when I first heard A Charlie Brown Christmas on my dad's record player when I was a kid. That album sparked my love for music, and it's still one of my favorite albums today. I listen to it whether it's December or July – I put no restrictions on good music!
Since then, I've developed my musicianship through a handful of instruments. I began with the voice in my Episcopal church choir starting in second grade and continued singing in choirs until I graduated from college. While I was in college, I had the opportunity to take voice lessons which proved to be enormously beneficial for my flute playing. Along with singing, I played piano from 4th-6th grades, and I played tenor saxophone from 8th-12th grades in jazz ensembles. Flute entered the picture in 6th grade, and although I've played some other instruments, I instinctively knew that flute was the one for me (thanks to hearing some glorious flute playing on Great Pumpkin Waltz). I've been absolutely determined to play it as naturally as possible since then!
JS: Tell us about your interest in Alexander Technique. What's a good starting point for someone interested in learning about its benefits?
AS: Alexander Technique is a practice, and I think of it as a way to decompress the mind, body, and spirit. Jennifer Keeney, my flute teacher during my last two years of high school and a certified Alexander Technique teacher, influenced me with her grounded, graceful, and thoughtful approach to the flute and music. Most people view the technique as a way to combat injuries, but I primarily see it as a way to develop and improve one's way of moving through the world. Since I've started investing more and more time into the practice, I've found that living is way easier. I wish everyone knew about it – the world would be better because of it.
Those that are interested in learning about Alexander Technique can read about it on my current teacher's website and find an AT near you through this link.
JD: What are looking forward to in 2023? Which projects excite you?
AS: Without a doubt, I'm the most excited for my concert at Merkin Hall on March 10th entitled Musical Journalism: Continuing a Legacy Through the Flute. This performance will feature _NOT RUNNING. (The life of L. Alex Wilson), a piece that my friend Dameun Strange wrote for me that honors my late grandfather's legacy in the Civil Rights Movement as a journalist. It's for flute and electronics, and it has five movements: water, wind, earth, fire, and aether, all tapping into the spiritual connection I'm creating with my grandfather who died decades before I was born. Two of the movements, fire and aether, are completely improvised. Dameun has written a piece that allows me to pay homage to my grandfather and to tell my story. Getting to share L. Alex Wilson's legacy on a stage as renowned as Merkin Hall is a tremendous honor, and the fact that this will be my NYC debut concert makes this even more special.
JD: Tell us about your work with Dameun Strange and about your grandfather, L. Alex Wilson.
AS: This all began with my late grandfather L. Alex Wilson, an unsung hero of the Civil Rights Movement. He was based in Memphis, TN where he was the editor and general manager of the Tri-State Defender, the biggest Black newspaper in the region. During his time with the newspaper, he covered major events of the movement such as the lynching of Emmett Till, the Montgomery Bus Boycott, and Little Rock 9. It is largely because of Wilson and his team of journalists that people are aware of Emmett Till; they secured witnesses for the trial around his lynching despite the colossal danger of doing so as Black men in the South during Jim Crow. L. Alex Wilson was the epitome of courage and justice.
I began working with Dameun Strange after asking him to write a piece about my grandfather's life, knowing his connection to Black history and our similar tastes in music. His musical style is inspired by nature (especially water), it's extremely energetic, and it's super well-organized. This collaboration developed through my management Concert Artists Guild and BMI who are co-commissioning this project, so I'm grateful to both organizations for providing me with this opportunity. I CANNOT wait to share Dameun's piece with the world!
JD: You are a teacher, and as teachers we make big differences in students' lives every day. What do your teachers mean to you now that you're out of school?
AS: Largely, my teachers are me. All of my mentors, professors, and teachers taught me not only about what they intended, but also how they move through the world and handle challenges in their own lives. I have absorbed little bits of each and every one of my teachers into my being, so my teachers mean everything to me because they have helped mold me into the person I am today.
JD: Watching videos of your playing, I am struck by how effortless it sounds for you to play so beautifully. What do you like to use to practice sounding effortless?
AS: Thank you! I've been working at effortlessness for several years now, so this means a lot. The short answer to how I've developed that quality is Alexander Technique. The long answer is that I spend time defining my kinesthetic connection to playing the flute through close observation and *feeling* the music and vibrations. As that connection deepens, I figure out how to spend less and less energy accomplishing my goals. I challenge myself to make playing the flute as easy as possible.
JD: Do you have advice for young flutists thinking about a career in music? What do you wish you'd known or understood going in?
AS: Develop your love for music as much as possible. If you love making music enough, you'll improve infinitely, so much so that you might catch yourself off-guard.
If I could go back in time to give myself advice, I'd tell myself to chill out and stop working so hard physically! I was told by more than a couple teachers to stop squeezing my flute so much because they feared that I'd crush it. Approach music-making with a sense of lightness and ease. Working hard can make learning the flute feel a little too much like a battle.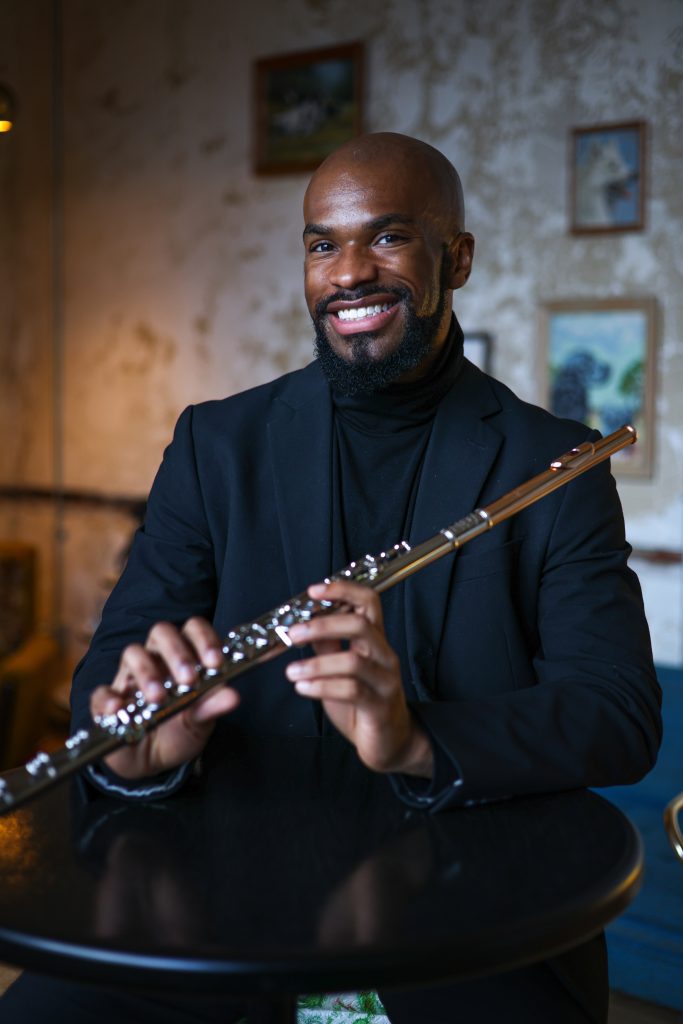 Named an artist to watch in The Washington Post's list of 23 for '23, flutist and educator Adam W. Sadberry is paving a distinctive career with his citizenry, creativity, and vibrancy both on and off stage. As a winner of Concert Artists Guild's 2021 Victor Elmaleh Competition, he is performing nationwide as a soloist and chamber musician. Along with performing, Adam spends his time on faculty at the University of Minnesota (Twin Cities) for the spring 2023 semester, and he is also working towards his Alexander Technique certification at the Minnesota Center for The Alexander Technique as a 2023 Judith Leibowitz Scholar. Adam is in-demand for residencies and masterclasses.
Adam has a foundation in orchestral playing and has performed as principal flutist with the St. Louis and Detroit Symphony Orchestras. He holds a Bachelor of Music and Performer's Certificate from the Eastman School of Music. Outside of music, Adam finds joy in rollerskating, listening to podcasts, reading, playing video games, and spending time outdoors. Adam can be found on Facebook and on Instagram as @adamhappyberry.