As musicians we must regularly reimagine how our skills translate into viable careers in the arts.
Home entertainment options, social media, general shifts in popular interest, and the economy all play a role in how music and the arts are consumed.
The NFA has long been sensitive to these changes in our field, and they have been the core focus of the Career and Artistic Development Committee since its creation in 2009. The committee developed the Arts Venture Competition as a way to further explore and promote entrepreneurial development and put business skills into practice.
During the final round in this competition, entrants with ideas for an innovative project or business present a financial plan and pitch their idea, Shark Tank style, to a panel of experienced judges. The winners receive money to be used in the following year to bring their project to fruition. Entrants (individual or groups) are encouraged to think outside the box by reimagining a new model for something that has been done before or creating a new collaboration between a musical venture and a community or other art genre.
The 2014 winner, Flute New Music Consortium, commissions and promotes new music. FNMC aims to enable musicians to share in the benefits of commissioning and performing new music by making a small financial contribution. Working with prominent composers, the group funds and promotes new works through several levels of membership. Each commission is followed by a residency; using the prize from the 2014 Arts Venture, the consortium's work with composer Zhou Long culminated in a composer residency at the University of Oklahoma.
"When we applied to the preliminary round, our organization was only four months old," said Shelley Martinson, one of the founding members of the consortium. "We had a vision and fiscal sponsorship under the auspices of Fractured Atlas as well as a growing web presence and membership base, but we lacked bylaws and a true business plan. Preparing for the Arts Venture competition encouraged us not only to further refine and articulate our business plan and organizational approach, but also to achieve major goals in the first year. The most daunting of these goals included applying for independent 501c3 nonprofit status and funding of our first large-scale commissioning project."
Their group used the competition presentation deadline to set a timeline. The necessity of writing their bylaws and finishing the nonprofit paperwork helped the founders refine their vision of the organization and clarify their goals.
The 2016 competition held in San Diego brought a fresh landscape of project types and culminated in Play It Forward, a nonprofit organization providing private music lesson scholarships for motivated young musicians, being the award winner. To support the organization's mission of providing lessons for young musicians, businesses in the participating community donate money for lesson tuition. As students take lessons with highly qualified teachers, they "play it forward" by doing one hour of community service for every hour of lessons they receive.
Founder Jessica Sherer said, "While Play it Forward is not a flute-specific project, it was founded by a flutist, and its first scholarship recipient was a flutist. The flute community is very powerful in its support of worthwhile endeavors, and having the opportunity to present our project to them was especially important. It gave us a large but close-knit community in which to test the waters of a national presence for Play it Forward, which is our long-term goal."
For both winners, the competition provided a platform for taking ideas beyond a beta version. As Sherer noted, "Winning a national competition and the accompanying grant has given us a credibility that we didn't have beforehand. We are now able to take Play it Forward to other individuals and businesses and show them that a national organization has invested in us."
As the competition has developed, its creators have recognized a need to further specify its parameters, image, goals—and name.
In 2018, the C.R.E.A.T.E. Project will debut at the 46th Annual NFA Convention in Orlando. The Career and Artistic Development committee hopes that the new title—meaning Creating Resources through Engagement, Artistry, Teamwork, and Entrepreneurship—will clearly convey the competition's goals and encourage flutists to take concrete steps toward giving their ideas life.
C.R.E.A.T.E. Project competition finals are open to all convention attendees so that participants can be encouraged by the work of others and connect with like-minded thinkers. Participants have taken special note of the supportive nature of our community of flutists. Perhaps those that attend the finals may find a project they want to work with or be inspired to do something of their own. The C.R.E.A.T.E. Project provides a voice to small start-ups and ideas just getting off the ground.
—Morgann Davis, coordinator, C.R.E.A.T.E. Project Competition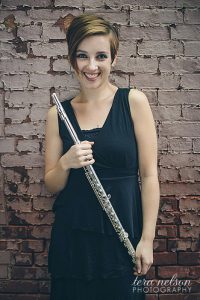 Morgann Davis is a teacher, performer and arts administrator who enjoys wearing as many hats as her career in music requires. As a teacher, she owns and operates Davis Flute Studio in Lancaster, PA, and has previously taught as adjunct faculty in Wisconsin and Pennsylvania. She aims daily to share what she learned from her teachers, Katherine Borst Jones, Stephanie Jutt and Jean Ferrandis. Morgann performs regularly with the Lancaster Symphony, Allegro Orchestra and as principal flute with the Pennsylvania Philharmonic. Most recently, she stepped into the role of director with the newly formed NextGEN Youth Music program, and is nearing the end of her tenure on the National Flute Association's Career and Artistic Development Committee. Newly married, Morgann enjoys exploring her surroundings with her husband and working on their fixer-upper. www.morgannelycedavis.com (Inquiries about the C.R.E.A.T.E. Project Competition may be sent to morgann.e.davis@gmail.com)