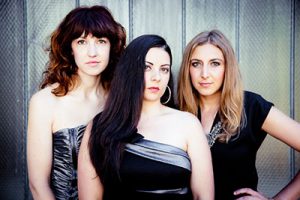 Areon Flutes, now in their 12th season, is gearing up for their third album release, Thrive, out on Innova Records this month. Core members Jill Heinke Moen and Kassey Plaha took a few moments to tell The Flute Examiner a bit about one of their specialties and favorite activities while on tour around the country: team teaching chamber music.
---
JILL:  One of my favorite things about team teaching chamber music with Areon is that the diversity of our teaching styles reflects the diversity of our performances; our unique musical personalities shine through but we blend together very organically.  If we are teaching in a masterclass situation, and I assess a certain aspect of a student performance while another Areon colleague approaches the same problem from a different angle, or sees entirely different issues altogether, this mirrors the process we bring to our rehearsals, recordings, and performances. Having everyone's contributions makes it really fun and special to us.
We love to "Areon-ify" our students and our performances!
KASSEY:  I would agree with that. It's really exciting to bounce off of another Areon member's ideas as the masterclass is happening, and I think that's what strengthens the experience for the performers and audience. We get a lot of feedback about that — how we keep riffing off of each other's ideas — and it creates this unique kind of energy where a lot happens in a short amount of time. A vortex of energy is created with all these ideas bouncing around from the original idea.
JILL:  Yes! Playing in a masterclass for us is a one-of-a-kind experience because of the physical energy of all of us being on stage.
This is just like when we perform: we try to offer not just the musical experience, but the multi-sensory experience, and our aesthetic trickles into our masterclasses as well.
Our teaching ranges across many different styles because each of us brings our own personal training history and artistic perspective. You get that much more from a masterclass with Areon, and that is why every masterclass is different.
We don't have a "spiel" that we use year after year. Because there are a lot of us teaching, no class sounds like a previous class. Of course we still keep standards high and focus on some of our general principles of chamber music.
KASSEY:  Another thing about team teaching chamber music is that it transcends the flute, because chamber music can involve other instruments. Our teaching style is not just about the flute.  When it comes to chamber music, we work with various instruments, and we've had different instrumental departments come to observe and learn about the art of working together in chamber ensembles. I don't know that many other masterclasses offer what we offer because of that. Our teaching reaches across different instrumentations and disciplines and resonates with other instrumentalists.  We definitely talk about fundamental flute issues, but a lot of the chamber music concepts we talk about have more to do with performing, communication, and overall aesthetic. One concept that surfaces regularly is young players and their difficulty turning the mental act of counting into a physicality.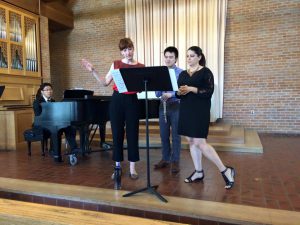 Students tend to get stuck counting in their head, and are immobilized by it.  Once they can move beyond internal counting and turn it into physical rhythm, communication in a chamber music setting is born.
JILL:  Yes, I'd say communication while playing is the number one issue that we work on with chamber groups of all ages.  Students often don't realize just how prepared they have to be in order to be able to take their eyes off the page to look at one another at key moments, but there are so many other ways we can express ideas to each other. Playing the flute takes the whole body, and young players sometimes struggle with using anything past their lips and fingers. We work with students to be loose and move to the beat in different ways, and to utilize different types of cueing, whether it's breathing together, moving in a certain way, or looking at a certain person for leadership.
We focus on communication, leadership, and musicianship.  When we team teach, we're bringing together all of our experiences of how we've worked with one another for over 12 years. We talk about what that takes to be a successful professional chamber ensemble, down to the rehearsal setting: how to run a rehearsal, how to rehearse effectively, etc.  We can bring insight to a lot of those issues to help students get off the ground and to the next level.  We love helping and observing students grow in their musicianship and playing, and we love team teaching!
---
About Areon Flutes

Areon Flutes, a professional flute chamber music ensemble, provides audiences a fresh new outlook on traditional chamber music.  Noted for innovative programming and collaborations, Areon is quickly establishing itself in the USA as a premier chamber music ensemble. The group's performances are notable for creatively engaging its audiences with unique staging, theatrics, choreography, and using all members of the flute family.
Areon Flutes members Jill Heinke, Kassey Plaha, Sasha Launer and guest artists have received high praise for their remarkable performances.  Their New York debut in Weill Hall at Carnegie Hall in September 2007 received rave reviews: "These players know what kind of new music pleases audiences and critics alike" and "The group itself was memorable; they are a treat to all the senses" (Anthony Aibel , New York Concert Review).  In May 2008, Areon Flutes was awarded the Bronze Medal at the prestigious and internationally recognized Fischoff Chamber Music Competition in Notre Dame, Indiana.  This recognition marked the first time in the competition's 35-year history that a flute chamber music ensemble reached this elite position.
Part of Areon's mission is to make flute chamber music an equal voice in the chamber music world by leaving a new, diversified chamber music legacy.  To ensure this goal, Areon has established an International Chamber Music Composition Competition, an intensive Summer Flute Institute, and a year-round Chamber Music Institute, based in the San Jose metropolitan area.  As a non-profit organization, Areon is dedicated to sharing its passion for chamber music through various educational programs including concerts, camps, and free community and school performances.
Areon recently released their first full length CD featuring works for the 21st century audience by musicians of the 21st century.  The recording project includes collaboration with contemporary flute pedagogue Robert Dick on his piece Gossip Cats are Dancing.  The new full-length as well as Areon's CD from 2005, Flat Out, can be heard on iTunes.  Areon Flutes are proud to be Miyazawa Artists.