It's been nearly a week now, and I am still riding a high from going to NFA in Chicago last weekend. It was my 10th NFA convention since 1995, and it was one of my very favorite! Along with seeing so many friends from so many seasons of my life thus far, including former students, I met Keith and Kelly in person for the very first time. I also met so many wonderful Facebook friends whose lives and careers I enjoy (I kept walking up to people saying, "Hi! We've never met, but we're Facebook friends and I enjoy your stuff so much!") I played in a flute choir with 143 other people for the NFA premiere of Julie Wolfe's Oxygen, and that in particular was so cathartic after two years of keeping my distance, for the most part, from everyone. As I looked around that room, filled with friends, colleagues and mentors, my heart filled up and ran over in the best kind of way. We're back, baby!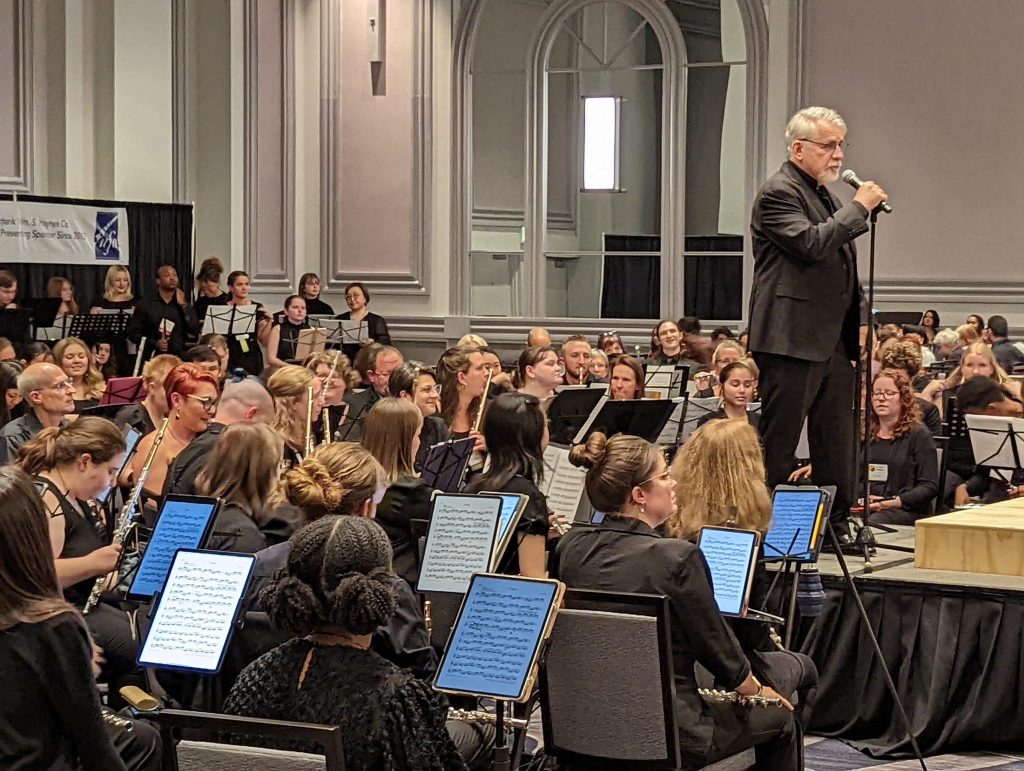 My first NFA convention, Orlando 1995, came right after my freshman year of college and involved a multi-state road trip with my professor and one of the upperclassmen in our studio. I think I was sort of aware of NFA as an entity, but I hadn't yet experienced the energy and excitement of all those flutists in one place, and I was tongue-tied when I had the opportunity to meet one of my heroes, Trevor Wye, in the exhibit hall. He teased me about it, which put me at ease and set the tone for the whole event. I came away from the whole event inspired beyond anything I could have imagined and I resolved to come again!
It was 1999 before I made that happen, traveling with classmates from Florida State up to Atlanta. That was a memorable trip for a wide variety of reasons, but I also began to feel that pressure that I think so many of us feel at big conferences. Was I doing enough? Should I be trying to be a competitor? Propose a talk? Is it enough just to go? I couldn't answer those questions in the middle of my master's degree, sadly! It caused me a lot of stress for a little while, and those same considerations kept me from fully enjoying the next NFA I attended, Washington, D.C. in 2002.
In 2004, NFA was in Nashville. I had just finished my DMA and come home to Nashville, and I was pulled in to help, acting as stage manager that year. I had a blast, but I didn't really see anything. However, if you ever need to navigate the back halls of the Opryland Hotel and Resort, I'm your gal! What I do remember from that one is quietly sneaking onto the stage during the Saturday night gala concert to slip a folder full of music to one of the back stands of first violins. She was sure that she'd left her folder at home. I found it beside her case!
After that, I was broke for a long time. I attended 2007 in Albuquerque, spent more time with friends in that city than at the convention, and still managed to come home with a new headjoint. What can you do? For 2012 Las Vegas, 2013 New Orleans, 2014 Chicago and 2015 Washington, D.C., I played, I sat on conference panels, I spoke, and mostly I made myself completely exhausted. Necessary for building that resume, fun at the time, and also what precipitated my taking a pretty big break from attending.
That brings us back to this year, 2022 Chicago. Why was this one so fun for me? Well, I'm older now. I've got my career just about how I want it to be, I have a little disposable income to spend in the exhibit hall and on travel, and perhaps most importantly, I released myself from a ton of pressure by deciding that I would only choose events based on supporting friends, colleagues and former students who were participating. I still didn't get to see all of those events, but trying to do it that way changed my whole outlook on the event. I haven't smiled, laughed or hugged that much in a very long time! Will I go to Phoenix next year? Right now, I'll give a resounding YES! Realistically, we'll have to see. But if I'm there, if you see me, go ahead and say hello!