JGD: Tell us about your background. How did you come to music as a career?
NR: With great uncertainty! There were a few music hobbyists in my family but no one who did it seriously. I loved the sound of the flute and chose it for my instrument in beginning band, which was 5th grade. But why did I feel destined to join band?—I honestly have no idea. No one in my life pushed it. I was lucky enough to have a band director who extolled the virtues of music lessons, so with his encouragement and my parents' remarkable amount of patience, I started those in 6th grade. I thought I was serious because I was in lessons, but by the end of high school I thought I should do something "more practical", so I decided to major in Russian in college with the aim of becoming a translator (I had taken two years in high school and loved it). However, I could never stay out of a practice room! I switched to flute performance by the end of my freshman year. From there, it was a matter of stumbling my way into opportunities, like graduate assistantships, last-minute teaching positions in pre-college programs, subbing gigs, and part time orchestra seats along with lots of pounding the pavement as a freelancer, first in the Midwest and then in the Rockies. And then I landed an adjunct job which eventually became full-time here at University of Wyoming.
JGD: I think of you as a real advocate for new music. What draws you to this part of our field?
NR: Up until the end of my doctorate, when I was fortunate enough to work on such things with Kate Lukas at Indiana University, I had never studied with anyone who performed music with extended techniques—modern to most of my teachers was Prokofiev! But it was always happening around me, particularly at University of Illinois, where I did my undergraduate degree. I loved the wide variety of surprising sounds and just the unfamiliarity of it all. But that music also intimidated me, because I didn't know where to start when I looked at one of those scores, and I had no real guidance in the process. I think my delight in hearing so much unique music along with the desire to conquer a new challenge finally led me to dive in. And now I can also say that I get bored far too easily to continue performing the same old (wonderful, but same old) repertoire I learned back in school. I have colleagues who literally rotate between the same three programs for their faculty recitals, and I always wonder how they can stand it. I love our masterworks, but there's so much new and interesting stuff out there to learn that I can't imagine limiting myself like that.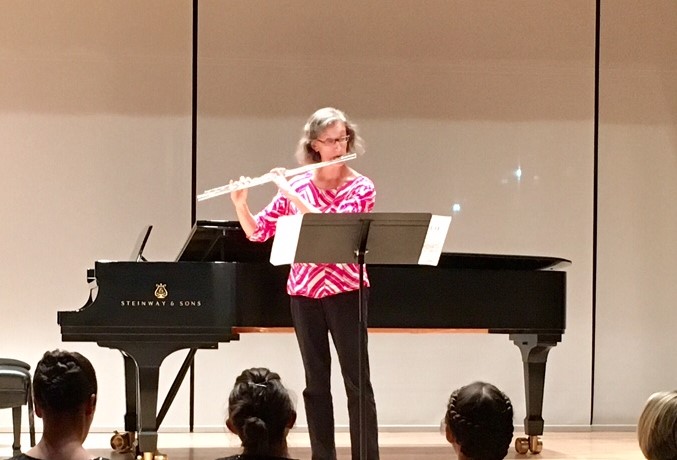 JGD: Do you have an upcoming project about which you're excited?
NR: I'm really looking forward to our upcoming virtual Wyoming Summer Flute Intensive for high school and early college-level students. (Shameless plug, registration is still open: https://sites.google.com/site/wyoflutes/wyoming-summer-flute-intensive ) 
Flute New Music Consortium is also just digging in to our first-ever (but long anticipated) recording project which boasts an incredible program of repertoire, and we are already working hard in anticipation of our next New Music Festival, to be held at University of Arizona in February 2022.
JGD: What are a couple of pieces you particularly love for introducing a student to extended techniques?
Elizabeth Brown – Trillium
Nicole Chamberlain – Smorgasbord
Robert Aitken – Icicle
JGD: What's the best thing about teaching, for you?
NR: The successes, of course! It is so gratifying to see a student work really hard for something, struggle but keep going, and then get to a place where they can recognize what they have accomplished. I feel very fortunate to have students who care about what they're doing and truly want to learn the material, and to see them blossom over time and grow more confident from their hard-won successes—whether it's winning a competition or assistantship or even just passing that sophomore barrier—is the best.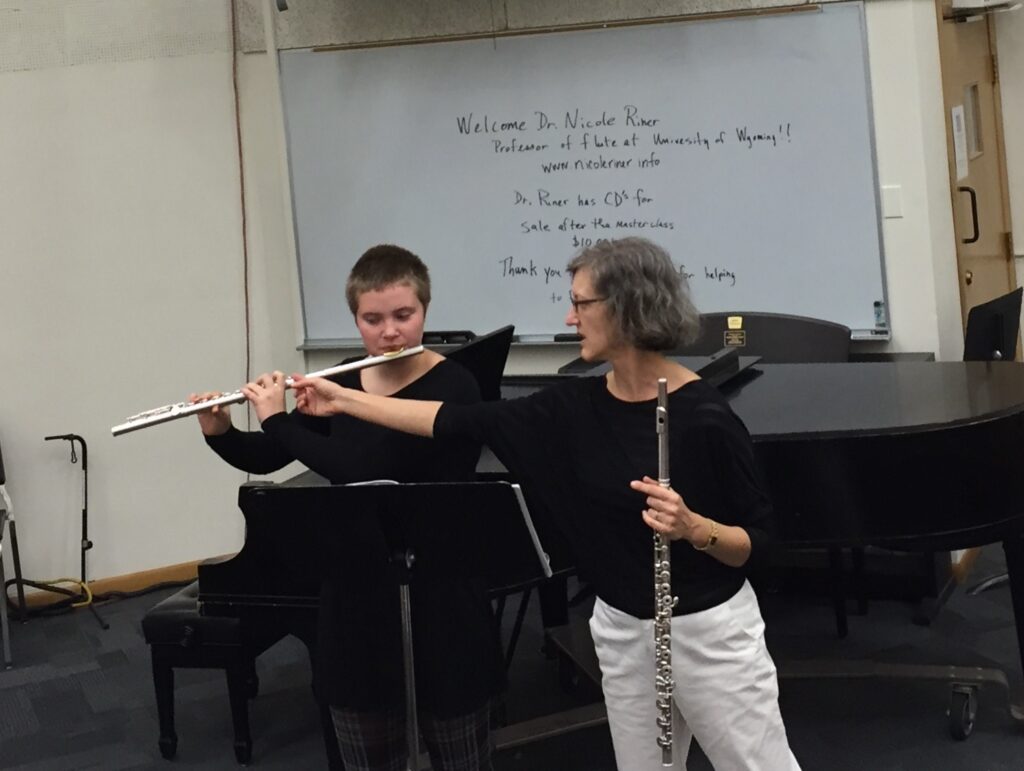 JGD: What's the hardest thing about teaching?
NR: The past three or four years have felt very different for me, and I don't know if that's just my age or something that's really happening with the generation who is currently enrolling in college. I see students who are willing to work so hard, which is gratifying, and they're really good people, too. But they struggle to retain and apply what they learn in relevant and creative ways, which are incredibly important skills for moving forward. I often suspect it's partially a confidence issue—it feels like they're waiting for permission to do everything! But that really slows down the process, if I assign a movement of a sonata and they wait for me to force feed every bit of it in the next lesson. It gets better as time goes on, but I often feel like I am teaching just general concepts of critical thinking and application more than anything specific to music.
JGD: What would you tell a young flutist who is about to graduate with a music degree?
NR: Choose to be a lifelong learner, don't give up (but be willing to adjust your goals), and nurture other interests besides just playing your flute.
JGD: What do you think are the most important qualities young music professionals can cultivate to succeed in our changing field?
NR: I do think it's still important to be an excellent musician—this sometimes goes unsaid when we discuss the portfolio career lifestyle, but of course it's still true. Additionally, being open-minded about what one might do in the field is important. I have known people with a very narrow definition of success (usually being a tenured professor), and they are miserable without that title despite what appears to me to be an impressive body of fulfilling creative work. I always thought, "I just want to find some way to get paid to play and teach flute", and that was a broad enough goal that I have managed to be happy. So, if any opportunity comes your way that you're unsure of, give it a try! You can learn the skills you need along the way if you choose to stay intellectually curious and are open to learning new things. Finally, be organized: answer your emails, make your deadlines, and always turn in work with substance.