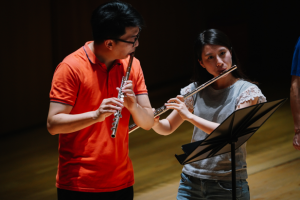 As a continuation of Shanghai Orchestra Academy's tradition of organizing a festival for an instrument every year, flute was the feature for this year! This year's flute festival was co-led by Mr. Robert Langevin, Principal Flute of the New York Philharmonic, and Mr. Zhe Hu, the Principal Flute of Shanghai Symphony Orchestra. The festival was joined by flutists from all over China.
The Festival included three parts: rehearsals, masterclasses, and concerts. However, there was an important part behind the scene as well – administrative work.
The Festival could never have happened so smoothly without great support from the SOA administration team. As students, we took part in some of the work as well, including double-checking music scores, putting together performer lists, and coordinating with musicians. Flutists came from all over China, so it was not easy to coordinate schedules.
We received first-hand experience in preparing works beforehand and how to handle emergencies on site. Every detail was important.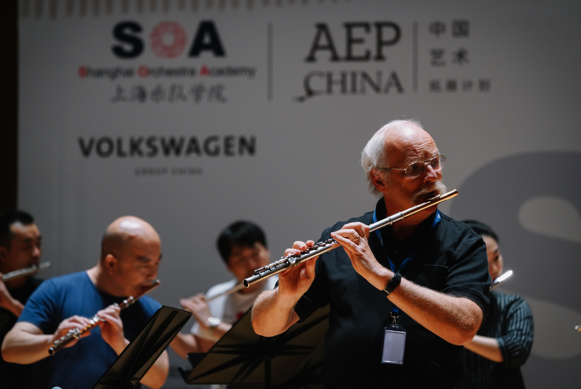 We learned a lot from rehearsals with the professional flutists. We had limited rehearsal time; therefore, it required a lot of preparation from each individual. During the rehearsals, we all needed to coordinate, to work quickly, and to reach to an agreement on interpretation. I found the process very enjoyable. What's more, the all-flute ensemble version of Mozart's Flute Concerto in D Major (first movement) where the solo was performed by Mr. Langevin was a real highlight. It was the first such performance for all musicians including Mr. Langevin. "The all-flute ensemble feels really good. It works out great for the piece," Mr. Langevin told us. Besides solo and different chamber group performances, the all-flute ensemble performed Franz von Suppé's The Light Cavalry Overture on the concert. I liked the consistent and stereophonic sound of the ensemble.
In terms of the masterclass, there was both solo and orchestral repertoire. In addition to preparations of the repertoire for the class, the students had to adjust to the coach's instructions immediately, and each student benefited a lot from listening to and learning from the other students in the class.
We, as students, feel really lucky to have the opportunity to improve our flute technique in all aspects – from solo to chamber and to large ensemble; and we even had the chance to learn the very rare alto flute and bass flute. This was a chance for us to not only learn music, but also learn interpersonal skills, time management, administration, and teamwork.
The Festival is supported by the AEP-China project, founded by Shanghai Symphony Orchestra and Volkswagen Group China.
About Fangyu Huang, 
Fangyu Huang, 24, was born in Kaohsiung, Taiwan. Ms. Huang studied with Kaohsiung Symphony Orchestra principal flute Wen Yuan Lin at Kaohsiung Senior High School. In 2012, she studied with associate professor Hsiao Pei Iris MA at the National Kaohsiung Normal University (NKNU). She was appointed principal flute of NKNU Symphony Orchestra. She has performed with Tone Melody Flute Ensemble and Miracle Flute Ensemble. In 2016, as a student at the Shanghai Orchestra Academy, she performed with Shanghai Symphony Orchestra and Hangzhou Philharmonic Orchestra. In 2018, Ms. Huang was selected to be a Zarin Mehta Fellow, to perform alongside New York Philharmonic musicians in four outdoor concerts in New York City. She studied with Shanghai Symphony Orchestra principal flute Zhe Hu and has had lessons with New York Philharmonic principal flute Robert Langevin, Mindy Kaufman, Yoobin Son, NDR Elbphilharmonie Orchestra principal flute Wolfgang Ritter, and Hong Kong Philharmonic principal flute Megan Sterling.