Many players cringe at the thought of having to play piccolo in an ensemble, having to manage the challenging solos and the extreme dynamics demanded by many composers. We are often blamed for pitch issues which may or may not be our problem. We also face the fact that each piccolo is a little different from the next. Whether you play a $7000 piccolo or a $1000 piccolo, the slightest variance can make a huge difference in how a note behaves and can greatly affect the overall intonation. There is also the regular maintenance of the instrument to consider. So, no pressure at all, right? Just use an "alternate" fingering and fix it. Seems like a simple solution but it is not as simple as you might think.
Alternate fingerings can't fix everything, and you need to ask a few questions before settling on a different fingering.
Why are you considering another fingering?
What do you hope to get out of a different fingering?
Is the fingering to improve a technically challenging passage?
Is the fingering to correct a pitch issue?
Is the fingering a musical choice for more tone color?
1. Why are you considering another fingering?
This question is important and is number one on my list. First and foremost, if your piccolo is not well adjusted, then you may just be complicating the issue even further. Before wasting time trying to compensate for a maladjusted instrument, start with a trip to your technician to see if there is a larger problem first. Assuming that your piccolo is playing at its full potential, then move on to question two.
2. What do you hope to get out of a different fingering?
Changing fingerings requires more effort to incorporate into repertoire and time to use comfortably and regularly. It is a lot like learning a new vocabulary word and must be applied in order to become consistently usable. Changing fingerings will not take the place of regular practice and learning how to control an instrument. They can help with intonation and technical passages, but regular practice will be required to use them effectively.
3. Is the fingering to improve a technically challenging passage?
There are times when we run into a technical passage that we just can't seem to get. Searching for a viable "quick" fingering to make a passage easier is an option. In some cases, trill fingerings can make short work of more linear lines but can't fix everything. Sometimes the issue is with the response of certain notes, like the high b. There are options that might work for such situations. Unfortunately, the other fingerings may complicate the passage even more. I encourage the exploration of different fingerings but keep in mind, sometimes the best fingering might be the one you are already using!
4. Is the fingering to correct a pitch issue?
This is one of the best reasons to explore other fingerings although proper adjustment supersedes this reason. Dynamics in lyrical passages often challenge piccolo players and the use of different fingerings may make this less of an issue. There are many fingerings that will produce a sharper version of the challenging note so that it can be played softly without the fear of going flat. This can also be beneficial in a situation where a line is being played soli. An example would be an Eb soprano clarinet who is unable to adjust a certain stratospheric note easily. Being a good colleague is always appreciated by others who have to play in the upper regions of the pitch spectrum.
5. Is the fingering a musical choice for more tone color?
This is a great reason to look into changing fingerings but sadly, it is the last on the list because of the priority of the previous questions. Sometimes you just want a really subtle C# with a lot of substance, color, and control. This would be a great time to explore. If the pitch is not a problem and there aren't technical demands, it is nice to finally have the ability to make an artistic choice. I love these moments and wish there could be more of them. So, when you have these moments, relish in them. Choose a fingering that blends and serves you tastefully.
This all sounds easy enough, right? Well here is the catch, not all fingerings work on all piccolos. A colleague may have a favorite fingering that works wonders for them in a passage, but when you try it, it fails miserably. Physically, piccolos all look like piccolos, but those fundamental building blocks, tonehole size and placement, bore dimensions, key venting, these all drastically affect how each instrument behaves. The size of the instrument itself means that the slightest variation can make one instrument completely different than the next, even in the same brand. The key to fingerings is to simply explore your instrument and see what works and what doesn't.
I have gathered multiple fingering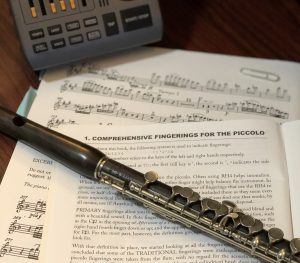 charts for piccolo over the years. I have my regular go-to charts but will often reference the others as well. When I changed instruments several years ago, the fingerings I had relied on with my previous piccolo did not work at all on my new instrument and so the exploration began. My favorite fingering guide is from Jan Gippo's The Complete Piccolo, and the chart has been published a few times by other publications. This is the most comprehensive chart that I have found. The chart references "traditional" and "primary" fingerings rather than referring to fingerings as "alternate." You may have noticed this article never refers to "alternate" fingerings. The fingerings that work for you and your instrument are "your" fingerings and not alternates; they become your primary working fingerings. Traditional fingerings are just the baseline fingerings that we have all learned on flute and apply to the piccolo. Remember, the piccolo is in fact a different instrument, so finding the functional fingerings for you and your instrument makes them your primary fingerings.