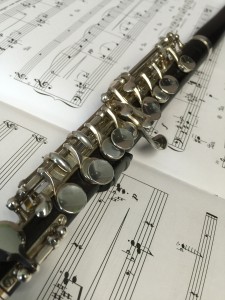 Sound: In order to play any instrument well it is important that one have a beautiful sound. Just because the piccolo is a smaller version of the flute doesn't mean that the approach to that beautiful sound is entirely the same. That doesn't mean it isn't very similar though. The point is that one should spend time on long tones when playing the piccolo as well as the flute. One should strive for a rich sound in every register. The embouchure for the piccolo while a little firmer than on the flute should not be tight or inflexible. Because the aperture is also smaller there may be a tendency to tighten the vocal cavity or even pinch the lips. This should be avoided as much as possible. One way to work on this is with long tones that are not just stepwise.  I have two favorite long tone exercises for this.The first comes from the Towanicki Studium Techniki, and is a series of broken arpeggios (exercise #119 on pg. 94). One should approach these slowly (slurred), connecting each note smoothly and matching the timbre from one note to the next. Concentrate on using your air rather than your embouchure to make the connections.
The second exercise I favor is from my former teacher Jack Wellbaum. It is a series of 3 stepwise long tones followed by a series of P5's either ascending or descending. One would again approach these intervals slowly (slurred), connecting the notes with your air (air pressure) and not by moving your embouchure around. I have found that both of these exercises open up and develop the sound very well if done correctly. I also feel that practicing this way on the piccolo reinforces an open flute sound because you can feel the air pressure a bit more when playing piccolo so are more aware of tightness in your muscles.
Vibrato:  Vibrato is often considered a direct part of our sound, however, many of us forget about using it when we play the piccolo. There are differing opinions as to how the vibrato should be produced on the piccolo (narrow vs. wide, fast vs. slow). Just as on the flute you will want to have a wide repertoire of vibrato to choose from as pertains to each piece of music. However, you will need to think of it a little differently.
A case in point for me was when I was studying the Broughton Concerto with Jan Gippo. I began playing it for Jan in one of my lessons and he kept asking me why I wasn't using vibrato—in my mind I was. After re-thinking it I had to consciously think of using a wider vibrato for myself in order for it (the vibrato) to be heard as part of my sound. What I think it really equated to for me was that I was tightening up my air stream too much – thinking of a wider vibrato helped negate that. I know that other individuals have had different results (perhaps have to think of a narrower vibrato). It's best to have someone listen to you and help you develop/determine what you need to do as an individual. I could say that the piccolo vibrato has to be wider than that on the flute but I believe it varies with the perceptions and playing habits of the individual person.
Pitch:  Everyone is afraid of playing the piccolo 'out of tune.' Fortunately, today's top instruments have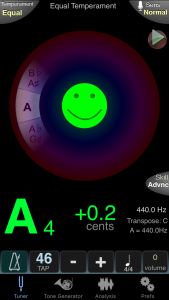 improved the scale of the instrument to such an extent that the pitch on the piccolo has become quite stable. If one has worked on long tones and has a good, supported sound the intonation should follow suit without too many problems. (In other words, develop your sound and air stream [and ear] first before trying to change the pitch to match—in this way the adjustments will be made more internally [think of Robert Dick's Throat Tuning, you need to know/feel where each note resonates within yourself]). 
Once you have a good sound use a tuner to determine the specific pitch tendencies of your instrument. The piccolo is often asked to play extreme dynamics.  This can be tricky because small adjustments of the embouchure can exact a large change in pitch. Luckily, there is a great resource for piccolo fingerings: The Complete Piccolo compiled by Jan Gippo. This should be in every piccolo player's library and key fingerings should be memorized. When playing in an ensemble remember to think of the blend first- this will often lead you to playing in tune….
About Therese Wacker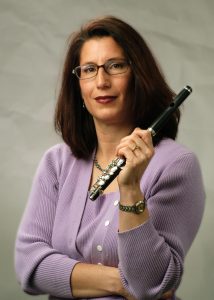 Therese Wacker is Professor of Music at Indiana University of Pennsylvania, flutist with the Woodwind Forum and the Keystone Winds. A graduate of The University of Northern Colorado, she received her M.M. from the University of Wyoming and her D.M.A. from The Ohio State University.
Dr. Wacker is an active performer and clinician in the Western PA area. She has been a frequent soloist with the Chamber Orchestra of the Alleghenies, the IUP Wind Ensemble, Concert Band and Jazz Ensemble; and is substitute principal flute with the Johnstown Symphony Orchestra.Dr. Wacker enjoys presenting Master Classes, especially with emphasis on the piccolo  She has been an artist/clinician for the Summer Music Festival at Allegheny College's Chamber Music Festival, the Allegheny College Adult Band Camp and has recently presented a recital and Master Class at Virginia Commonwealth University. As an adjudicator, Dr. Wacker has served for the COFA (Central Ohio Flute Festival), Pittsburgh Flute Festival, the MTNA state and regional solo competition, and the Lima Symphony Orchestra Young Artist Competition, among others.  She is a winner or finalist in several competitions including:  the Fischoff chamber music competition, MTNA, and the Denver CAS concerto competition. Her Doctoral Thesis:  The Piccolo in the Chamber Music of the Twentieth Century-An Annotated Bibliography of Selected Works; is a comprehensive guide to chamber music of the twentieth century which includes piccolo and a history of the instrument. She has also published several articles on this subject in Flute Talk and The Instrumentalist. Dr. Wacker's most recent book, "The Complete Piccolo," in corroboration with Jan Gippo; was published in 2007 by Theodore Presser Company. Projects include the Commissioning and World Premiere of Eric Ewazen's piccolo concerto "On Wings of Song," for piccolo and wind ensemble and a solo compact disc for piccolo and piano, Impressions for Piccolo and Piano, which is available from CD Baby or by contacting Dr. Wacker (piccplyr@iup.edu).
Dr. Wacker is also the former principal flute/piccolo of The Air Force Band of Flight. She performed as a frequent soloist with the Band of Flight and taught Master Classes throughout the United States. She also served as the Non-Commissioned Officer in Charge of the Huffman Prairie Winds; the Band of Flight's Woodwind Quintet.  As a member of the Air Force Band she recorded seven CD's including one for the Huffman Prairie Winds.