"Felipe! Felipe! You do it!"
called the members of the top high school band in the State Music Program of Mexico. The band had traveled to the tiny town of Linares to perform, when, suddenly, their conductor became ill. They needed someone to rehearse three pieces, and everyone knew 14-year-old Felipe was the guy for the job.
Felipe shared this story with me via Skype on a recent Thursday evening when we were both incredibly tired. I dared not, at my advanced age, drink coffee that late in the day, but Felipe, 34, cradled a cup with plenty of caffeine, calling it his "power coffee." He reminisced about this first conducting experience and how much fun it was for him and his friends.
Felipe lives in New York City and has a thriving career as a flutist and as a conductor.  He performs as a soloist, is a member of the flute quartet The Metropolitan Four, and freelances with several ensembles. He is music director of the Symphony Orchestra of the Americas, assistant conductor of the Brooklyn Symphony Orchestra, music director of the International Summer Opera Festival of Morelia, assistant director of Education for the Afro Latin Jazz Alliance, and conductor of String Orchestras at Brooklyn College's Prep Center for the Arts. Felipe's journey to the present moment in his career has been remarkable and fascinating.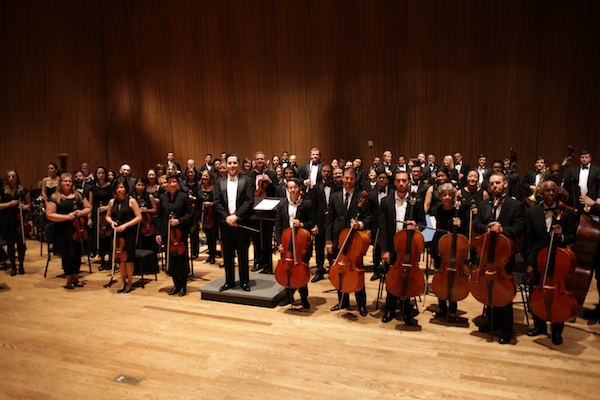 Felipe grew up in Monterrey, Mexico's second largest city. His parents were musical but were not professional musicians. His father, an engineer, sang and played in a rock band in the 1970s, and his mother also sang beautifully, "especially when she was angry or nervous!" Felipe enjoyed singing at church and won second place in a vocal competition in the second grade. In third grade, he picked the French horn because he liked the sound of its name, but he didn't like playing it. Over the next years, he played alto sax, bassoon, clarinet (for one day), and years later he pursued a minor degree in cello (for four years) but didn't continue. Finally, his teacher gave him an ultimatum, saying, "You've switched around too much, now it's time to pick an instrument."
Felipe walked around the music area of his school, aware of how all the instrumentalists practiced alone. He noticed a group of flute students practicing together, having fun.
"I wanna play that," he said. And so, he fell in love with the flute.
And Felipe continued having fun, going on band field trips with his friends, making music, and, like any teen, being happily away from his parents.
"My parents weren't that strict," Felipe told me. "But I was super spoiled, and I gave them a lot of trouble. Sometimes I'd get home at 4 or 5 am, and they'd ask me, 'Are you on drugs?' "
"No Mamá! No Papá! I'm not!! I was hanging with my friends, watching YouTubes of classical concerts. I'm fine! Leave me alone!"
Smiling at me from my computer monitor, Felipe said, "My parents were supportive but shocked when I entered music conservatory at age 16. They made me take a complementary field of study, so in addition to 7 years of conservatory (which is usually done in 8 or 9 years), I took 4 years of communications and marketing. Now I'm grateful because that background has served me."
Felipe's journey then took him to the University of Houston, where he received a master of arts degree in Flute Performance. His teachers were Sydney Carlson, Jennifer Keeney, and Aralee Dorough. "I was so lucky to study with such fine teachers," he said with genuine thankfulness.
Felipe added, "I had met Dr. Tadeu Coelho in Mexico, a year prior to my undergraduate schooling. I was blown away. Who is this guy?? So after my masters, I received my Artist Diploma with Dr. Coelho, studying for two years at the University of North Carolina School of the Arts." I met Felipe when he was a student there, and we've kept up a friendship.
Gently, I asked Felipe, "Have you had any trials along the way in your extensive years of study?"
"Oh, yes," he answered. "My first semester in Houston was a nightmare. I spoke English because I had learned it in school since childhood, but all the musical terms were different. I knew some things, but only in Spanish. I didn't pass the Harmony graduate placement test. I was traumatized." Eventually, though, Felipe became one of the top students in his Harmony class.
 I first knew Felipe only as a flutist, but as I followed his career, especially after his move to NYC, I became enthralled by his shift toward conducting.
"I had a growing interest in conducting from early on," explained Felipe. "My first music idol was the man who gave me the ultimatum to stick with one instrument, the conductor of our school band. A seed was planted, although not until my last two years in conservatory did I take electives in conducting and composition. I continued with conducting electives in Houston, as well as private conducting lessons.
"In 2009, the teacher who had gotten ill those many years ago, invited me to Mexico to conduct one piece, Rossini's The Barber of Seville Overture. A month later, he called back, asking, 'Why don't you conduct the whole concert?' I conducted the Rossini, Beethoven 1, Carmen, Suites 1 and 2, and as an encore, The Pirates of the Caribbean by Zimmer. I don't know what came over me, but I acted as if it were my 10 millionth concert! People must've thought, 'This guy must be a real conductor.'"
Felipe continued, "In North Carolina, I learned that flutist Ransom Wilson was a conductor.  With Dr. Coelho's support, I took occasional conducting lessons whenever Ransom, who was the orchestra conductor there at the time, was at our school.
"In 2011, I came to NYC because I'd been awarded a Kenan Performing Arts Fellowship at Lincoln Center. I considered applying to doctoral programs. I formed the Metropolitan Four Flute Quartet, a wind quintet, and I played with various ensembles. However, I was playing too much. I felt overwhelmed, and my head was filled with demons.
"That's when I realized that I needed to scale down my flute playing and devote more time to conducting. I took conducting workshops in NYC and Switzerland, and I began private conducting lessons with Dr. Mark Shapiro and at Juilliard."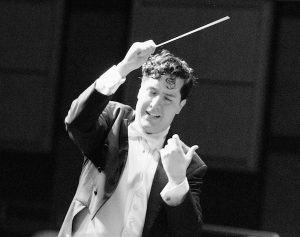 I wondered what happens at a conducting lesson. To my surprise, I learned there is no sound. "It's technical," described Felipe. "The teacher might present a problem in a piece, like 'the winds are out of tune here, how do you resolve that?' or 'why are you making this interpretive choice here?' We also go over how to cue instruments that have had long rests, and transitions: those of tempi or style, for example.
"I think every instrumentalist should do some conducting, and every conductor should do some playing. One informs the other. Sometimes, as conductor, you're reassuring the musicians, and at other times, it's crucial to be firm and have a clear idea of what needs to come out of an orchestra."
I responded, "Okay, gotcha, mi amigo. I'm beginning to understand a little about your conducting studies. But how in the world did you become music director of an orchestra?"
"It didn't happen overnight," Felipe said. He shared that during the time period that he was assistant conductor of both the Litha Symphony and the Brooklyn Symphony Orchestras, he had been asked to perform a flute recital for the Mexican Consulate in NYC. Felipe then put together a chamber group with his finest musician friends and they performed there, having so much fun and going out for tequila afterward. (Do you see the pattern of fun flowing throughout Felipe's life?) Realizing the Consulate needed music and he needed an outlet, he approached them with the idea for the Symphony Orchestra of the Americas.
"We can't do that!" a Consulate representative said. Felipe's response was that they'd been doing it already — for two years! So, in 2016, the Symphony Orchestra of the Americas had its first official season, sponsored by the Mexican Consulate, the Canadian Consulate, and the City of New York. Felipe's dream is to take the orchestra to the outer boroughs of NYC, to people who are different from Manhattanites, and play repertoire that might appeal to them. "Long gone," he said, "are the times of conservatism."
Felipe expressed gratitude at having been given the opportunity to conduct the Zhengzhou Symphony as well as high school orchestras in China, where he also gave a TEDx Talk. He has conducted in Carnegie Hall, Lincoln Center, Merkin Hall and Symphony Space, as well as in Canada, Mexico, and Panama. Felipe feels particularly gratified to have conducted his undergraduate alma mater's orchestra in the Palacio de Bellas Artes in Mexico City, which is considered Mexico's premier performance hall. The program included one of his favorites: Respighi's Pines of Rome.
In 2017, Felipe and a colleague founded the International Opera Festival of Morelia. It is now in its second year, attracting teachers from the Metropolitan Opera and the Manhattan School of Music. "I love opera," Felipe said, "but there is not enough of it in Mexico."
 In June 2018, Felipe was awarded First Prize in the International Conductors Competition in Atlanta, Georgia.
I asked Felipe to imagine a scale where zero is no stress and 10 is unbearable stress. I felt sure his number would be high, with all that he does. He answered quickly and immediately "3 or 4." He said he loves his life, and although "scheduling can get a little crazy," performing on flute and conducting make him happy. So I asked him what he does when he has 10 minutes of relaxing time.
"I listen to the playlist on my phone."
"What???" I shrieked.
"I guess I'm obsessed with music," laughed Felipe. "Sometimes I cook. And if I had more time, I'd watch more films. I used to make movies with my friends as a kid. One way or another, I have to have a creative outlet."
I'm so happy to be Felipe's friend. He's loyal, compassionate, funny, and optimistic. He claims to be inconsistent, impulsive and unfocused, but I haven't seen evidence of those characteristics. Rather, Felipe displays a driving, positive ambition to become a strong leader in a meaningful way. In 10 years, Felipe wants to be music director of a major orchestra in the US, Europe, or Mexico so that he can make relevant, significant contributions to his community.
I observed that Felipe's power coffee had run dry. My eyes drooped with drowsiness, even though I had enjoyed our conversation. He had four more hours of work ahead, while I was off to dreamland.
As we said our goodbyes, I exclaimed, "Te adoro, Felipe, and I wish for you 10 million more concerts: real ones this time!"
You are invited to visit Felipe Tristan's website at https://www.felipetristan.com  where you can hear him play his Powell Aurumite flute and watch him conduct.
About Helen Spielman
Helen Spielman has been an inspiring voice in the field of performance anxiety and flute teaching for three decades. She has taught countless musicians to take the excellence they produce in a relaxed practice room to the high-stakes arena of auditions, recitals, and pressure-cooker orchestras. Helen has guided musicians who, ready to quit their careers, regain their original love of music and return to the stage with joy. She has taught at international conventions, prestigious music conservatories, music festivals, and private studios in Africa, Europe, Central America, and around the US.
Helen's personal struggles and joys as a performer, innovative flute teacher, and adult music student are portrayed in her highly successful book A Flute in My Refrigerator: Celebrating a Life in Music. It has been described as "a page turner, not because of some adventure story, but because of the pure honesty and courage of its expression." (Brooks de Wetter-Smith, Flute Professor, UNC). Available at Carolyn Nussbaum Music and Amazon. Please support our flute specialty shops.
http://PerformConfidently.com