Applying for a Fulbright grant has been one of my professional goals for nearly a decade. Once I had earned tenure at my job, I felt that I would have the time and perspective to craft a competitive Fulbright application. After speaking with people who had earned Fulbrights in the past, and after reading through the available awards, I decided to apply for a Fulbright to teach in Egypt. They had a specific award directed to the performing arts, so I knew that their government and cultural institutions would welcome a visiting performing artist.

            The application was quite extensive, and involved me writing a detailed proposal of what I would teach should my application be successful. I had to gather a variety of recommendations from peers and those familiar with my work. Regardless of the outcome, it was a valuable exercise to determine what I valued in my work at this point in my teaching and performance career. After waiting nearly a year, I was notified that I had passed all of the steps (various committees in music, in Washington D.C., in Cairo, and at the Fulbright offices) and was successful in my bid to win a Fulbright grant. Never having been to Egypt, I was a combination of nervous, excited, and concerned. I had a lot of preparations to make before leaving the country for several months!
The Fulbright Commission in Egypt was highly organized and kept everything moving as I made my preparations. Despite having written a detailed plan for teaching once in Cairo, they told me that my host institution might want me to teach something different, and I should be prepared. One of my biggest logistical concerns as a flute professor was how I was going to bring sheet music — for any age or level — without knowing the students in advance. My departmental secretary and I spent a considerable amount of time scanning sheet music and saving digital copies for me to take.
I departed the United States on January 31 and arrived in Cairo on February 1. I was whisked through the airport by a facilitator and was driven to my apartment on the island of Zamalek (in the Nile in Cairo), and witnessing the sheer amount of traffic and particular style of driving was exhilarating. Jet lag was fairly easy to overcome, and I settled into my new life very quickly. I learned how to get to the grocery store, the best places to meet an Uber driver, and how to time my commute. I also opened a bank account and got a cell phone.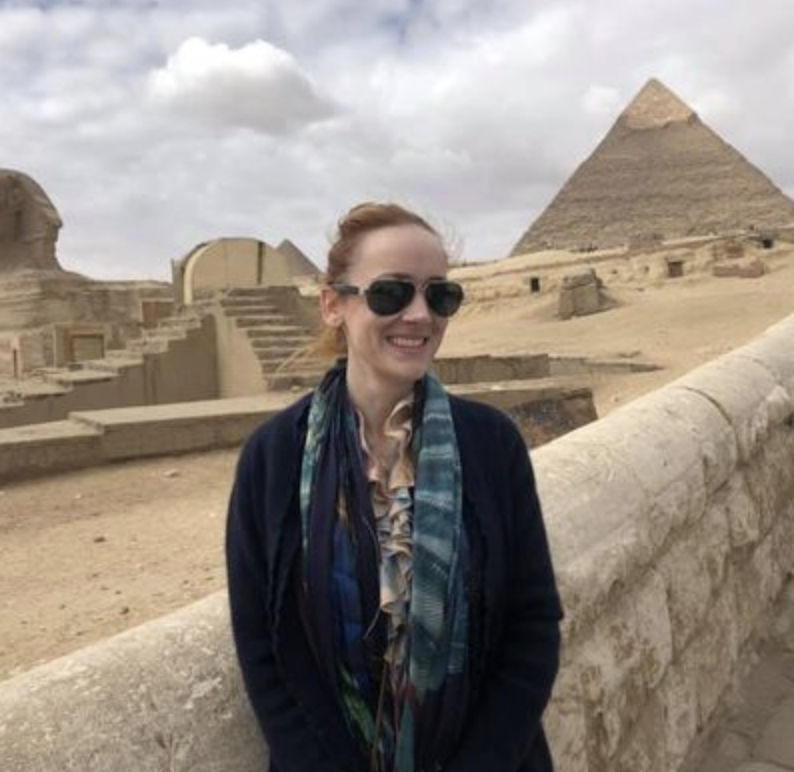 My first three weeks in Cairo as a Fulbright Scholar whizzed by. During the week, I taught enthusiastic flute students from high school through postgraduate levels at the Cairo Conservatoire, which is part of the larger Academy of Arts in Giza. The flute teaching in Cairo is very much like it is in the West; traditional Arabic music is not studied at the Conservatoire, instead it is contained within the Arabic Music Institute. Many of the flute teachers in Cairo go to Europe for advanced studies, and consequently their Egyptian students play the same type of exercises, studies, and repertoire that we play in the United States. The younger students take all of their academic classes at the Conservatoire and spend focused time each day on their music studies. Many performances — from opera to orchestra to smaller chamber ensembles — take place at the large Cairo Opera House complex. There are several halls, and I found myself there multiple times each week attending a variety of productions.

In my free time, I learned basic Arabic and took in as much culture as I could. Early on, I attended the Cairo Opera's production of Tosca, which was quite good. Of course, I had to see the Great Pyramids and the Sphinx. I attended a concert of one of my Conservatoire students at the Cairo Opera House and spent a day exploring the massive Egyptian Museum. Early in my third week there I attended a reception at the Embassy with the recently-appointed US Ambassador to Egypt and met my fellow Fulbrighters. They were researching and teaching on a variety of subjects including Arabic literature, psychology, vet science, and religion.
During week four, I spent a day with a fellow Fulbrighter exploring medieval Cairo, looking at the different architectural styles evident during the various dynasties. Lunch was koushari, the national dish of Egypt and a popular street food. I attended the Cairo Symphony's performance that week, which included two works by Beethoven (as part of their ongoing celebration of his 250th birthday) and a Sibelius symphony. Due to a rare rain storm, classes at the Conservatoire on Tuesday were canceled; the rain makes many of the roads impassable. I attended a stunning performance of the play Noura at the American University in Cairo; based somewhat on Ibsen's A Doll's House, it told the story of Iraqi refugees to New York and how they balance their various identities. Many performances were canceled that week due to the death of Former President Mubarak. The Binational Fulbright Commission hosted a fascinating event where two Fulbrighters gave talks on their current research; one was on the effect of English-Arabic bilingualism on the reduction of tech lag and the other discussed how a pre-Islamic epic tale has been retold in modern times through a variety of movies and theatrical productions. Plenty of fascinating people, places, and ideas are everywhere in Egypt!
Week five was less touristy and more typically academic, as I had an article due. I attended a concert of Hany Shenouda, who is famous throughout Egypt as a composer and arranger. He formed a western-style rock band in Egypt in the 1970s and wrote scores for countless movies. The audience represented a cross-section of Egyptian culture, and the fact that young and old alike were singing the songs led me to believe these were obviously important to Egyptian culture. I attended a Cairo Conservatoire orchestra concert later in the week, where I was happy to hear students and colleagues performing a mix of styles from popular tunes to jazz to film music. My students were well-prepared this week; some of them came for lessons three times a week, and I usually saw the younger ones once a week. They were working on preparing music for their final playing exam, which was scheduled (pre-Covid) to take place in June. I was busy preparing my own recital, which was my Egyptian and African debut on Wednesday, March 11. Most of the repertoire was for solo flute, but I also performed a duet with one of my students.
Week six was somewhat unusual, as Coronavirus fears really solidified after it was officially classified as a pandemic. The Ministry of Culture cancelled some concerts, and I was quite unsure about what Fulbright would decide about us. I taught as usual early during the week and then gave my recital on Wednesday. It was a well-attended event, and it was a pleasure to perform with one of my students. On Thursday (and Friday, the first day of the weekend), most of the country was closed due to an unusual rain storm. I've been told a storm of this magnitude hadn't occurred since 1992. The government shut off the water supply in different areas of the city due to overwhelmed storm drains, and many of the roads in the outlying areas of the city were simply impassable. We continued to stay on alert regarding the Coronavirus situation. At that time, Africa had not had nearly the number of cases seen in Asia, Europe, and North America. The State Department, Fulbright, and the Embassy were in close communication with each other and us Fulbrighters, and I felt quite safe.
Unfortunately, my grant was cut short as all Fulbrighters across the globe were repatriated. Despite the fact that I felt entirely safe in Cairo, concerns about the impact of Coronavirus on international travel resulted in the suspension of the program. I was heartbroken because I absolutely love Cairo, and there were many things I hadn't had the chance to see and do.
I love the energy of Cairo. The people – from the doorman to the drivers to the bank tellers to my colleagues – are generous, kind, patient with my terrible Arabic, warm, and friendly. They're always wiling to help. They are welcoming and make me feel like I belong. I love the social customs like sitting down for tea. I regret that I missed Ramadan. I love the juxtaposition of the new with the ancient. Walking on streets that have existed for a thousand years and brushing desert sand off your shoes at the end of the day puts a lot of things in perspective. There's a rhythm to life there that was exactly what I needed. My beautiful students at the Conservatoire were delightful. They're talented and enthusiastic. Our time together was truly joyful for me.
I'm grateful to Fulbright, the Cairo Conservatoire, and the Academy of Arts for this life changing experience. I hope that Egypt will always be a part of my work and life, and, more than six months later, my dreams are still filled with the sights, sounds, people, and energy of Cairo.
About Tammy Evans Yonce
Tammy Evans Yonce, an Atlanta native, is a flutist, collaborative musician, writer, professor, and Fulbright Scholar to Egypt. She is a dedicated new music performer who is particularly interested in the commissioning and teaching of new music. Dr. Yonce has commissioned over two dozen works involving flute, many with a specific focus on creating new music for the Glissando Headjoint.
Based in South Dakota and active internationally, Dr. Yonce has recently presented and performed at the National Flute Association, British Flute Society, Canadian Flute Association, World Flutes Festival(Argentina), and New Music Gathering conventions. She spent winter break 2017 on a faculty fellowship to Israel. She has also given performances at Flute Festival Mid-South, College Music Society, Atlanta Flute Club, Flute Society of Kentucky, Austin Flute Society, Society of Composers, NACWPI, Electronic Music Midwest, MOXsonic, and South Carolina Flute Festival conventions. She has given recitals and masterclasses extensively throughout the Midwest and Southeast and was guest artist at the 2015 New Voices Festival at Wichita State University and the 2017 Montana Flute Festival. Recent solo performances with South Dakota State University ensembles include Kennan's Night Soliloquy, the Gordeli Concerto, Puckett's The Shadow of Sirius, Bates' Mothership, and Batzner's Used Illusions. Her debut CD, Dreams Grow Like Slow Ice, was released in September 2018.
As a writer, Dr. Yonce has had articles published in The Flutist Quarterly; Flute Talk; Pan, the Journal of the British Flute Society; The Flute View; NACWPI Journal; and South Dakota Musician. She frequently contributes CD reviews to The Flute View.
Dr. Yonce is Associate Professor of Music at South Dakota State University, where she teaches applied flute, woodwind pedagogy, and courses in musicology. She recently designed and taught an interdisciplinary Honors colloquium, which explored music in connection with neurology, therapy, global studies, technology, politics, and the arts. A first-prize winner of the Atlanta Flute Club Young Artist Competition, she holds degrees in flute performance from Kennesaw State University (BM), Indiana University (MM), and the University of Georgia (DMA).
Dr. Yonce has served as a judge for the Newly Published Music Competition and Collegiate Flute Choir Competition of the National Flute Association as well as of competitions of the British Flute Society, Flute Society of Kentucky, and San Diego Flute Guild. She currently serves on the Archives and Oral History Committee of the National Flute Association and formerly served on the board of the Atlanta Flute Club and on the New Music Advisory Committee of the NFA. She recently gave a TEDx talk about collaboration, new music, and the Glissando Headjoint.


Dr. Yonce can be found on Twitter @TammyEvansYonce and at her website: www.tammyevansyonce.com. She is a Powell Flutes Artist.