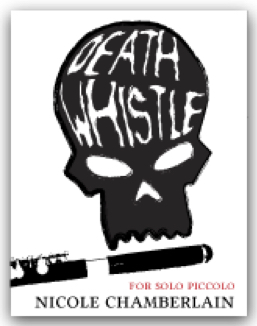 Coming to Terms with Death Whistle
The piccolo is notorious in the orchestra for its incredibly high pitches, and gets a bad rap for intonation issues. It takes a brave soul to consider playing the piccolo and a person of questionable character to love it. Enter Dr. Elizabeth Robinson, who commissioned the piece.
Dr. Robinson made the poor decision of sitting next to me at lunch during the Atlanta Flute Fair in 2013. After years of trolling each other on social media and tormenting each other on concerts and projects, Dr. Robinson thought it was time to commission a new piece for solo piccolo. Like a true frenemy, I stalked Dr. Robinson online, gathering mounds of material to compose music that would get under her skin, and then managed to work it all into original material. Death Whistle was born.
The first movement, Ear Knife, spotlights the piccolo's ability to cut through with its razor sharp high notes. A true piccolo player is neither apologetic nor bashful, and a little bit of a jerk. After all, are you really succeeding as a piccolo player until the 2nd violins have requested multiple sound shields? Go for the high notes without holding back or you'll end up zerberting, aka buzzing and/or spitting. The repeated beatboxing in measure 1 comes around quite often. Each time dig in with reckless abandon.
Video: https://www.youtube.com/watch?v=U_V-DGCg3js
Another figure that comes into question is measure 7.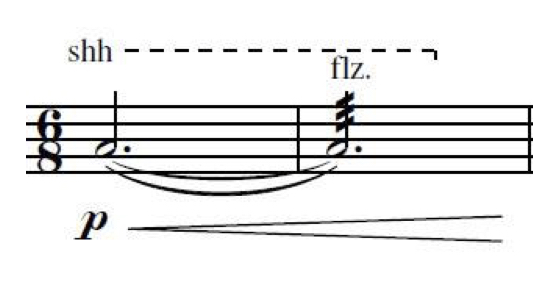 No tone will be produced, think of it as a death rattle. Start with a "shh" that eventually incorporates as a rolled tongue demonstrated below:
Video: https://www.youtube.com/watch?v=pXKiC00jJAU
The second movement, Ballistophobia, is the fear of being shot. Every piccoloist knows the joke "How do you tune two piccolos? You shoot one". This piece is the first time, and likely the last time, where I use microtones.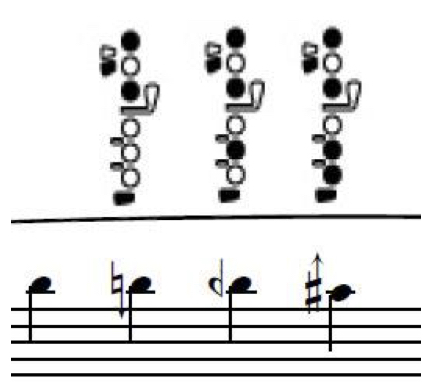 The idea is to demonstrate the frustration of playing in tune. Because the piccolo carries in most settings, our intonation sticks out. To paraphrase former Atlanta Symphony Orchestra piccoloist Carl Hall, "It's a good day when no one says anything to you." Pitch bends are also seen throughout the movement. Start sharp and then go flat to get the widest bend. There are also tongue rams in this movement – or the imaginary bullets we dodge in order to get and stay in tune. There's not much resonance to these tongue rams like on the C flute. It's just a small thud, or stabs to the heart as we notice conductors or colleagues recognizing our struggle:
Video: https://www.youtube.com/watch?v=IK4y_-s7bAM
The final movement, #PiccolOhMyGod, is the hashtag used on Twitter by Dr. Robinson and myself when discussing the woes of piccolo playing and composing. This is where I troll Dr. Robinson big time. It should be the hardest movement, however, Dr. Robinson mentioned that for some reason it was the easiest for her to learn. It's because I loosely quoted excerpts of orchestra piccolo parts that she had been working on over the past year. She already had the hardest bits under her fingers. This movement is straight up technique. Work this piece like you would any other technical piece – very slowly. If you've played Hanson, Mahler, or Holst, you might find this piece oddly easier than it should be. If you haven't yet, this will be a good primer for those evil piccolo parts found in those composers' pieces. Not always exactly quoted, but close enough to make use of some previous practice which is always rewarding to a performer.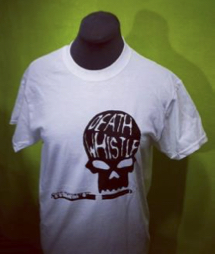 The idea is to not to take yourself too seriously. There's enough of that these days. Have fun and go for broke. Be a true piccoloist of questionable character. Speaking of which, did I mention there is a t-shirt?
Nicole Chamberlain is composer, flutist, and Powell Flutes Artist. She has composed numerous works for flute, has won the NFA 2017 Flute Choir Composition Competition and 2016-2018 Newly Published Music Awards, 2013 Areon Flutes Composition Competition, 2015 Flute View Composition Competition, Honorable mention for Kappa Kappa Psi's 2018 Female Band Composition Competition, and honorable mentions for the 2014 and 2016 Flute New Music Consortium Composition Competitions. She has also been commissioned by the Atlanta Opera, Georgia Symphony Orchestra, Gonjiam Music Festival, Oklahoma Flute Society, Atlanta Flute Club, Hopewell Middle School Symphonic Band, and many others. An album of her flute music, "Three-Nine Line", released in 2018 by MSR Classics. Nicole lives in Doraville, Georgia with her husband and two dogs while avoiding graphic design work. You can learn more about Nicole and her music on her website: www.nikkinotes.com