I've been part of several chamber groups, both before I came to the US and after I first moved here in 2011, but Duo Esplanade has been very special and foundational for me. I met Japanese clarinetist Katsuya Yuasa during graduate student orientation at the Boston Conservatory at Berklee in 2013. We wanted to explore new opportunities for performance other than solo competitions and orchestral auditions. We wanted more from our careers in general, although we could not have foreseen how chamber music would carry us forward on our musical journey. We began our duo, in part, to expand flute/clarinet duo repertoire. By recording and collaborating with living composers, we were able to begin building a reputation as contemporary musicians in the US, Europe and Asia.
I eventually moved to Florida to pursue my doctoral degree at Florida State University, but I kept touring as part of Duo Esplanade. Katsuya came to FSU the year after, and we decided to start a larger group. Being part of a very large graduate school, we had many chamber performance opportunities with other doctoral students. After several different combinations of trios and sextets, we decided to grab a meal with three people who also happened to come from different countries, as we did. These colleagues were Thai pianist Thaya Kongpakpaisarn, Russian cellist Aleksandra Pereverzeva, and Brazilian violinist Pedro Maia.
As international students in the United States, we had a few things in common! Adapting to a new way of communication, sense of humor, food, language, education system and visa rules helped us to grow and become good advocates for ourselves, although the process can be stressful at times. We connected on a personal level as we went through similar experiences with all the feelings they evoked, and this was one of the reasons we felt attracted to each other as musicians and friends. In just a little while, Cosmos New Music was born with an intention to bring diverse artists and audiences together in one unified community.
Our first meeting felt like we had already known each other for several years – there was no need to break the ice. We loved brain storming ideas for commissions, performances and projects, and we decided that our repertoire would follow our cultural backgrounds with similar variety. At the time, I was working on my doctoral treatise about the Turkish composer Kamran Ince, whose compositions are inspired by Turkish, Ottoman and Eastern European music, culture and history. During my research I found several other composers who wrote in a similar style, including unique cultural influences. In addition to playing some works by Kamran Ince, Cosmos New Music also started corresponding with one of the arrangers of the Silk Road Ensemble, Lev Zhurbin. Not everything was always serious—there was another favorite piece of ours named "Budget Bulgar!" We all kept contacting composers and searching for more works, and we put together a program with lots of cultural richness. Other composers we have collaborated with include Kenji Bunch, Charles Halka, Narong Prangcharoen, David Lipten and Roee Ben Sira.
Young people these days hear and see the same popular culture all around the world through the internet. While it is great for humanity to find common ground, culturally speaking, our natural variety tends to be gradually forgotten. In a world where we can easily access resources by a click through Google, Cosmos New Music wants to preserve and share cultural information directly through our own backgrounds, experiences, and music.
Music provides us a powerful way to promote cultural variety while also being entertained.
We aim to reach out to large audiences and spread our message of "unity through diversity." Exposing people to unique and accessible new music increases their interest in classical music. It is great to build audiences and supporters of classical music while enriching people's lives personally and intellectually. The depth of musical enrichment helps us all to become more mature, sensitive, creative, intelligent and responsible. Sharing our individual stories, folk stories, cultural arts and music, we offer a musical journey around the world.
One of Cosmos New Music's upcoming projects is a children's show at Thomasville Center for the Arts (Thomasville, GA) in March 2019. We really enjoy these kind of unique opportunities because they stimulate our creative thinking. In preparation, we wrote a script combining acting, humor, folk tales and music. Our hope is that this show will offer entertainment while giving young students positive messages about diversity.
There are many divisions happening in the world as the result of political events. We believe strongly in a global idea of different cultures working together. Music is something that can remind people that we are all the same—beyond all the rules of society, nationality and culture, we all bear the same essence of humanity!
About the author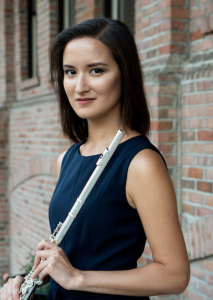 Flutist Ayça Çetin is an emerging international artist with a strong passion for performing and teaching. As a member of Duo Esplanade with clarinetist Katsuya Yuasa, she has performed at Carnegie Hall and been featured on radio broadcasts as well as at a wide variety of conventions, festivals, and universities across Europe and the United States. She is also a founding member of Cosmos New Music, a group that specializes in genre-bending creative collaborations. In this article, Ayça shares some of her experiences and observations on life as a chamber musician.