The New York Times has a feature called Tiny Love Stories. These stories are capped at one hundred words and are about the object of the writer's affection, sometimes a sibling or child but usually a romantic partner. This story is not a tiny love story. It's a big love story, and it's not about a person. It's about a literal object of my affection—a flute. Really, it's about two flutes. In Dickensian style, it's a tale of two flutes. Actually, it's a tale of three flutes with brief appearances by three more flutes. Fine. It's a story about flutes.
Flute people are nodding in understanding and solidarity. There is no such thing as a flute. There are always multiple flutes. You have your primary flute, your back-up flute, the flute that no longer suits you that you're trying to sell, your dream flute that you'll buy if you win the lottery, a low flute you don't really need and will rarely play but that you covet nevertheless, the impulse-buy flute, the flute on eBay you think you've found a deal on that you hope no one else spots, the flute you never knew you wanted until you tried it at a flute convention—all those flutes (and possibly more, if you're daring enough to go the Craigslist or pawn shop route).
And if the flutes themselves were not enough, we also have a dazzling array of materials from which to choose. Flutes are crafted in sterling silver, Britannia silver, gold of various karats, platinum, and wood. They're made of silver and plated with gold or they're a proprietary metallurgic combination. (The Colonel with his secret blend of eleven herbs and spices had nothing on flute makers.) The manufacturers know how to keep us in a state of breathless longing.
I started learning to play the flute in the fifth grade. That school year brought two significant changes. For the first time, I was getting on a bus and leaving my neighborhood to go to a school miles away. This was thrilling! I was being transported to and from school in a vehicle not driven by my mom. And it was so far away! What an adventurer I was! (I just mapped the distance from the house I grew up in to that school and am shocked to learn that it's only eight miles. As a child, it might as well have been eighty.)
The second big change was that I would be having music lessons at school. This came in the form of band class. I'd been taking private piano lessons since second grade and was doing okay with that. I knew how to read music. (I came of age when we knew they were called sharps, not hashtags.) I knew the names of some of the major composers and the musical eras to which they belonged. I knew a little about music theory. I'd had some recitals. It was pretty standard stuff. Most of the girls I was growing up with were also taking piano lessons.
But this was new. This was a flute—a foreign instrument that I didn't even know how to hold properly. Like most people who don't play the flute but who are imitating flute playing, I held it with both palms turned toward me, as if I were waving at myself with everything but my thumbs.
The flute was an Artley that belonged to my mother's younger sister. My grandparents bought it for her to play in school band, and she was finishing with it around the time I was born. When I needed a flute ten years later, it was serviced, given new pads, outfitted with a spiffy new case, and passed along to me.
I played that flute from fifth grade through tenth grade. But at the end of my tenth grade year, I was ready to turn my attention to other things. And so, without fanfare, my band career ended. The Artley was eventually given back to my aunt for her daughter to take a turn with it. I lost track of it then, and I assume my aunt or cousin still has it.
I went ten years without a flute until, with my parents' help, I bought the best flute I could afford at that time: a solid silver Jupiter. It was a major step up from the band instrument I had learned on. This wasn't a student-model flute; it was an intermediate model with open holes and a B foot. I played it often for a few years until grown-up life—job, marriage, responsibilities, an unhappy work life, a house that needed too many repairs, an unhappy married life, divorce—got in the way. For a long time, the Jupiter went untouched.
Fast forward to November 2018, when I decided, on a whim, to play in the annual Pro-Am concert sponsored by my hometown Charlotte Symphony Orchestra. I pulled out the Jupiter and, for reasons I'll never fully understand, decided it didn't suit me anymore. I bought a used Lyric, which I fell in love with, and gave the Jupiter the back-up role in my flute life.
I very much wanted to be a two-flute person. I wanted to know I always had a flute waiting in the wings if something went wrong with the Lyric. I also liked the idea of having two flutes I enjoyed equally and getting to decide each time I practiced which one I wanted to play on that particular day. And, on some level, I think it made me feel like a real flutist to say, "Well, actually, I have two flutes" when someone asked about my flute.
But the Jupiter bothered me. It still felt wrong. Would I enjoy playing it if it ever had to sub for the Lyric? I found out when the Lyric went off for a COA that took a month. During that time, I played the Jupiter and confirmed that the answer to my question was no. I still didn't enjoy playing it. The Jupiter also pricked at my conscience because I felt I was doing it a disservice. I wanted someone to have it who would love it and give it the playing time it deserved.
I started to think about selling the Jupiter (which I eventually did) and began auditioning its possible replacement. A Lamberson was tried and returned. Lambersons are remarkable flutes, but my skill level didn't justify my owning one, nor did my finances. An older model, semi-handmade Gemeinhardt, that was lovely and affordable, also passed through, and I almost passed out. I've never worked as hard to get sounds out of a flute as I did that one.
So, now what? I had tried two very different flutes and had researched countless others. I was on the verge of giving it a rest for a while. I was starting to feel like I was doing online flute dating, and I just didn't have the energy to swipe left or right or up or down or however it is you swipe. (I have ideas about this, by the way. My flute dating sites would be called HighEHarmony, For Fluters Only, Plenty of Flutes, and OKFluted.)
I'm in a Facebook group for flutists that has over 15,000 members, hobbyists to professionals. Every day, I'd read the comments, look at the photos, and think about flutes. A lot. And around the time I was trying out the Lamberson and the Gemeinhardt, someone in the flute group posted a photo of an older Haynes he had purchased and had professionally overhauled. Any Haynes would be an incredible flute to own, but the significance of this particular flute was that it was built the same year its new owner was born.
You see where this is going, right? Wouldn't it be fun to have a flute with the same model year as me? Of course it would.
A Haynes was never in the running. Like the Lamberson, it's out of my price range, and my playing wouldn't do it justice. Furthermore, wonderful as they are, I don't have a history with a Haynes. But I do have a history with an Artley. I learned to play on an Artley, and I felt a nostalgic tug when I thought about the brand.
Have I mentioned the obsessive tendencies in my personality? No? Then now might be the right time to do that.
Soon, I was searching for an Artley. I thought more about Artleys than I had in the last thirty years. An Artley was the only flute that made sense. But the prospects weren't good.
If you're not familiar with Artleys, in a nutshell, here's what you should know. They're solid flutes. Overall, they were well made, but they haven't been manufactured in years. Most of them were intended to be band instruments with the exception of what was called The Wilkins Model.
The Wilkins Model was the top-of-the-line Artley. It was built, I believe, from the late 1950s through the mid-1970s and named for the flutist Frederick Wilkins. Wilkins taught flute at Julliard and was also the solo flutist for the Radio City Music Hall Orchestra, the New York City Ballet, and the New York City Opera. Throughout his career, he played a Haynes, but he eventually went to work for Artley where he helped develop the model that bears his name. The Wilkins Model was meant to compete with Haynes and Powell flutes of that era but at a more affordable price.
My Artley search got off to a depressing start. Artleys are abundant on auction sites and generally not expensive. Most of what I found were old band instruments with little value except the sentimental kind. Sadly, I was running across a lot of beat-up, tarnished, $15 Artleys. It wasn't uncommon to see the words "for parts only" in the listings.
But in the rough of all those neglected, beaten-up, broken Artleys, a gem was waiting for me.
That gem was a Wilkins Model—solid silver, gold plated, and built in the same year as the person who was about to become its proud owner. It arrived in May 2019, in overall good condition but in need of a little TLC (okay, a lot of TLC).
The first shop that evaluated it gave me the bad news: a seven-month wait before they could start work on it and a repair estimate (almost double what I had paid for the flute) that left me reeling.
The next stop was a highly recommended flute tech a few hours from where I live. She dubbed the flute "your sweet Artley" and deemed it definitely worth overhauling, but she was unable to do the work.
She recommended Flute Specialists in Clawson, Michigan. Three months after I bought it, it landed in the hands of Robert Johnson. Three months and many telephone conversations after that, it was returned to me beautiful, shining, and completely restored.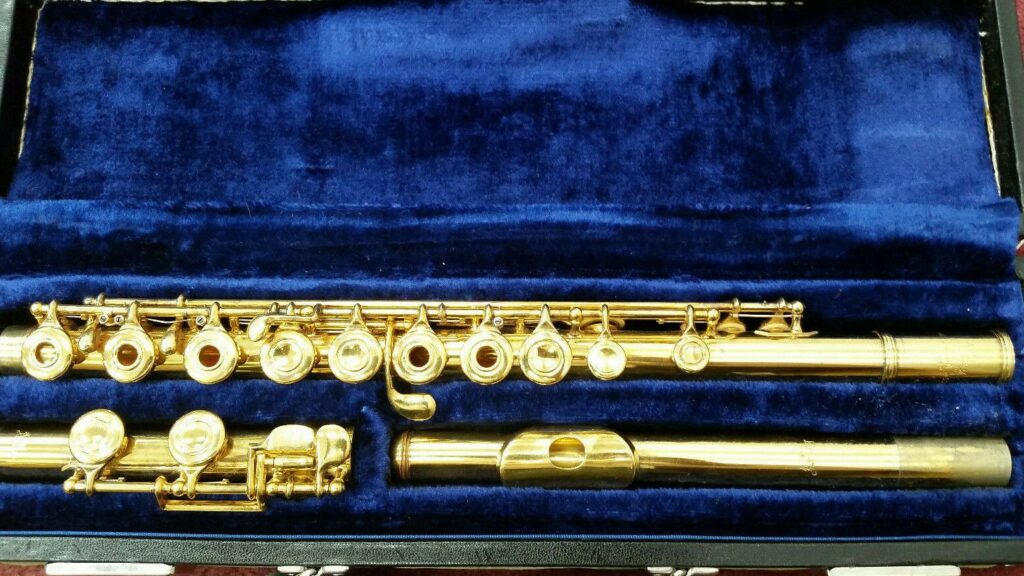 So much time, effort, and money have gone into this old flute. And why?
Because this wasn't a business decision. Because this flute sounds and looks beautiful. Because it makes me think of that ten-year-old adventurer learning to play an instrument she'd still be playing in middle age. Because it will be my flute for the rest of my life. Because I love it. And because sometimes, love makes us do crazy, illogical, worthwhile, wonderful things.