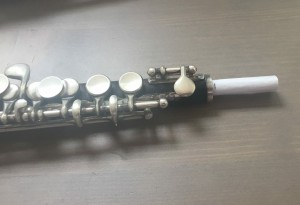 We all run into THOSE spots in a piece of music or what seems like a completely impossible passage.  Feel free to share your problem area and how you got past it or, if you are still struggling, ask for help!
Here are a few pointers that may be helpful.
Loosen Up! Although the piccolo embouchure is firm, it is not overly tense: and absolutely no squeezing! Keep your embouchure firm, but "loose". People think piccolo is tighter, but you have to stay more relaxed than flute to produce good tone.
Place the Piccolo Higher on the Lower Lip.
Don't tense up! embouchure, shoulders, neck, etc. remain relaxed
Practice with earplugs, especially when working on high and fortes sections.
Practice with a tuner!
Get to Know Alternate Fingerings! Alternate fingerings provide a wealth of opportunity to adjust pitch and change the tone colors of notes.
Use a lighter grip than you would on flute! Everything's closer together
For high notes, sometimes just rolling out will fix the problem.
Long tones….arpeggios.  scales.  If you practice the flute you should practice the piccolo.
Always warm up!
Christine Beard Guide To Alternate Fingerings
Good luck and we hope these tips help!